Full Tilt – Comfort is Performance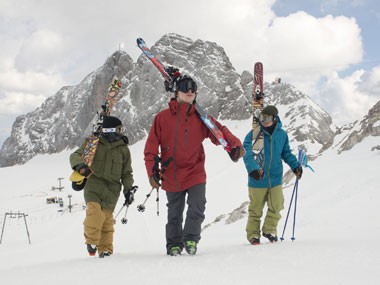 Full Tilt was founded in 2006, reviving the original 3-piece ski boot design. Originally modelled on early 70s space suits, the shape and grooves of this classic boot model meant increased stability and flexibility. The design approach was to offer the wearer increased mobility compared to the competition of 1979. The boots soon became the first choice for both ski racers and freestyle riders. Full Tilt has taken this classic design and upgraded it with advanced technologies, bringing the ski boot to the present day.


New technology in an old guise – Full Tilt Boots

The 3-Piece-Concept's cable works with buckles to ensure optimal hold, along with good mobility, flex and fit. The revised design concept has done away with heavy metal pieces and overlapping plastic, resulting in a boot that is 900 grams lighter than other competition on the mountain. The hinged tongue makes taking these boots on and off easy and comfortable, no matter the temperature. Every part of the boot is sold separately and can be both easily combined and replaced. The liners are thermo-mouldable to your feet. To mould the custom-fit shape, we heated and cooled the liner, keeping it inside the shell. This technology helps to hold in body heat and keep your feet warm.

Full Tilt Quick-Fit™ uses Intuition® foam for a perfect fit. This lightweight foam used for the inners makes the whole boot lighter. The selection of Full Tilt boots available ranges from the original model to modified versions for wider feet or for children, whose growing feet need boots that will grow with them.

Full Tilt doesn't stop at ski boots; they also offer a streetstyle range, which includes T-shirts and hoodies. The team riders include some of the biggest names on the freeride and freestyle scene, with Seth Morrison, Zach Crist, Tom Wallisch, and Henrik Harlaut all enjoying the brand's products.

Full Tilt give you a performance advantage that comes in a traditional form. Current models are available and waiting for you at Blue-Tomato.