Wetsuits - High-Tech, All-Weather Surf Style and Comfort

In the 1950's O'Neill developed and released the first wetsuits onto the market and they quickly spread from the sunny breaks of California to beaches across the world.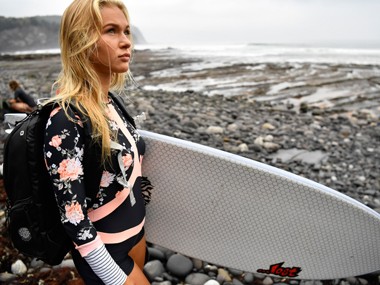 There's no monopoly on the wetsuit industry these days, though; plenty of brands are constantly tinkering away behind the scenes trying to create the perfect neoprene wetsuit. As a result of this constant competition, brands now offer a huge range of ingenious wetsuit technologies and styles, giving you plenty of choice when it comes to finding your perfect wetsuit. The selection of suits is massive and varied; whether it's a shorty for warm summer days, a steamer for cooler waters, or a semi-dry suit for those icy cold arctic breaks.


Shorty - Make the Most of those Sunny Days in the Surf

Spring suits, as the name suggests, are perfect for spring and summer surf sessions.
Even in warmer waters it can be difficult to stay warm but a shorty is sure to help you make the most of those summer sundown sets. At about 2 millimetres thick, these suits are ideal for temperatures of around 25°C. Plenty of brands also make spring suits with long arms and you can find both shorty varieties right here at Blue Tomato.


Steamer - The Cool Water All-Rounder.

These wetsuits give you options. They can come with either long or short arms and, depending on the thickness of the neoprene, can be worn in water temperatures of between 5°C and 22°C. Special winter models are also available and come with hoods and linings so you can get your surf fix all year round, whatever the weather. Neoprene thickness is given in millimetres - the first number refers to the thickness around the torso, and the second the thickness at the extremities.

The Most Common Models

Thickness: 3/2 millimetres - Water temperature: 20°C
Thickness: 4/3 millimetres - Water temperature: 15°C
Thickness: 5/4 millimetres - Water temperature: 10°C
A little something special underneath - Rash vests / Lycras

Rash vests (or Lycras) are an absolute staple of surf accessories. They come in all kinds of colours and patterns and, though they may all look different, they all have one thing in common: Protection. If you've chosen to brave it and feel the cool water on your skin and need some protection from those pesky UV rays, all you need to do is grab your boardshorts, your board and a rash vest and get out there!

Furthermore, a rash vest is the perfect thing to wear under your wetsuit. These Lycra beauties are designed to protect you from nasty wetsuit rash under the armpits and around your neck so you're free to ride barrels for hours without a care in the world.

As with everything, the quality of your rash vest is important - high quality materials and manufactures are a must. As you're going to be wearing your Lycra for long periods of time, you're also going to want it to be nice and breathable and, ideally, made of a lightweight material. A high level of breathability will keep you comfortable by quickly transporting moisture away from your body, whilst a lightweight material will help you maintain that floaty surf feel as it won't get waterlogged and weigh you down. If you pay close attention to detail, the waves will be all yours!


Accessories for Any Situation

Don't let the weather get in the way of you and the surf! There are a huge amount of surf accessories and extras - we're talking gloves, hoods, booties, and more - to make sure you get your fix no matter how icy the water.
Ladies are lucky enough to have the option of surf leggings so you can bike, surf, skate, or stretch out with some yoga, without the hassle of a costume change.
There comes a point in every surfer's life when you need to get that neoprene clean. For that, you'll want to use a special wetsuit cleaner like Rip Curl's aptly named "Piss Off". They are super easy to use and will have your suit spick and span in no time!


High Tech for your Surf Trip

Over the course of the last few years, brands have been working extremely hard to develop their neoprene technologies, resulting in huge improvements in wetsuit elasticity and comfort.


The Lining of Legends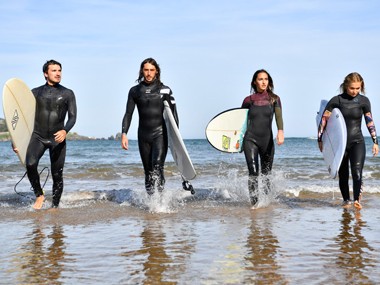 Rip Curl have designed a special E4 Flash Lining that makes their Flashbomb Wetsuits dry unbelievably fast, whilst still feeling fantastic on your skin.

High-Flex Neoprene for High Intensity Paddle Sessions
The more flexible the neoprene in your wetsuit, the easier it's going to be to paddle. If you're looking for that little extra punch to your paddling, these are the materials for you:

E4 Neoprene from Rip Curl
F'N Lite Neoprene from Quiksilver
AX1 Airlite Superflex Neoprene from Billabong
Flex Lite Neoprene from Hurley

Flatlock, Blind Stitch, Taped or Glued - Let's Talk About Seams.

The type of seam stitching used on a wetsuit is absolutely crucial to how long you can comfortably stay in the water. Manufacturers spend a lot of time making sure their seams are as watertight and tear-resistant as possible so look out for flatlock, blind stitched or taped/glued seams if you want a durable, comfortable wetsuit.
Seams are less flexible than neoprene and more prone to tearing, so their placement is particularly important. Seams are kept away from areas where flexibility is particularly important, like the shoulders or under the arms, to prevent chafing or restriction of movement.
Zips - Back zip, Chest Zip, or no Zip?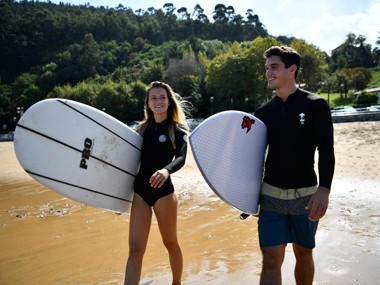 Back zip wetsuits are particularly comfortable and easy to put on and take off. They often have adjustable collars to prevent water getting in your suit.

Chest zip wetsuits open at the chest, allowing you to easily adjust the suit to your upper body.

It doesn't get any easier than a No Zip suit. Slip in and drop in. No zip, no problem.


The Perfect Wetsuit for Every Size!

Pay particular attention to the sizing when buying a wetsuit. It's important for your wetsuit to be form fitting but not too tight. Too large a wetsuit will quickly collect water inside and make you cold; too small and paddling becomes a drag and you'll waste a lot of energy. Take a look at the size charts to help you find the perfect wetsuit.
Ladies and girls wetsuits are, of course, also available. For a particularly large selection of neoprene wetsuits and lycras for surf chicks, check out Roxy.

In the end, it's about finding the right mixture of functionality, comfort and style, and whether you go for Hurley, Billabong or Quiksilver, you're one step closer to catching the perfect wave, backed up by your brand new wetsuit!