Splitboarding - Touring for Passionate Snowboarders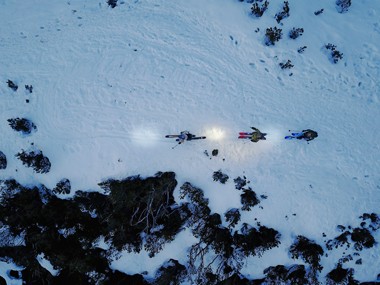 Splitboarding is booming. More and more snowboarders are becoming entranced by this back to nature approach to their beloved sport. A splitboard is a snowboard that can be split in half, creating two pseudo-skis that can be used for hiking. Equipped with skins and crampons you venture off away from the pistes and lift lines into the sprawling, snow covered world of the backcountry. At the top of the mountain you clip both halves of your board together with some splitboard bindings and clips like the ones from Karakoram and drop in to an unforgettable backcountry descent.


Starting Out is Difficult - The Advance of Splitboarding
Snowboarders have been tinkering with the first prototype splitboards since the early 90's but it would take them at least another ten good years until the sport was established and practical equipment became available. The first manufacturer to bring splitboard accessories to market was Voilé and they were swiftly joined by brands like Burton, Salomon, K2 and Völkl in the following years, bringing with them top quality splitboard equipment at affordable prices.


Get the Right Setup, Have More Fun.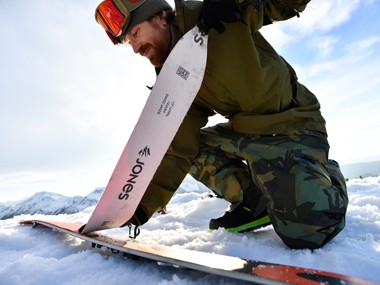 When choosing a setup it all comes down to the kind of rider you are. Do you like a nice powder cruise or is your life about hitting all the hardest lines? Whether it's pillow lines, backcountry booters or both, what's important is finding the right combo of snowboard, binding and boots. A stiff board with stiffer bindings and boots will guarantee a precise ride and solid edge hold both on the way up and the way down, while a soft setup will give you that feeling of really surfing the powder, but won't perform as well if things get a little icier. The middle ground is massive and splitboarding fans have an enormous range of different board constructions and shapes to choose from:

Camber: The traditional board construction for a reactive and stable ride in any terrain.
Flat or Zero Camber: Boards like the Salomon Split have no camber at all; they lay flat on the snow giving you more edge hold than a rocker board, but are less manoeuvrable than camber boards.
Rocker: Rocker boards are playful and float through powder. K2 make a bunch of splitboards with a classic rocker shape.
Hybrid Technology: Hybrid boards are in demand right now. They combine the best of both rocker and camber boards and offer a good amount of edge hold for the ascent. Good examples of such boards are the Burton FT Landlord Split or the Jones Snowboards Solution Split.
Twin Shape: Twin boards are incredibly versatile. Just because you're splitboarding doesn't mean you can't throw down some tricks. Just look at Travis Rice who rides his own pro model, the T.Rice Split from Lib Tech.
Directional Shape: Directional boards are for freeriders who are all about the descent. Combine a directional shape with lightweight construction and you're guaranteed to leave everyone in your (first) tracks.
Fishtail: The best shape for pow hounds and soul surfers. Splitboards like the Jones Hovercraft Split are more than just powder destroyers; they're a statement, a lifestyle choice. The hunt for fresh snow never ends with a fishtail.
Jones Snowboards also have a
women's splitboard range
for female pillow hunters. Specially designed for girls who shred hard, boards like the
Solution Wmn Split
will let you ride harder than anyone on the mountain.
Splitboard Sets - Practical, Uncomplicated, Rad.
Brands like Völkl, Salomon and K2 offer their splitboards as sets, meaning that your new splitboard comes fully mounted with Voilé kit or other suitable bindings. That means less stress for you, which means more time for planning your next backcountry tour or hunting down pillow lines. Or just more time to hunt down your next splitboard in the massive collection available from Blue Tomato!