Boardshorts, Summer, Sun... and Sea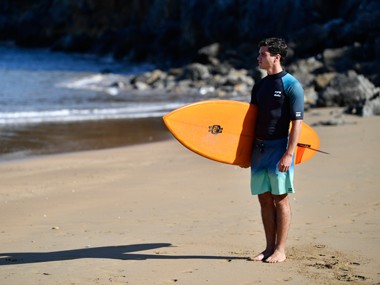 Summer is on its way, but a peek into your closet makes you cringe? If your thoughts are wandering back to last summer, when you got a horrific sunburn in that tight swimwear? Then the solution is obvious: time for new boardshorts! Best materials, great fits and mind-blowing features are just a few reasons why you should consider a new pair of swim trunks. As always, you're spoilt for choice at Blue Tomato! Maybe some new Hurley Boardshorts are right the ones you go surfing with this summer.

Water resistant boardshorts?
You don't need to be a seasoned pro surfer in order to show off the newest Boardshorts by O'Neill, Rip Curl or Billabong. These shorts have originally been made for cool surfer dudes in Hawaii and Australia, but that doesn't mean you can't rock them at the beaches of Europe. They are mainly made of polyester and nylon, but Lycra® (elastane or spandex) are also often used. These elastic materials give the shorts plenty of stretch for maximum freedom of movement, no matter what activities you enjoy.

Technical Surfwear
In the 60s, the shorts worn by surfers in Southern California and Hawaii were more than uncomfortable. The wet cotton material limited the possibilities of movement and the large buttons and thick seams were very inconvenient for surfing. As the years passed, the material became thinner, the seams improved, and the buttons were replaced with Velcro® and functional snap buttons or a lacing system.

Nowadays good boardshorts are characterised by lightweight fabrics. You will barely be able to feel them, whether you're soaked or dry. Days spent in dripping boardshorts on the beach are history. Special materials and technologies, such as a Teflon® coating on the outside, make the shorts water-repellent and fast-drying. Thanks to the 'Lotus Effect', the water turns into droplets that simply roll off your shorts. Who knew so much technology could fit in a pair of boardshorts?

Today's boardshorts come with a lot of great extras such as a wax comb in one of the pockets, with which you can scrape off old or extra wax from your surfboard. If wax gets on your boardshorts, no need to worry – wax stains can easily be removed in a regular machine wash thanks to the special structure of the material.

Different lengths for all requirements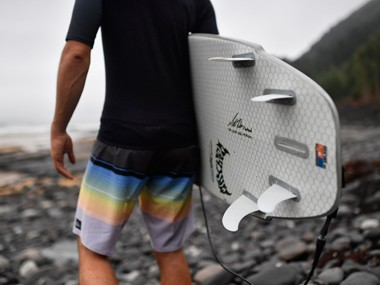 Whether you're just chilling at the beach or surfing legendary big waves, comfort plays an important role in your choice of boardshorts. Almost all boardshorts have a seamless waistband and crotch area to avoid uncomfortable pressure points.
Tastes vary when it comes to length. Some people prefer boardshorts that go over the knee, whereas others go for a shorter version – it's all up to you. The length is usually expressed in inches: 21" is about knee length. Since the first pair of boardshorts were created by Quiksilver in 1969, the trunks grew longer and wider over the decades.

17 to 19 Inch

Perfect for a day at the pool or beach
19 to 21 Inch
Further protection, great for surf sessions
21 to 22 Inch
Comfort and protection while surfing
No matter which fit and style you choose – colourful and patterned or plain and simple,
BlueTomato
has the right boardshorts to suit every taste!