Ski pants – the pants that matter for freestyle and freeride enthusiasts

Your needs on the mountain are different to those in the valley. Jeans and pants can't protect you against the elements that you face on the mountain. When you're skiing, your legs need freedom so that you feel confident and secure on the way down the slopes. By springtime you can sometimes get away with a comfortable pair of street pants, but when you're in the park or on the slopes, the temperature drops below freezing point and conditions are icy, then you'll appreciate the protection of your ski pants. In contrast to your street clothes, ski pants offer you a layer that is waterproof, breathable and with numerous features – your ideal second skin for skiing.

If you can't do without your streetstyle, then Armada and Oakley have the right ski pants for you. Fit plays a big role for skiers when choosing the right pants. Some prefer slim fit and others a more baggy style. Each different cut is designed so that you don't have to compromise, so while a tighter fit will be snug against your skin, its flexible material and design won't restrict your movements. Wider and longer cuts let you wear your pants with a looser look that still allows you freedom to move. Alongside your personal taste, choosing the right ski pants for you also depends on the type of skiing that you want to enjoy in them. A baggy style pant with as crotch as low as your knee wouldn't be advisable if you want to go ski touring - in the park, however, you'd be well equipped, with plenty of room and style for hitting the jumps and rails. Suitable technical underwear - technical socks, technical pants and technical shirts – give you muscle support and therefore increased stability. They also work as an extra layer that wicks away moisture and keeps you insulated and dry.


A wet rear is history with a high water column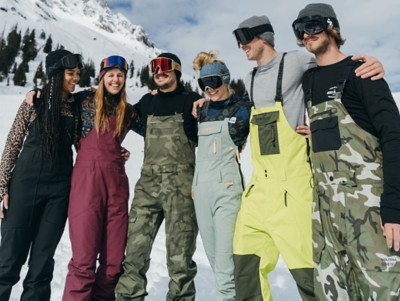 Choosing the right water column is not about taste, but about the demands that you put on your equipment. It makes a big difference if you are mostly skiing in the park or the powder, if it's raining or the sun is shining. You should choose your ski pants with the worst case scenario in mind, as while you can't always predict a big rain or snow storm, you can definitely find yourself in the middle of one when you least expect it! When you are skiing (or sitting in!) slushy snow a lot, you'll also realise quickly that a low water column might not offer you the level of moisture protection that you need.

What does water column mean? The water column of your pants indicates how waterproof they are. The number is given in millimetres and indicates how much water pressure the material can stand up to and keep water out at. When testing a material's water column, material is gradually exposed to an increasing amount of water. The amount of water that a material can withstand before any of it penetrates through, equals the 'water column.'


Breathability – your skin breathes and so must your pants

In addition to offering protection against external moisture, ski pants must also wick away internal moisture. A material's breathability is measured according to how many grams of steam per square metre can pass through the material in 24 hours. The higher the amount the better as your body can produce up to a litre of sweat an hour when under heavy exertion. Technologies such as Gore-Tex® use multiple membranes to wick away internal moisture, transporting it to outside of your clothing.


Technical features make your ski pants the ideal companions on the mountain and in the valley

A basic and key feature of your new ski pants, and also your ski jacket, is welded, or glued, seams. A high water column alone cannot protect you from moisture and damp if the seams, a critical element of your ski pants, are not well closed. Another standard feature is a snow guard, or powder skirt, that connects the pants and jacket. You'll also appreciate pockets and a lift pass sleeve for the warmer days when you are skiing in a hoodie and no jacket.

Ski pants manufacturers offer ranges for both men and women. To go with your new pants you'll also find matching accessories and gear, such as beanies, bandanas, boots and ski goggles, to achieve your ideal look. Your ski jacket should not only look good with your pants, but should also feature good breathability and waterproofing. Only by having the right jacket and pants will you be fully protected in the great outdoors from bad weather, moisture and falls in slushy snow.

Shop for the right ski pants for you from brands such as Saga Outerwear, Patagonia and Orage, as well as many more, at Blue Tomato.