Ski jacket – Functionality meets style

Whether you're mostly to be found skiing on the piste, in the powder or in your local park, among the huge range of ski jackets out there, you're sure to find the right one for you. But what constitutes your ideal ski jacket? This is a question that we ask ourselves so that we can prepare you for the up-coming season and offer your products that you love and that meet your exact requirements. Breathability and water column are no longer foreign concepts for brands such as Gore-Tex® and DWR. Your ski jacket is your warm companion on the mountain and in the valley. Along with your ski pants and accessories such as beanies, it protects you against cold and wet weather. Only if the spring weather comes early can you sometimes swap your winter jacket for a hoodie.


The water column – the keywords for dry adventures on the mountain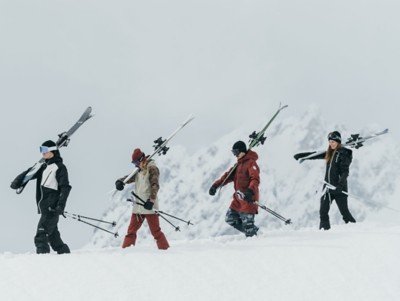 Your enemy on the mountain isn't hiding behind any corners but is instead a bit more obvious – the snow! How can snow not always be your friend, even if you are a winter person? When poorly dressed, snow is cold, wet and very uncomfortable on your skin. After only a few hours in the wrong gear, you'll feel this white wonder freezing your stomach, wrists and neck. But not if you have the right ski jacket. The water column signifies how much resistance your jacket has against water. The height of water density that it can withstand in millimetres equals its water column. Manufacturers measure how much water pressure is needed to penetrate a material and therefore, how waterproof it is. The higher the pressure, or water column, the better.


Breathability – your jacket breathes in hot and cold temperatures

If you exert yourself physically, your body sweats. When wearing warm clothing in cold temperatures, your body sweats even more than usual. In order for this moisture to escape, your ski jacket needs to breath. The breathability of a material is measured by how many grams of steam can escape through a square meter of it within 24 hours. When choosing your ski jacket, bear in mind that when doing intensive exercise, your body can produce more than one litre of sweat per hour. If it cannot escape, this excess moisture will remain on your skin, making you cold and damp. Along with technologies such as Gore-Tex®, which don't allow moisture to enter inside, but at the same time wick away moisture and sweat, quality of design and workmanship plays a crucial role in the breathability of a garment. What's more, staying dry is only really guaranteed when the critical points of the jacket, the seams, are sealed or glued. If you like a combination of thin material that offers you protection from the wind and weather, opt for a soft-shell jacket. Coated fleece jackets are also an effective option for keeping well insulated and also work as an additional layer when the temperature drops even more.


Increased freedom of movement for extreme exertion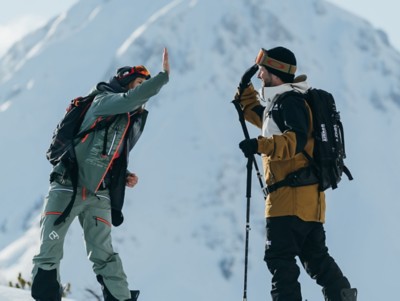 Jumping and jibbing on your skis requires a lot of freedom of movement, making your switch ups and grabs even more confident. Larger fit ski jackets, or slim fits with elasticated material, greatly help you here. When riding switch, your hood used to get in the way and make it difficult to ride safely – Snow brands have addressed this problem and now you can easily zip away your hood when it's taking up too much of your valuable rear vision. Nowadays, there is a great range of mens, womens and even unisex jackets out there.

Brands such as Armada, Oakley and Orage have adapted their products to the requirements of freestyle and freeriding and offer some fantastic choices of ski jackets. Younger labels, such as Saga Outerwear are producing authentic designs and self-developed technologies that are not only meeting but exceeding the demands of the ski-sport scene.

Your ski equipment doesn't mean just hard-goods, but also clothing. If your body isn't protected from the elements then you cannot perform optimally. Even the best freeskis, ski bindings and ski boots setup cannot show what it can really do when you are feeling cold and uncomfortable.

But no fear! - Blue Tomato is your ultimate go-to shop when looking for your perfect shoes, ski pants and jacket this winter.