Ski boots: individual needs require different solutions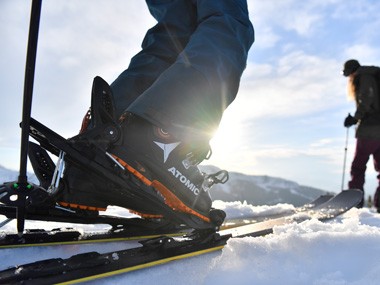 Ski boots are part of your setup's standard equipment – after all, skiing barefoot would be pretty uncomfortable! If they are too big, pinch or bang, then your boots are going to affect your skiing pleasure, so it is crucial to find a suitable pair for you. Thanks to the broad selection at Blue Tomato, whether you have wide feet, narrow lady's feet or small children's feet, you are sure to find the right footwear. Don't forget, even the best freeskis are useless when the right ski boots are missing.You can choose between

Classic ski boots
Ski boots for freeriding/touring
Racing boots.
The differences lie in how the boots are used and what kind of materials they are made from.
The crucial winter question

Looking for a lightweight model with plenty of comfort? Then classic ski boots are just the thing. Their design focuses on freedom of movement and comfort. Even after the last ski down and some après-ski, your feet still won't be hurting. These all-rounder ski boots can be used for all types of skiing and usually come with a mid-flex, which indicates the rigidity of the ski boot.

A racing boot must fit perfectly in order to ensure optimal power transmission. This means less comfort but a more precise interplay between ski, boot and skiing technique. Providing you have the right boot, the right ski will initiate turns and carves by itself. Power, precision, drive and a hard flex are the key features of this type of ski boot.

Extreme terrain requires special equipment. Freeride / touring ski boots are designed for fast, radical departures, cliff drops and jumps. They require particularly good cushioning. They usually feature a mid to hard flex, which makes them stable during high speed descents. An integrated walking function facilitates a climb to the summit or to untouched powder stashes.


Perfect ski boot fit for every type of skiing

There are classic four-buckle models from companies such as Salomon and K2, and two and three-buckle models from key brands such as Full-Tilt.

Two-buckle models from Salomon,
Atomic
and
Dalbello
feature Velcro and buckles that are doubly wide. These ski boots are especially suited to park and pipe skiing, thanks to their low weight and excellent cushioning properties.
Three-buckle models from Salomon, Dalbello, Atomic and
Scott
are particularly suited to freestyle skiing and touring. A buckle is attached at the ankle with a 45 degree angle to the floor, fixing the heel in place and giving the foot less room to move. By reducing the number of buckles, this style of boot is also lighter.
Full-Tilt ski boots: a remake of the Raichle ski boot

Especially popular with freestyle skiers and mogul riders - the original '3-piece ski boot design.' This boot is particularly comfortable and easy to use, as well as being strong and high-performance. The design harnesses technologies that are similar to those used in NASA's space suits.

Their ribbed tongue makes these boots stable, while their form allows the natural bend of the foot, eliminating painful pressure points on the shin and changes in the level of hardness. The shaft of the ski boot uses two joints, making it laterally movable and also adaptable to the anatomy of your foot. When closed, the locking cable evenly distributes pressure, providing optimal support. The Intuition® foam liner adapts 100 percent to the shape of your foot. The tongue opens forwards and enables you to easily put on and take off the boots. All of the parts of these boots are completely combinable and interchangeable.


Tips and tricks for choosing your ski boots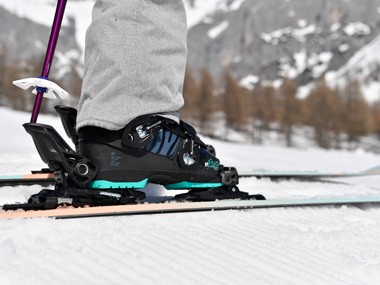 Shopping for suitable ski boots is a difficult decision. Carefully chosen, they will accompany you in the snow for a long time to come. Hastily picked, without considering important factors, your new boots will become the object of your hate within a few days.

Which flex?

The higher the flex number, the more forward resistance you have. On one hand, with a higher flex you have more grip, on the other, your ankle's freedom of movement is restricted. It is important that the flex is neither too hard or too soft for you - providing resistance in order to transmit driving impulse but not affecting your motion. Since there is no standardized flex number system, it is difficult to compare different brands. Among the different models of a brand you can usually ascertain which boots are soft, medium and hard.


Too big, too small? Size counts.

General rule: never buy ski boots that are too large, as after a while the lining will give in! The problem with boots that are too large is that the buckles will need to be fastened too tight or your feet will cramp as they look for grip.Perfectly fitting boots are important for your comfort and your skiing. You should take the same size ski boots as you do sneakers. In order to ensure the right fit, you should try on your ski boots with technical socks.

The best way to find the right fit is to stand in an upright posture. Your toes should lightly touch the front of the boots in a skiing position (knees and upper body slightly bent) your toes should no longer feel the front of the boot as they naturally slip backwards. If you feel pressure after wearing them only for a short period of time, take them off. Some heel space is normal, but too much signifies that the boot is too big. Take your time when buying your boots as you will save yourself painful pressure points on your feet later.


Your foot's 'floating' in the boot?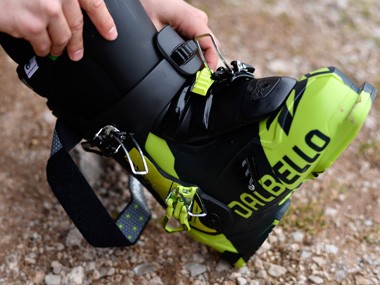 If this is the case, your boot is too wide. If it is too narrow, it will cause pressure and foot problems during continuous use. The widest part of your metatarsal bone/the widest part of your feet, is called the last width. You can easily find out your foot's last width by standing on a piece of paper and tracing the outline of your foot, before measuring it across. Most ski boot manufacturers offer last widths of 98 mm to 103 mm. Your boots should sit comfortably tight, allowing your feet to find the perfect support and grip.


The inner lining and its benefits

The inner lining is the comfortable layer that fits inside the boot's shell. It is important to remember that the shoes should fit the foot, and not vice versa. This is why many brands offer thermo-mouldable liners that can be heated and then cooled within the shell, resulting in a perfect and individual fit. Another option is a special, expandable foam liner. These are often used for racing boots and involve a special foam being injected into the liner before being left to cool, adapting exactly to the shape of your foot.


Customize your ski boot

Prevent torturing your feet during a long day of shredding by using inserts and gel pads. Your shins and feet come under a lot of pressure while skiing and need support. With Bootdoc accessories you can avoid boot problems and enjoy the session.

There's no need to wear wet and cold shoes – simply put shoe warmers into your damp shoes after using them and in no time they will be dry and warm. No matter where they'll take you in the morning, your feet will feel great!

Let your feet take you into the future comfortably and find the right footwear for your needs at Blue-Tomato.