Ski poles – motion support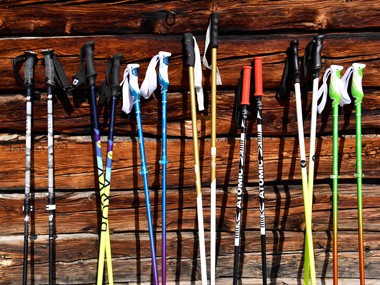 Skiing without poles? – hard to imagine. These essential pieces of gear facilitate your movement, as well as your equilibrium and timing. They help you turn and also to push. Equipped with the right poles, nothing can stand in the way of your day on the mountain.Their construction is simple: handle, strap, pipe and basket. Nevertheless there are different types -

To put it simply, you can choose between

Standards come first

First of all there was one long stick and then for a long time there was nothing. That was, more or less, the beginning of skiing. Nowadays there are two poles (or sticks) that come in various versions. No matter which type you choose, bear in mind the DIN ISO Norm 7331. This standard is important because it means that while poles that bear this certification may bend, they shouldn't break. Additionally, it verifies the puncture resistance of the handles and resilience of the loops. The standard also tests how quickly the loop comes away from the pole handle in the case of a fall or snagging. The tip of the pole must also be standardized - to avoid injury, it should be crowned or hollow.

Important criteria when choosing ski poles

When shopping for ski poles there are more points to consider than you might at first think. Material, size and finish are all key factors when choosing these key pieces of equipment.

The pipe – different materials and shape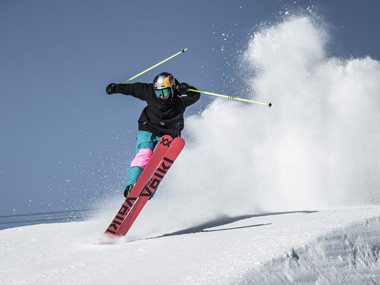 The pipe of a ski pole is normally straight, however there are also designs with a slight curve below the handle. This allows the point of the pole to make contact with the snow earlier, giving you prolonged contact with the slope. The pipe has various functions to fulfil, playing a major role in terms of stability, weight and cushioning. High quality materials allow you to combine these different properties. You can generally choose between aluminium and carbon.


Many ski poles are made from aluminium, such as those from Salomon, Völkl and Armada. For regular use, it is an appropriate, yet slightly bendy material. The heat treatment ensures it is both strong and flexible. Aluminium is inexpensive, with series 6 and 7 of the metal being very robust and durable (the series number refers to the different alloys being used in combination with the aluminium).

You can find out more information on a pole's alloy from the numbers below the handle. Four digits signifies a standard quality, five, a good quality and six, a high quality metal.

Another option is ski poles made from carbon fibre, such as those from Atomic and K2.

Thanks to this material, brands can produce very lightweight poles with good rigidity and cushioning. Due to their light weight and better overall properties, poles made from carbon fibre are more expensive. Their excellent bending strength also ensures a perfect pole swing.


Loop systems

The classic loop as we know it is anchored to the handle and can be adjusted in size using a plastic buckle.

In recent years, advances have been made and new loop systems have been developed. Most professionals now use the LEKI safety strap. The Trigger S-Technology integrates a safety release into the pole handle, with the counterpart loop being worn directly over the glove, clicked into a ring within the handle. When the tensile load increases, the ring automatically opens, helping to minimize the risk of injury during a fall.

Too short, too long? Length is crucial

The correct ski pole length is an important contributing factor to your skiing technique. You can normally feel when using them, whether a set of ski poles is too long or short for you. Poles come in sizes that vary by increments of five centimetres. When you are between two sizes, opt for the longer ones as you can always shorten them.



There are two ways of determining your correct pole size:

Multiply your height (in cm) by factor 0.7, with the resulting number being a good estimate of your appropriate pole size.
Stand up straight (make sure that you are wearing flat shoes) and turn the pole upside down, holding on to above the basket with your hand. You upper and lower arm should form a 90 degree angle. Turn your pole around and hold the handle as normal, your hand should be slightly higher than before.
The basket and its advantage

On the slopes you are well served with a small, traditional pole basket. If you want to explore the backcountry however, then a large basket with give you an advantage. In deeper snow a larger basket will give you an increased surface contact area, meaning that you won't sink as deeply into the snow. When you are hiking or ski touring, a large basket will also give you more support and push on the climb.


Telescoping poles – great, simple, practical

Telescopic poles from K2, LEKI and Scott are a great alternative to normal ski poles. Thanks to the adjustment system, these poles can be altered in size according to your needs. During an ascent to the summit or to the top of a pristine slope of powder, you can lengthen them to make the climb easier. For the descent, you can fit them back to your body size.

With all of this information you can feel confident on your search for the perfect ski poles at Blue Tomato. Have fun!