STAY ON THE MOVE – WITH NEW BALANCE
New Balance is as classic a sneaker brand as you can find. They have over 110 years of experience making premium athletic and casual shoes for every walk of life. Now the American brand has tailored its expertise to skateboarding. The results are impressive.


A new twist on classic styles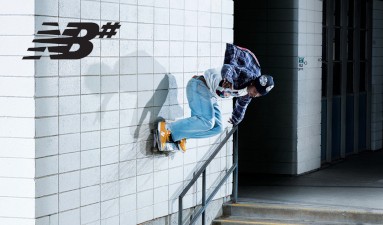 Sneakerheads around the world have fallen in love with New Balance's classic cuts, now skaters are also getting the bug. There has always been a close link between skateboarding and streetwear - New Balance strikes the perfect balance between the two.

New Balance skateboarding
That's not to say that New Balance skate shoes are just eye-candy. They have taken their considerable experience in shoe making to perfect skate shoes. Take the 210, inspired by the classic Pro Court tennis shoe but tweaked for skating. It has a vulcanised sole, reinforced upper and low-profile design — everything you need for skating, nothing you don't.


The Numeric line
Their skateboarding line is called: New Balance Numeric. Popular models include the NM 440, the NM 306 and the NM 379. One thing unifies all these shoes - absolute top quality. They offer premium comfort through materials like suede or leather. Their skate-ready features are reinforced ollie areas, padded heels and tongues.
Finally, the secret weapon of New Balance Skateboarding is their soles and cushioning. They use their own proprietary rubber and cushioning, which they have developed since 1906. There are some big advantages to being a long time shoemaker

The New Balance Team
New Balance has really put their money where their mouth is when it comes to supporting skating. The team is stacked with talent. Pros like Jamie Foy, Brandon Westgate, JP Souza, Marquise Henry and Tom Knox have all signed on for the NB Numeric Skate Team. They have skaters for every style, just like their shoes!

Shop New Balance skate shoes here at Blue Tomato and join a lineage of 110 years of quality.