Patagonia – the outdoor label with cult status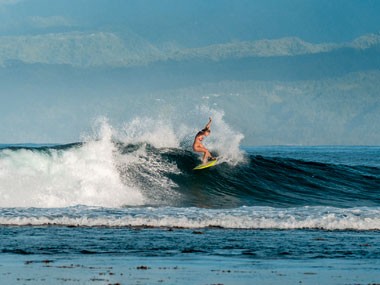 The Patagonia region stands for wildlife – untouched nature, endless fjords, mountain climbing and adventure – the ultimate dream destination for outdoor enthusiasts. The cult brand, Patagonia symbolises these images. The outdoor label's founder is Yvon Chouinard, one of the original Californian climbers. Already in the 1950s, Chouinard was making his own climbing gear, with the aim of ascending even more extreme routes. His materials became sought after and soon, Chouinard and his crew of other renowned American climbers started a garage sale in Ventura. From there, the company was further developed during the 1970s and the introduction of a clothing line was the birth of Patagonia Clothing. In the following years the company boomed and expanded to produce not only outerwear for climbers and mountaineers, but also men's and women's snowwear, streetwear, wetsuits for surfers, backpacks and bags.

Quality first – environmental awareness across the board
For many years, Yvon Chouinard has actively promoted environmental conservation. Every year, Patagonia supports chosen environmental campaigns and for a long time has also given a percentage of their revenue to causes that protect the environment. In 2008, along with other sustainably operating companies, Patagonia founded the "One percent for the planet" initiative.
The company also strives to be environmentally sustainable in the production of their clothing by:

Using solar power in the California headquarters
Exclusive use of organic cotton
Using hemp as an alternative material
Manufacturing Patagonia wetsuits from Yulex rubber instead of neoprene
Using recycled materials to manufacture clothing: nylon, polyester, wool
The famous
Patagonia
Synchilla Fleece
is made from
recycled PET-bottle
. You can even return your old garments to the company, where they will be recycled again into new clothing.
A sustainable company relies on functional perfection – technology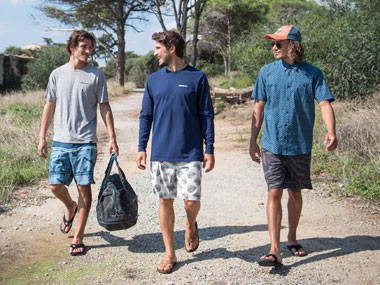 Even though sustainability is vital to the brand, product quality and functionality comes first. Quality over quantity – functional minimalism before fashionable trimmings – and this approach has paid off. The legendary "Sang T" fleece jacket, "Stand Up" shorts and breathable Capilene underwear are all big sale successes. Patagonia's collections also set trends, being the first outdoor brand to step away from muted green-brown tones and embrace bright colours – all environmentally sound, of course. In the fight against plastic bottles, Patagonia has developed super durable stainless steel water bottles. Once you have tried their comfortable lightweight merino running socks, you will never want to go back.
Other Patagonia technologies include:

Bluesign® standard: The brand's ecological standard
Waterproof outdoor clothing: The benchmark for waterproofing, breathability and durability
DWR-coating: Outer impregnation that keeps the snow and rain out.
Regulator® Fleece insulation: Keeps you dryer and more comfortable than conventional waterproof layer systems.
If you want to find out more about Patagonia, we recommend reading the book,
"Let my people go surfing."
In his autobiography, Yvon Chouinard shares the milestones of his life's work. Fans of the brand will find a large selection of Patagonia's coveted clothing at
Blue Tomato
.