Snowboard Goggles – Protect your eyes the stylish way!
Imagine the scene - your perfect day on the mountain. Heavy snowfall or a perfectly groomed park. All of your friends are with you. You've waxed your snowboard and your outerwear look is on point.
As you're about to drop in you realise – I can see everything! Every little detail. The rollers in the powder, cliff drops and every tree stump in your line. In the park, you can see your takeoff and landing. The halfpipe is crystal clear and the light shimmers playfully off the snow.
The reason for all this? The accurate goggles. Having the proper snowboard goggles can be the difference between having a good and a great day on the mountain.

Lenses – allow you to see clearly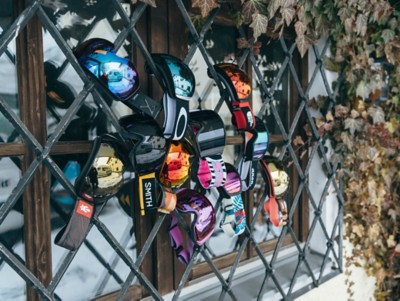 The lens is the most crucial part of the goggle. The correct lens is designed to increase contrast in the correct conditions. However, not every lens is for every situation.
At Blue-Tomato we distinguish between lenses for the amount of visible light transmission (VLT).


3-8 % VLT – Very sunny. The brightest sun, often found when you're riding on glaciers or long sunny days at the end of the season. These lenses are usually very dark or heavily mirrored.
9-18 % VLT – Sunny, Partly cloudy. A more general bright light lens. This lens is best suited for sunny days but will still work well if a few clouds appear.
19-43 % VLT – Changeable. The most common versatile lens. Engineered to work both in sunny and cloudy weather.
44-80 % VLT - Overcast, snowing. In bad light conditions, this lens allows more light through the glasses. When its snowing or the light is flat the increased light and contrast boosting tint will help you see more clearly. These goggles are often less heavily or non-mirrored.
81-100 % VLT – Fog, night time. This lens is for the darkest light conditions. Used for riding under artificial light and in foggy days.
Anon goggles
or
Salom goggles
have carefully tailored lenses to help you see clearly on the mountain. Take note of the conditions you most frequently snowboard in and pick a lens accordingly.
'What if I don't know which conditions I will be riding in?'
A great question. Thankfully goggle manufacturers are always two steps ahead. There are two options for you.

A goggle with two sets of lenses
A Photochromatic lens or a lens which has a wide VLT range
Depending on which option you choose, you will be ready to take on any challenge on your snowboard.
Bonus lens – Double the Fun
With such a variety of conditions, you can find on the mountain, the demands on your glasses can be entirely different. For this reason, manufacturers have released goggles with multiple sets of lenses. When the conditions change, simply swap out the lenses. For an even quicker exchange, we have snowboard glasses with a quick-change system.
One lens to rule them all!
Lens technology has developed far since the 1970s when Smith and Oakley were developing the first snowboard goggles. Now there are glasses, which change the amount of light they let through. Photochromatic glasses darken in brighter light and lighten up again when the sun hides behind the clouds.

Another recent development is lenses which work well across a wider spectrum of light. Oakley pioneered with the PRIZM™ technology through a comprehensive study of light. These sophisticated lenses filter the light that passes through and adjust the spectrum of light accordingly to the present circumstances. Basically, they let you see more clearly in diverse weather conditions, compared to conventional goggles.

Oakley is not the only company working on light science to improve your day on the slopes. Smith released their ChromaPop™ goggles, Dragon has its Lumalens®, and Anon has worked with ZEISS optics to develop SONAR lenses for their glasses.


Spherical vs Cylindrical - Which way do you bend?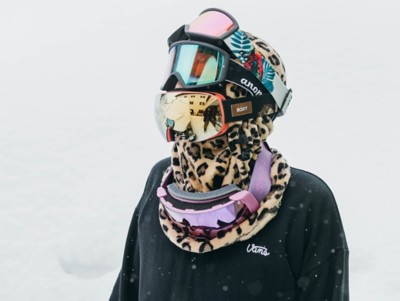 There are two types of lens which we have at Blue Tomato.

Spherical – Curved on the horizontal and vertical axis for the most precise vision. As the lens more closely matches the curvature of the eye, there is less optical distortion. Spherical goggles are often the premium models which demand top clarity, peripheral vision and no distortion.
Cylindrical – Only curved on the vertical axis, with a more flat look. These goggles are often a little less expensive and have a stylish retro style. A cylindrical goggle brings the lens closer to the face resulting in increased peripheral sight.
A way to frame your vision
The frame holds everything together. So let's have a better look at it. High-quality frames are rigid enough to keep the lens in place but still feel comfortable. A triple-density foam prevents pressure points from forming.

If you wear glasses, it is essential to find a pair of goggles with a frame which accommodates your eyewear. OTG goggles, over the glasses, are usually a bit larger and have discreet notches at the temples.

For an even broader field of vision, you can try a frameless style goggle. These models have a lens which is either attached to the front of the frame or the frame stripped back to its bare minimum.

Anon, not pleased by making "only" kick-ass snowboard goggles, has found new ways to innovate. By attaching magnets to the frame, they have continued their magna-tech® to facemasks. With specific models, there is a matching magnetic facemask included!

Rest assured, you can find every type of snowboard goggles here at Blue Tomato.