Ski and Snowboard Gloves – Cold Fingers Are Yesterday's News!
Hardly any other accessory is as important when skiing or snowboarding as a pair of gloves. Cold fingers on the mountain are an absolute no-go and ruin even the best day out on the snow. They should be functional and of course, look good. Whether you need lined and waterproof gloves for the deepest mid-winter, or thin and breathable pipe gloves for spring shredding – Blue Tomato has loads of different models in the range that are sure to impress in every outdoor situation with their advanced technologies and designs.

The first decision that you have to make is: gloves or mittens - normal fingered gloves or the tried, tested and trusted mitten? Both styles are available for women and men and also for all weather conditions, so in the end it is largely up to personal taste. The weaknesses of one model are the strengths of the other. Mittens offer a higher level of insulation and, with fewer seams, are less susceptible to moisture penetration. Their obvious disadvantage is reduced flexibility when it comes to opening a zipper or adjusting your goggles. Gloves, on the other hand, are always the winners for increased dexterity and a secure grip.

A great option is the so-called 'hybrid', which is a cross between a glove and a mitten. The thumb and index finger have individual finger holes, while the remaining three fingers share a single pocket. The result is a combination of both styles' advantages.


Synthetic or Leather – The Decision's Yours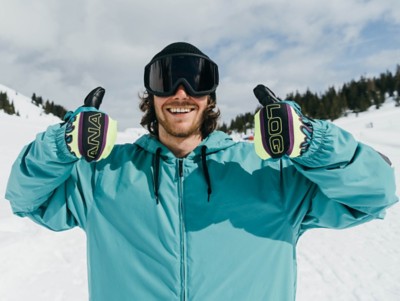 Today's high quality and modern ski and snowboard gloves are no longer made from only one material. Models differ mainly in their outer fabric. Many gloves are made out of synthetic materials, making them free from animal substances. The innermost layer is often made of nylon, which is the best choice for ensuring comfort. This layer is covered by a membrane, which may be made of Teflon ® or polyurethane. This combination of layers keep your fingers dry and warm, wicking sweat to away to the surface. An ideal material, which already dominates the market, is the well-known, GORE-TEX ®. Many different glove models use this material, which promises high breathability and waterproofing.

Although many manufacturers now rely on synthetic materials, many skiers and snowboarders still swear by the classic - leather. Naturally water resistant and extremely durable, you can count on your leather gloves to keep you comfortable on the snow, even after years. By using a special leather treatment on the outside or wearing an inner membrane-layer, breathability and waterproofing can be optimally increased.


Glove Membranes, Insulation and Technology
The following membranes, technologies and types of insulation are commonly used in the design of modern gloves and mittens:


GORE-TEX®
Gore-Tex® provides maximum breathability and waterproofing, even in the toughest conditions. There are various combinations available:

GORE-TEX® gloves with X-TRAFIT™ product technology are soft and supple, with an innovative layer design for optimal tactility and dexterity, ensuring a firm grip.
GORE-TEX® gloves with Gore 2 in 1 technology feature an innovative design with two different chambers, allowing an easy and convenient change between direct grip and warmth.
GORE-TEX® gloves with XCR® product technology offer maximum comfort over a wide temperature range, even during intense physical exertion.pipe gloves are the ultimate choice. These thin gloves are an essential piece of spring gear and, with their cool prints and colours, are a snow style must-have.
Hipora®
A special PU coating makes gloves water, wind and cold resistant, at the same time as offering increased flexibility.


WINDSTOPPER®
A lightweight, breathable and windproof membrane made of ePTFE with DWR (durable water repellent) treatment.


Feather Down
Down is the ideal choice for dry and cold conditions. There is no better material to protect your fingers from the cold.


Primaloft®
Primaloft ® is a patented form of insulation made of microfiber material. Highly effective at retaining body heat, this material keeps your hands dry even in wet weather, at the same time as allowing them to breathe.


Thinsulate™
Thinsulate is made up of microfibers 10 times finer than conventional synthetic fibres. Your hands are kept optimally insulated by retained body heat.


Thermoliner
Thermal Liner is a lightweight, soft fabric that offers high thermal insulation. Made of an exclusive blend of special fibres, it is excellent at retaining body heat.


Both Cold Protection and Style Accessory
Nowadays, style on the slopes is as important as protection from the cold and wet. Depending on your needs, glove length is also significant: You are guaranteed more fun on colder, powder days with a glove that you can wear over your snowboard jacket sleeves. Snow getting in your cuffs to ruin your fun is a thing of the past. For more flexibility, and according to some, even more style, you can opt for a shorter model. If the idea of deep snow gives you goose bumps and you prefer rocking out in the park, then pipe gloves are the ultimate choice. These thin gloves are an essential piece of spring gear and, with their cool prints and colours, are a snow style must-have.

In addition to the different characteristics mentioned above, the following glove and mitten features are also extremely useful: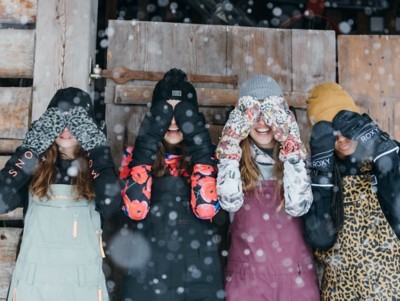 Silicone print on the palms for increased grip (e.g. Sticky Icky™ grip from Burton)
Wrist leashes
Small exterior zippered pockets
Pre shaped fingers
Drainage system
Touchscreen compatible (e.g. Touchtec, Screen Grab™, Instalink Leather, Contact OnTip)
Trigger S loop system (Leki)
Removable inner gloves
Thumb glass / goggle wiper
Wrist drawstrings
Back hand ventilation system
Velcro wrists closures for size adjustment
BOA System for quick size adjustment (Celtek)
Now that you are on the search for a pair of eye-catching gloves or mittens to make your snow fashion statement with, you are well advised to check out brands such as
Burton
,
Celtek
and
Armada
.
Awaiting you are countless combinations of wild designs, flashy colours and fun prints. There are even a few dangerous, and not so dangerous, animals adorning their accessories! If you are looking for more quiet and subtle handwear, then
Dakine
or
Mammut
are sure to have the right model waiting for you.
And, of course, the best place to get your mitts on your perfect pair is
Blue Tomato
!