TOMS: Can you imagine a life without shoes?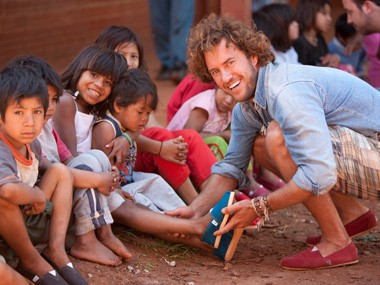 In 2006, the travelling American Blake Mycoskie met children in a village in Argentina and noticed that they did not wear any shoes. Their feet were exposed to the cold, with injuries and infections. Mycoskie decided to help them, with that came the birth of TOMS.
Today, every shoe, the brand produces and is sold it helps a child in need. The "One for One" company philosophy, also means that with every pair of sneakers, espadrilles or other items sold, a pair of shoes is given to a child in need.

To date, more than 86 million new shoes have been sent to over 70 countries worldwide. Having a TOMS shoe on your feet is not just a fashion statement but a movement. In addition to donated shoes, TOMS has created various jobs on site. The company produces its shoes in those countries where donations are donated.

 Shoes, shoes, shoes! Commitment first, fashion second.
TOMS' social commitment comes first, then closely follows their passion for fashion. The best-known shoe style is the Alpargata TOMS Slip-Ons. They get their inspiration from the Argentine espadrilles.

In addition, TOMS offers a wide range of other products for men, women and children. From everyday shoes such as the TOMS Mateo Chukka boot and the TOMS Chukka winter boot for men to every day and winter shoes such as the TOMS Ashland boot or TOMS Summik Hiker boots for women to Unisex University slippers worn by both men and women.
Without a doubt, the brand with constantly new and fresh collections proves their fashion expertise. Our Online shop is keeping up with TOMS, and we have an array of different sneakers to choose from. For the slippers and sneakers, high-quality canvas and linen are used. You will appreciate this, especially in summer. Not only your feet will thank you, thanks to you a child is no longer without a pair of shoes for them too.

And, what do you say? Did we wake your interest? Read more about TOMS on our Blog.
https://www.blue-tomato.com/blue-world/products/toms-social-responsibility/