Skatedecks – A lifestyle in seven layers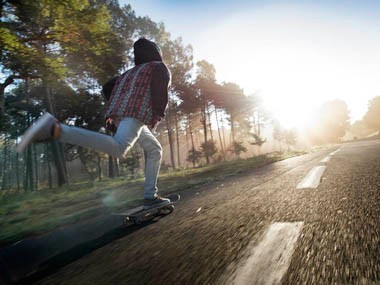 Skatedecks developed over the course of 70 years: the result isthe shape you know and love today. The surfers of the 70s showed that boredomcan also be productive: when the waves didn't co-operate, a crew of adventurousguys let their creativity flow freely.
A piece of wood, some metal rails and roller-skatewheels – the first skateboard wasborn!

Asthe years passed, more and more people caught on to the concept of the rollingboard and experimented around with it: new shapes were developed, the materialswere carefully selected, and the style factor was important too, of course. Allthese innovations made that first plank of wood with wheels into theskateboards we know and love today.

Theoriginal skatedecks were verysimilar to today's cruiser-boards. With a flat nose and kicktail, the freestyleopportunities were limited. In the 80s, however, a new riding style developed,with a number of new flip and spin tricks. It was only a matter of time beforethe decks were tweaked once again to suit these new requirements.


Durable to the core – high tech skatedecks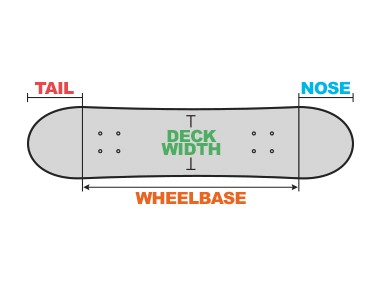 Skatedecksneed to be as robust as steel, light and a feather and flexible like rubber.These materials aren't very well suited for the shape of skateboards, however,which is why maple wood has established itself as most manufacturers' favouritematerial. Seven layers are glued together with epoxy resin.
Due to the extremedurability of these decks, you can try out the gnarliest tricks withoutworrying about your board. Most brands use the term Resin7 for this technology.

Ofcourse the manufacturers keep looking for new technologies to make the deckseven more durable and to improve their performance. The leading brands in thisarea include Almost, Enjoy, Element, Blind and Flip.

Theystrengthen their decks with fibreglass and carbon layers at the core. The term Armor Light refers to a hidden carboncore inside the deck. Eternal Life technologyimproves durability and pop due to fibreglass and aluminium layers within theconstruction. Pro 2 Technology, or P2 for short, protects your board fromdamage during rough landings thanks to an oval layer of Kevlar.

The impact is spreadout across the board better whilst still giving you plenty of pop in your deck.If you choose a board with ImpactTechnology, you'll get boards with layers of carbon and fibreglass. Theysupport the areas where your trucks are mounted onto the board to preventcracks in your deck.


Width and concave – little details with a big impact!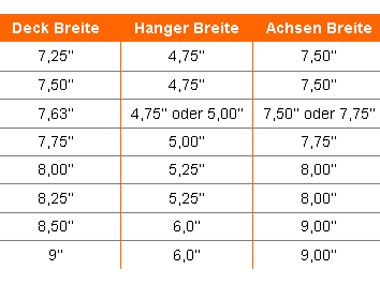 Unlikewith snowboards, your height doesn't play too much of a role in choosing theright skate deck. The average skateboard deck is 31,5''(80 cm) long. The widthis a lot more important and can range from 7,5" (19 cm) to 9,0" (21 cm).
Smalldecks are usually between 7,5" (19 cm)and 8" (20 cm) and are perfect forstreet skating. Faster flips and more flexibility during spins make you readyfor every trick.
You'llneed a larger surface area to stand on if you like vert or pool skating, sowider boards are the best choice here.
If you like to go fast and want higherairs, all decks over 8" (20 cm) aregood for you!
In order to avoidwheelbites and get great performance, you should stick to these measurements inyour setup.

Haveyou ever tried an Ollie on a flatboard? Unless your name is Tony Hawk, you probably failed miserably. That's whythe nose and tail are curved upwards. Those aren't the only curves in theconstruction of your deck, however: the cross section of a skate deck has acentral low point known as the concave.It can be mellow, the flattest ofall concaves, standard or high.

Choosing a concave all comes downto personal preference. A high concavewill give you great board feel, whereas a mellowconcave gives you the largest surface area to stand on. A standard concave is right in the middleand ideal for beginners.
Next to their length, width, concave and materials, skatedecks also vary intheir graphics. No matter what is most important to you, the huge selection ofskate decks at Blue Tomato is sureto fulfill your every wish!