Nike Janoski
Stefan Janoski for Nike Skateboarding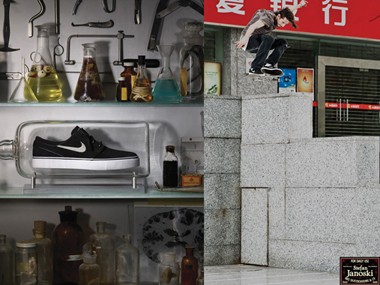 With Stefan Janoski, Nike Skateboarding has not just any pro skater in its team. The creative skater has realised, together with Nike, his idea of the perfect skate shoe. Now, the Stefan Janoski Collection, thanks to the ideal combination of function and design, has become one of Nike's best known and popular shoe-lines.
Skater, Artist, Designer - Stefan Janoski
Stefan Janoski was born on 18 July 1979 in Vacaville, California. He already made a name for himself in the countryside around his hometown, before he became one of the prominent skaters of the Sacramento scene. What makes his riding so special? Janoski is known best for his unique switch tricks. His switch flips over double stair sets are unmistakable. Now the West Coast skater has taken the flow and easy style of his tricks to the streets of New York. This sample of East Coast style makes his style and flips even more unique. The influences of the Big Apple can also be found in the new shoe designs.

Next to sports, Stefan Janoski lives for art. He paints, cooperates on different designs, plays or writes on his guitar. Through skating and shoe design, he can combine this creativity with his job. Together with his sponsors Nike, Habitat, Venture, Asphalt Yacht Club, Mob Grip, Bones Bearings and Glassy, the New Yorker by choice not only lives his skate dream, he turns his creative ideas into the Nike Stefan Janoski collection. Next to the comfortable skate shoes the hard-working skater developed, together with Habitat, a matching skate deck.

Janoski's Signature Series for Nike
The Stefan Janoski shoes are not only super stylish, they are also perfect for every day skating: stable but still flexible, simple, but at the same time sophisticated. Stefan Janoski designs shoes for every day, every hour, and every second on a skateboard. It hasn't been an easy road from the first idea until the finished shoe because Janoski didn't want to compromise. His name, his shoe, his rules – finally he finished, together with Nike, his dream shoe. The Nike Shoe Stefan Janoski Collection was born.

Thanks to the Nike Zoom Technology, the outsole is suitable for every day skating. As part of the Nike Air heritage, the outsole stands out, because of it's lightweight and durable material. The thin padding provides more feeling under your feet. Because your foot is lower to the ground, you have more stability, especially with fast directional changes. Due to the taut fibre structure of the sole, it will regain its form immediately after various stresses. The sneakers adapt themselves quickly to different surfaces and give you a better feeling on any surface.

In addition to the normal insole, the original Janoski Collection also comes equipped with a cork sole. The cork sole not only guarantees you comfort but is also a tribute to his father, who is a wine grower in Vacaville. The autoclave production combines outsole and upper, so the signature shoe from the Californian skater becomes even more resistant. In the new collection Janoski sticks to his color selection. Classic black, low-key gray and elegant white go with every outfit. Do you want to go one better and indulge your feet and ankles with even more attention? Try the new summertrend – cropped pants – and earn even more envious looks.

Nike Stefan Janoski Max Sneakers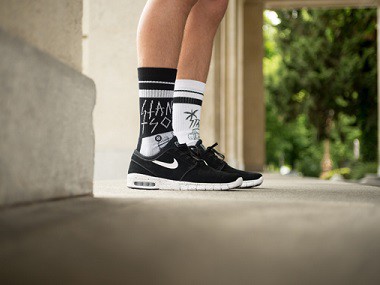 This series sets new standards in terms of comfort! The perfect sneakers – by skaters, for skaters. The Stefan Janoski Max is a shoe that works, both in its design and construction. Deep flex grooves give you freedom of movement, while Nike Max Air technology offer effective cushioning over rock-hard concrete. The herringbone traction pattern keeps your feet glued to your skate deck.
The Stefan Janoski Max collection doesn't need flashy colours to win anybody over. If you just don't have enough energy on a gray day despite everything, Stefan Janoski chose the perfect colours for the ultimate energy-boost. With these colourful gems on your feet you definitely have all the energy you need for your next skate-session. So save your energy for skating, because with these shoes you won't need to worry about your style anymore. We say, well done Mr. Janoski!