What is splitboarding? Using a split snowboard to climb mountains and freeride down. Apart from the splitboard, you need special bindings for ascending, skins for grip and poles for balance. Our guide will help you find the right setup.
Chapter 1
What is splitboarding?
Splitboarding is climbing a mountain to access the deepest, untracked snow. It's pretty similar to ski touring - just with a split snowboard. So if you want to discover new powder slopes without any tracks and people then splitboarding is just the right thing for you.
A good splitboard is key to a successful tour. However, there are a few more things you will need.
A splitboard setup includes:
Read on to learn about the different components, so you can find your perfect setup.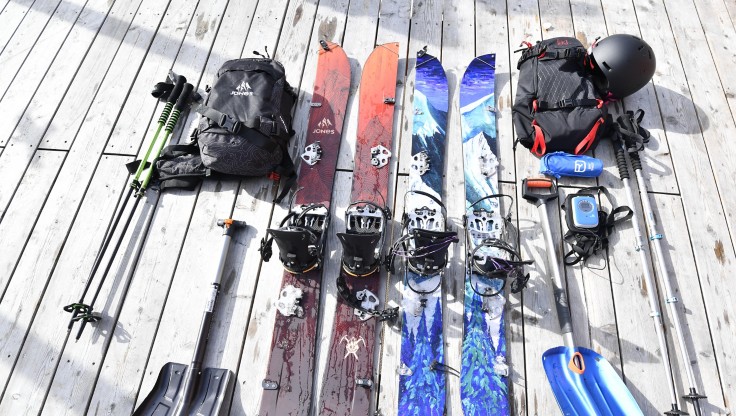 Chapter 2
Which splitboard should I buy?
So what makes a splitboard different to a regular snowboard? Apart from being split down the middle. Splitboards are designed for riding powder snow, that's the whole idea. A splitboard is a snowboard which has been split vertically down the middle. The two halves act as skis and grippy skins attached to the bottom help you climb the mountain. At the top you remove the skins and reattach the two halves and ride back down.
The best for powder
When you're slashing powder runs, the chances are that you'll be going in one direction: forwards. So, why not choosing a splitboard that's optimised to go forwards?
A directional shape works best for riding deep snow because the stance is set back adding more weight to the tail, the nose is longer for more floatand the sidecut is directional for optimal turning.
If you are looking for the ultimate powder splitboard, choose one with a taper. Tapered snowboards have a nose which is wider than the tail adding even more of the floaty, surfy feeling we all love!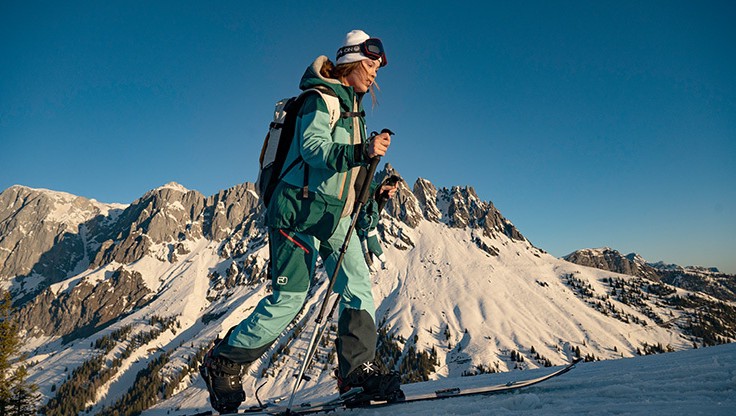 Splitboard flex
A splitboard, because of the nature of slicing the board in two, will naturally flex a little differently. These boards are generally a little stiffer, flex between 5 and 10 on our scale. This helps with climbing up and riding down, so you have the best control and support.
Compatibility
Does everything fit together? Most splitboards have a standard hole mounting pattern which works with any bindings we sell. Burton and K2 use the channel style system which fits with Voilé splitboard binding systems.
Splitboard length
Your splitboard should be a similar length to your regular freeride snowboard, so between your chin and brow. Longer boards will give you more float in deep snow and have more edge for skinning which is better for hiking.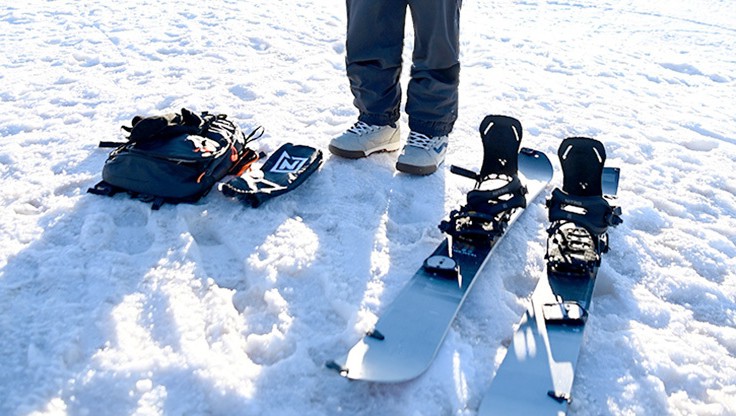 Chapter 3
Which splitboard interface and binding go together?
Splitboard interfaces connect the bindings in two different ways:
For climbing up, the bindings are hinged just like on touring skis.
For riding down, the bindings lock into a snowboarding stance.
Each interface manufacturer developed their own technology which only works with matching bindings.
Please check what is needed for your interface of choice as some brands require additional pucks and hardware to mount. Others will only fit with certain splitboards.
To make things easier for you, we explain the different systems below.
Lightweight & easy to use
The Spark R&D Interface is known for being extremely lightweight and user-friendly. The integrated T1 Tesla system allows you to change from tour to ride mode in a heartbeat. Spark R&D has basically refined the Voilé system, shaving a good amount of weight and height. Your stance can be adjusted individually with the help of patented pucks, that go with all kinds of 2x4 inserts. Spark R&D bindings that can be used on this interface have a lot of great features, which make them some of the most popular bindings on the current market.
Spark R&D is compatible with: Spark R&D bindings and Burton Hitchhiker bindings.
When ordering a Spark R&D binding, you get the following components right in the box: Tesla touring brackets, T1 heel rests, mounting screws and Spark pocket tool.
In addition you need: a set of Spark pucks, Spark canted pucks or Voilé pucks.
Reliable connection and great board feel
The Karakoram system consists of the interface with matching bindings. So you don't need to buy extra accessories. No other system is faster or easier when it comes to changing from touring to riding mode thanks to a user-friendly quick release lever. It is lightweight, robust and offers more boardfeel than other splitboard interfaces. Additionally, this interface allows you to lock the heel of the binding, which is unique to Karakoram. These features along with other sophisticated technologies make the brand one of the most trusted suppliers for all kinds of backcountry adventures.
Karakoram is compatible with: Karakoram bindings.
The system comes with everything you need, right inside the box.
High-end performance & easy mounting
Reliable bindings are crucial when riding the backcountry. However, finding the right parts to get a matching system can be quite confusing. Union avoids that struggle by bringing all the parts you need, right inside one box, easy to mount and ready to shred. The Union Split System is super simple to use and has a unique Interface which works only with the Union Expedition bindings. It corkscrews your board together, allowing it to perform like a regular snowboard. Less moving parts, a simplistic design and proven materials come together to create some of the best backcountry experiences you've ever had.
Union is compatible with Union bindings.
The system comes with everything you need, right inside the box.
Value for money
Voilé was one of the first companies to make splitboard equipment. Their system consists of four pucks that are screwed to the inserts and touring brackets. For ride mode, the bindings are slid onto the pucks and secured by a pin. In tour mode, that same pin acts as a hinge to the brackets.
For best performance, you can use them with Voilé bindings. If you don't want to splash out on splitboard bindings, you can also use your regular snowboard bindings with the Voilé Slider Track. This option might be a bit heavier but still does the job.
Voilé Pucks are compatible with: Spark R&D bindings, Burton Hitchhiker bindings, SP bindings, K2 Far Out bindings and any Snowboard binding if you mount them with the Voilé Slider (sold separately)
When ordering a Voilé binding, you get the following components right in the box: Dual Climbing Heels, Touring Bracket, Slider Pins and Ride-N-Stride Highback (some bindings come with a heel lockdown as well).
In addition you need: Voilé splitboard pucks.
Burton's take on splitboarding
The Hitchhiker is the result of Burton collaborating with Spark R&D. The baseplate and the interface are from the American splitboard specialists and the straps, buckles and highback are from Burton. This means you get the lightning fast splitboard interface of Spark R&D and the comfort and support from Burton's components. The best of both worlds!
The Hitchhiker is compatible with all Burton splitboards (2015 onwards), K2 splitboards and any other splitboard with the Voilé or Spark puck system (bought separately).
Chapter 4
Which boots can I use for splitboarding?
You can use your normal snowboard boots for splitboarding. A stiffer freeride style snowboard boot is recommended for better control and grip on icier slopes. The best option is a splitboard-specific snowboard boot. It is stiffer for climbing, have more ventilation for when you break a sweat and have an articulated cuff for a more comfortable stride.
Splitboarding boots
There are splitboard specific snowboard boots. They have feature specific for splitboarding and also mountaineering. You can find grippy, crampon-compatible soles, ventilation for extra sweat and even on some models a walk mode for a longer stride.
Freeride snowboard boots
If you already have the most comfortable snowboards boots, great news! You can probably use them too for splitboarding. We don't recommend using soft jib or freestyle boots - They don't offer the needed support. Usually, all-mountain and freeride boots are supportive and grippy enough for regular ascents.
If you are looking to buy boots which are great for snowboarding and splitboarding, look for freeride boots with a mid-stiff to stiff construction.
Chapter 5
Climbing skins and crampons
Climbing skins and crampons help you up the mountain… obviously!
Skins are essential for climbing up snow; crampons are only used in steep and icy terrain
Splitboard skins
Splitboard skins are fabric strips which stick to the bottom of your split skis with glue and clips. They have a hair-like surface to grip the snow, allowing you to climb uphill without sliding back down.
Brands like Jones and K2 offer pre-cut skins which fit the corresponding snowboard from their line. Another option is trim-to-fit skins which come in different sizes. Trimming them is relatively easy: You apply the skins over the base of your snowboard and then trim them with the provided trimming tool.
When buying skins, you should also consider their material composition. Nylon is durable and very grippy; mohair is lighter and glides better. Most skins brands offer blends of both materials to combine their qualities.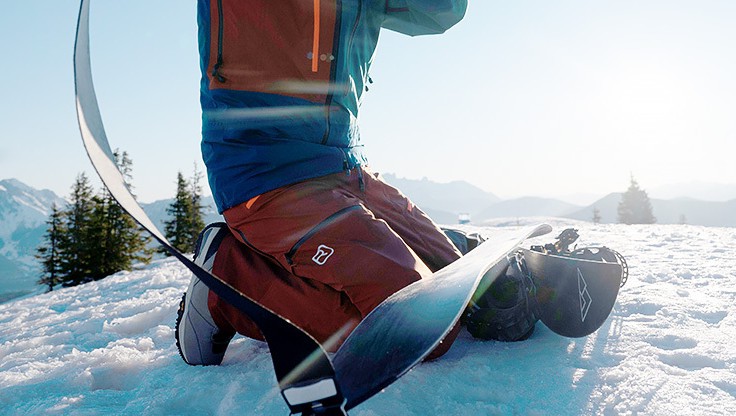 Splitboard crampons
If you plan to go splitboarding in challenging conditions, you should also consider buying crampons. These metal traction devices attach to your splitboard bindings. Their teeth give you the much-needed grip for steep or icy ascents.
Make sure the crampons fit your splitboard interface.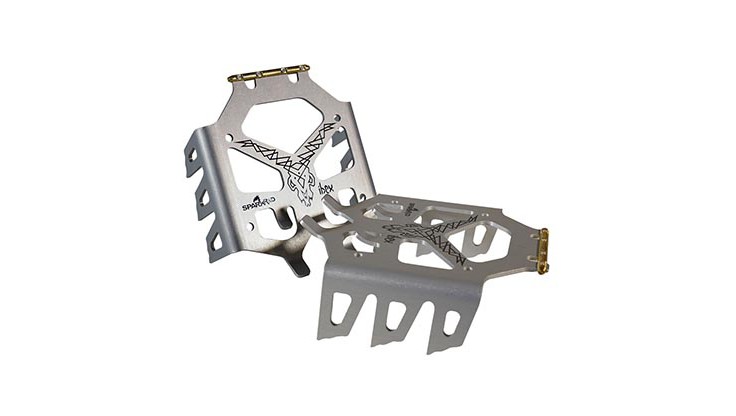 Chapter 6
Which poles are the best for splitboarding?
'Wait, I'm a snowboarder, why do I need poles?'. Well, yes, poles are most closely associated with skiing but they are essential for splitboarding. When you are climbing with all your gear, a pair of telescopic poles helps with grip, stability and efficiency. The beauty of telescopic poles? They collapse down to fit in your pack when your ride down.
Telescopic vs foldable
We offer telescopic and foldable designs with different locking mechanisms. Generally, the more sections the shaft has, the wider the range of adjustment.
Aluminium vs carbon fibre
Most shafts are made of either aluminium or carbon fibre. Both materials are strong and lightweight. We recommend aluminium poles for splitboard beginners due to their durability and value for money.
If you count every gram, go for carbon fibre poles. They are the lightest you can get.