Two Heads, an Idea and a Revolution - Nike

One of these two innovative heads was Bill Bowerman, a sports coach at the University of Oregon. He always wanted to give his athletes that extra little advantage and knew where the most potential lay - sports shoes.

Bowerman found the second head in Phil Knight, a former student of his. Together, they founded "Blue Ribbon Sports" in 1964 and began distributing "Onitsuka Tiger" sports shoes, now better known as "Asics". In 1971 they founded Nike and history was made. The name derives from the Greek goddess of victory - rather fitting then, that the brand has run such a triumphant course. The world famous "Swoosh" was designed by graphic designer Carolyn Davidson.

In 1972 the first of their very own shoe collections blew the sports world away with light weight designs and innovative shoe profiles. The success of the brand has historically gone hand in hand with the success of their sponsored athletes: Michael Jordan, Tiger Woods and Lance Armstrong are just a few examples of the long line of professional sportsmen and women that swear by Nike products.

These days, daughter brands such as Hurley, Converse and Jordan Brand all fall under the banner of Nike. Nike have truly stuck true to their motto, "Just do it!"


Behind Every Successful Sportsman is a Successful Shoe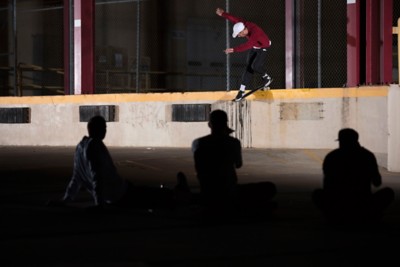 Their devotion to developing the perfect shoe is undoubtedly the key to Nike's success. There is not a single area of the shoe that hasn't been taken under the microscope, analysed and perfected by Nike.


Nike Shoe Technologies

Lunarlon
Lunarlon shock absorption consists of a soft, springy foam core which makes the shoe lighter and more reactive whilst absorbing shock and improving grip.

Nike Air
Nike Air technology locks compressed air inside flexible chambers. With every shock the elements of the Air Sole are pressed together and the compressed air absorbs the impact. These air chambers also make the shoe lighter and help to protect your foot muscles and tendons.

Air Max
Air Max technology sort of belongs to the Nike Air family. The principle is the same; air chambers reduce impact and make the shoe more lightweight. Air Max shoes use less material in their construction, affording the shoe a lighter weight while leaving the air chambers visible beneath your feet.

Nike Zoom
Another member of the Nike Air Family is the Zoom. Here, once again, "lightweight" and "durable" are key words. Thanks to the minimal profile of the shock absorbing technology, Zoom gives you a stable, low-to-the-ground, reactive system.

Nike Shox
Nike Shox technology revolutionised shock absorption. Four small, super-elastic foam columns ensure optimal shock absorption, greater endurance and a unique springy feel.

Nike Free
Thanks to a notched profile and hexagonal flex grooves, Nike Free shoes give you that barefoot feeling. Through "barefoot training" your foot muscles get stronger, giving you that extra performance boost.

Hyperfuse
Hyperfuse shoes are known for their 3-layer composite material, which is made up of synthetic leather, light mesh and TPU foil. The process of joining these three layers under pressure and heat is what gives these shoes their ground-breaking new look and guarantees an ultra-breathable, wear resistant pair of shoes.

Flywire
Flywire technology consists of fibres specially arranged throughout the material that give your shoe grip where you need it most. Combined with a minimalistic upper profile, these are some of the lightest Nike shoes ever made.

Dynamic Support
Dynamic Support technology gives extra stability to the midsole, without adding any extra weight or stiffness. The soft foam on one side combined with harder foam on the medial side gives your shoe extra shock absorption and firmness exactly where you need it.


We proudly present: Zoom Stefan Janoski

The skateboard scene first discovered the unbeatable quality of Nike shoes' in the late 80's. Through limited edition colourways and collaborations with a range of pro skaters like Gino Iannuci and Lance Mountain, Nike quickly gained cult status in the scene.

If you're looking for one of the best skate shoes on the market today, the Nike Janoski is a must-have. Pro Skater Stefan Janoski's signature shoe cleverly combines innovative features with a minimal design and, thanks to Nike Zoom technology and the resulting lightweight, super sensitive shock absorption, makes day long skate sessions less strenuous than ever before. Nike Zoom construction brings you closer to the ground and therefore closer to your board, bringing huge benefits for boardfeel.


Nike Do more than Just Feet - Nike Outerwear and Streetwear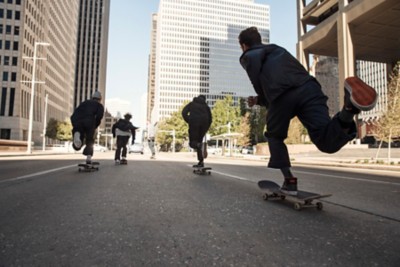 They also regularly cook up a storm in the streetwear department with a range of sweet designs and a variety of innovative logo prints. They also have a brilliant range of accessories to round off any outfit. Their sportswear in particular is worth investigating, with technologies like Dri-Fit, Therma-Fit and Storm-Fit to name just a few.

If it's ultimate clarity of vision you're looking for in a pair of sunglasses, Nike Vision provides the answer. Whether for sport or summer holidays, the vast Nike Vision collection is guaranteed to have something for everyone.


A Big Tick for a Good Cause

Nike aren't ones to rest on their laurels and refuse to stop working to improve things.

"The Nike Foundation" is an organisation that aims to help young girls in the third world break free from the cycle of poverty. The project focuses on the individual potential of each child, something Nike call "The Girls Effect".
They also support the "Stand up, speak up!" campaign which aims to eliminate racism from football. As a show of support for respect in the beautiful game, Nike offers two interlinked black and white wristbands.
Nike is also the main sponsor of the NFL.

Learnt enough about the brand? Then do as Nike's motto suggests and "just do it!" Check out the Nike collection at Blue Tomato and kit yourself out from head to toe!