Women's Snowboard Jackets: stylish, warm and functional
As they say, "clothes make the (wo)man" and women's snowboard jackets keep board sport loving ladies warm and dry. Brands like Burton, Roxy and Oakley are ones to watch out for. Modern ski and snowboard jackets are incredibly well made and are chock full of functional features with high water columns, high levels of breathability and effective insulation coming as standard. When it comes to style you're spoilt for choice with regular fit, loose fit and slim fit jackets available. From Parkas to feminine fit Jet Set jackets, there's something for every taste.

Breathability and Water Columns
Snowboard jackets are made with intelligently designed, functional fabrics that give you a whole host of benefits:

Breathability refers to how many grams of water vapour can escape a square metre of fabric over 24 hours. A breathable jacket lets water vapour from your body escape whilst keeping moisture from outside from getting in.
The water column is a measure of how waterproof your jacket is and is measured in millimetres. Manufacturers literally put a column of water on the fabric and measure at what level (and therefore, pressure) the water begins to leak through the material.
Membrane systems such as GoreTex® and Sympatex® are specially designed materials that feature microscopic pores that let water vapour out without letting water get in from the outside.
Thermal insulation is about how much body heat your jacket can keep in, whilst keeping the cold out. You can choose between real down, merino wool, or synthetic insulating materials like Primaloft®.
Features Add Value and Value Equals Happiness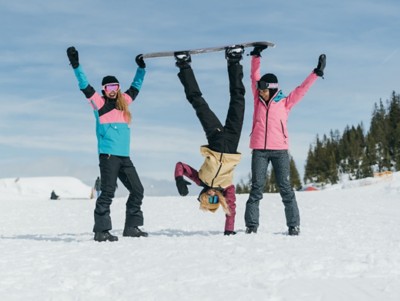 Alongside high quality manufacture and high levels of functionality, there are a number of features that will make you fall in love with your new snowboard jacket:

Taped seams are durable and keep wind and weather out.
Snow/powder skirts at the waist and cuffs keep the snow out so you can make the most of the powder.
Integrated goggle pockets (with goggle wipe) guarantee good vision.
Ventilation systems let you regulate your temperature.
Adjustable hoods offer extra protection from harsh weather.
Lift pass pockets save you time in the lift line.
Get Home and Dry with the Right Jacket - Get the Right Features for Your Riding Style
When you're buying your jacket, think about what you'll be using it for. Your riding style dictates which features and functions will work best for you. If you're looking for a functional jacket for back country splitboard tours, look for a light model with a low pack volume. If you're riding in the freezing cold nothing beats a down jacket. If it's park and pipe style you want, check out the more casual fit jackets from brands like DC, Rip Curl, or Volcom. For all year round comfort, try out a 3-in-1 jacket from The North Face to keep you comfy whatever the weather. They combine a weatherproof outer shell with an interior thermal jacket. Both jackets can be worn separately depending on the weather conditions killing more than a couple of birds with one stone. You can also combine inner and outer jackets from different brands like Arc'teryx, Bergans or Mammut.

Now that you have all the most important information about functional jackets, take a look at the humongous selection of great value women's snowboard jackets at Blue Tomato. Get on it!