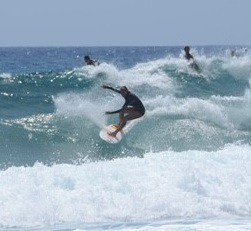 Great and affordable skate protection for little shredders
of Nusa, Customer Service, Blue Tomato, 5 Sep 2022
I´m a mum to a 2 year old and since I skate and surf skate, I wish to share the passion for those sports also with my kid. I use the same protection for skating and I´m super satisfied with them that´s why I also bought them for my kid.

They offer perfect protection for the most important body parts, are nicely padded and easy to put on. They don´t slip and they stay in place. My son really loves them and when he´s all dressed, he looks like a tiny ninja turtle, and this is so cute.
It can be a bit sweaty underneath though especially in summer months, but that´s normal for protection gear.

I would recommend them to all little shredders out there! I notice that when I put the protection on my kid, he seem to be more enthusiastic about being on a skateboard.
About me:
I am Nusa and have worked at Blue Tomato for 8 years. I am a Skateboarder with over 5 years of experience, mainly riding Bowl. I am 170 tall and I bought this product in size uni .