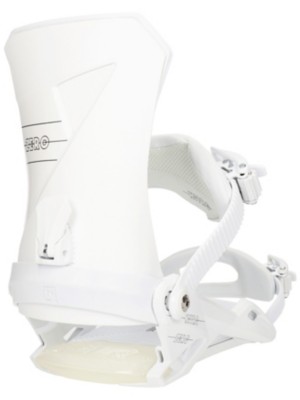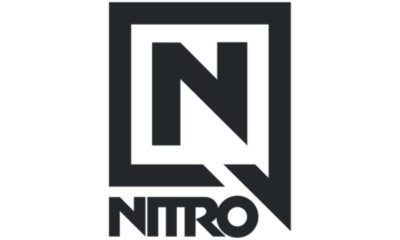 Nitro
Zero 2023 Snowboard Bindings
Delivery time

only 1 to 3 business days
The Nitro Zero offers a skate-feeling with comfort and reliable support
The Nitro Zero combines technologies that provide a skate-like feel with all the support and response needed to take tricks on and off the rails to a new level with ease and comfort. The Zero offers a playful, skate like boot-to-board experience that makes it one of the most popular freestyle bindings.

Highback
The soft Asym Zero Highback offers you support for hard landings and at the same time plenty of flex for freestyle moves.

Baseplate
The Stealth Open Air Baseplate has an open window under your toes and heels for a free flex and a minimized aluminium heelcup, that lets you adjust the binding to your boot for a perfect fit. The Nitro Air Dampening is lightest shock absorbing technology on the planet sucks up that hard landings and keeps your heels from getting bruised. This noticeable difference in ride and comfort does not sacrifice any response and control. The 3° Canted Footbed puts your body in the most natural and ergonomic position on the board. At the Board Saver Technology, corners on the base plate of the bindings are rounded to reduce a hard friction point where the binding and board meet. The rounded corners underneath the binding allow the board to flex more naturally around the binding base tray as well, allow for a more natural ride and less stress to the board in these areas.

Straps
The Premium Comfort Ankle Strap is developed to offer the perfect blend of response and comfort. The B.E.S.T. Convertible Toe Strap can be worn as a classic toe strap or cap strap. No matter what, this toe strap fits seamlessly for a secure and snug fit. The Cable Reinforced Connectors have over-moulded stainless steel cables inside the ratchets and straps – no more stretch, no more breaks. Easy Entry Buckles and Ratchets are S-curved ratchet straps that stay out of your way when step into the binding. The wide-mouth buckle funnel helps you guide the ratchet for a fast, precise bite of your buckles.


Attributes
Article number:

620642

Riding Style:

Riding Level:

Stiffness:

6

Flex:

medium

Pro Rider:

Yung Doli

Country of production:

China

For:

Men

Material Specification:

ALUMINIUM AND SYNTHETIC MATERIALS

Weight:

2200 g

Compatibility:

Standard Inserts

Features:

Highback rotation
Toe strap
Toe ramp

Entry Mode:

Straps
Features
Stealth Open Air Base Frame
Asym Zero Highback
Air Dampening
3° Canted Footbed
2x4 Mini Disc With Angle Lock Feature
Board Saver Technology
Premium Comfort Ankle Straps
B.E.S.T. Convertible Toe Strap
Cable Reinforced Connector
Aluminum Speedwheel Buckles
Easy Entry Buckles and Ratchets
About Nitro
Nitro was founded by two heavy duty snowboarders, who were disappointed by the selection of snowboard gear available to them. From day one, Nitro's focus has been on nothing but snowboarding and they are dead set on keeping it that way. Together with a star dusted team, Nitro's goal is to bring people together. With the help of snowboard events for kids, youths and adults, their plan for the next few years is to bring back the stoke and love for snowboarding around the world.