Reef defines a new lifestyle

Everything began with $4,000, two Argentinian brothers and their flat feet. Fernando and Santiago Aguerre, or Fer and Santi, as they call each other, founded Reef in 1984. With this step they not only helped themselves out, but also everyone else who was plagued by foot pain after running around in regular shoes after surfing. Originally, the company headquarters were located in Sao Paulo, Brazil, but today they are to be found in SoCal. Even after 30 years, they manage to stay true to their wanderlust mentality.

Miss Reef
Inspired by the beautiful women on the beaches in South America, the brothers saw a chance to introduce a new exotic element to the surf market, which they called Miss Reef. Ever since, their vibrant culture, pictures and beautiful Latin American girls have become part of the label's DNA, as well as the brand's biggest representatives.


Just passing through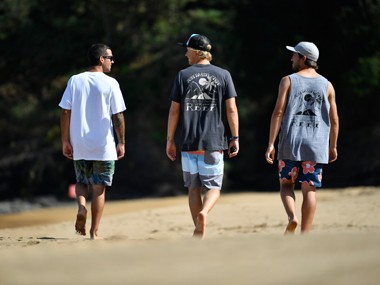 Over the past year, this lifestyle motto has established its own hashtag. With #justpassingthrough (and #meandmyreef) surfers and globetrotters all across the world share the adventures that they have with Reef products on Instagram and Twitter. The brand, with its casual styles for men, women and kids, depends on the spirit of global travellers and now, with their help, it is possible to combine function and fashion.


More than "just" sandals

The label initially focused on sandals with carefully designed footbeds and special straps to prevent wearers from losing their shoes when walking on sand. From streetwear clothes to its own surfboard line, today, the label offers a lot more. Swellular technology is now incorporated into many shoes from their "Rover" collection. It is a winner with its comfort, support and traction. Another special highlight from Reef are their Surfaris boardshorts, which stand out with their exceptional quality and versatility. Reef products provide immediate comfort and exotic style by offering versatile and multifunctional products that are ideal for the traveling surfer.

The following categories represent the brand's true highlights:

T-Shirts
Tank Tops
Accessories
Wetsuits
Boardshorts
Surf Accessories
Ambassadors and the Reef Redemption Program

The brand is also known for its Ambassador program which supports and promotes some of the best surfers around the globe, such as Josh Burke and Paige Maddison.
For Fer and Santi, it is important that nature does not get hurt in the production of their products. Thus, their sandals are produced using water-based adhesives that are completely free of PVC, and whenever possible, all their collections are made out of recycled EVA and other organic materials.
Reef's use of natural materials is only one part of the "Redemption Program." The brand's staff is another part. Reef employees get the opportunity to spend part of their work time each year volunteering at a non-profit organization of their choice.

By now, Reef is known worldwide and has become immensely popular. You can get your eco-friendly Reef product at Blue Tomato today, and, at the same time, give something back to nature.