Odd Future - a streetwear brand with hip-hop roots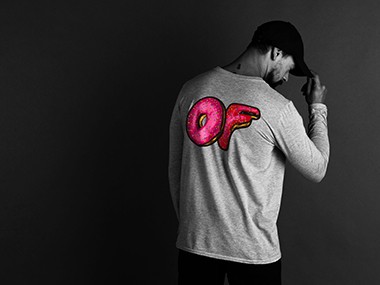 "Um, I was 15 when I first drew that donut, five years later, for our label yea we own it." ~ Tyler, The Creator

Odd Future (or OFWGKTA) is an American hip-hop collective that includes artists, rappers and skateboarders riddled with charismatic controversy. OFWGKTA, which stands for Odd Future Wolf Gang Kill Them All, was started in 2007 by founding member Tyler, The Creator and features his gifted entourage. The talented members include Frank Ocean, Earl Sweatshirt, Hodgy Beats and many more.

Initially, Odd Future gained recognition as the group posted their self-produced videos and raps online. But over the past several years the rappers have built an empire with their unique style that goes against the grain of social norms, bringing their creative approach to everything they do including music, clothing, videos and more.
The infamous OF Donut
The logo is simply the brand's abbreviations depicted as cartoon donuts in bright pink and yellow. The donut graphic as the emblem was a piece of cake, representing the youthful and carefree aesthetics of the group. Tyler, The Creator, envisioned the logo, as he used to draw donuts on his pants as a 15-year-old in an effort to differentiate himself. Individual members of the group as well as album artwork influence the merchandise and streetwear.

Check out the exclusive collection featuring the unique, vibrant prints and the famous Donut on all T-Shirts. Join the OF empire of the "do-it-yourself" movement.