AMPLID – from the ground up!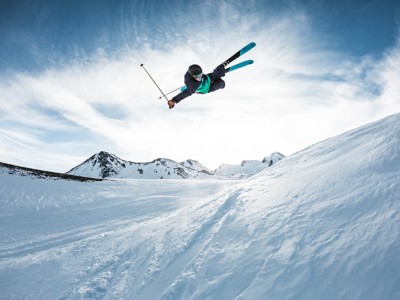 There are few brands on the market that live and breathe snowsports the way Amplid does. Founded in 2005 by snowboard legend Peter Bauer, Amplid was and still is the first ever brand to go to market with both skis and snowboards right off the bat. With decades of experience as a pro rider and an integral part of the R&D team at Burton, Peter decided it was time to take matters into his own hands. He wanted to put together a brand that was creative not only when it came to their top sheets and marketing campaigns, but in every aspect of the company.

With both the office and the production sites located in the heart of the Northern Alps, testing and fine-tuning products is made easy. Peter and his team are literally able to make their dreams come true. A prototype can be taken from an idea into the workshop and out on the slopes in as little as 3 days. With the support of a few loyal team riders, all Amplid products are rigorously tested before reaching the customer.
State-of-the-art equipment
Amplid works hard to create some of the best boards and skis on the market. Their goal is to deliver products of the highest quality that help riders to push themselves further and to enjoy every single ride they take.
Carve, cruise, pop or flop your way to snowboard paradise
Board shapes:


Camrock: A camber/rocker mixture that gives your snowboard extra grip when you need it and still lets you play around in deep, fluffy snow with the lightness of a 1000 feathers.
Cruiser Camber: Camber gives you everything you want in a board: edge control, precise turns and a lively feel. With an added touch of early rise, this board will have you floating through powder like a knife through melted butter.
Hybrid-V: Freestyle domination achieved with the perfect mix of camber and rocker. Camber under your feet creates improved stability and edge hold, whilst the rocker profile gives effortless pop and sensational pivot.
Pop Camber: Not the easiest profile to ride, but once you learn how it will give you the most explosive pop you can imagine. With undeniable edge hold and stability, it's a lean mean carving machine.
Splitboards
Alongside an army of heavy-duty freestyle and freeride boards, Amplid have a fleet of splitboards on hand. If you are looking for fun adventures that don't include lifts, then one of these bad boys should without doubt be added to your collection.
Blank Plank
Amplid offers up a blank canvas snowboard. Something for you to get your creative juices flowing and build your dream ride. Shape it, cut it, split it, chop it – do whatever you please. Make it just the way you like it
Shred Sticks = French Fries = Love Planks = Just Plain Old Skis
Ski options

Camrock: A ski specific camber created for deep snow. With large under foot camber providing grip and stability and reversed camber in the tips to give the ski the float and fluidity it needs.
Popcamber: For the true shred beast out there. It will take a bit of getting used to but once you've got the ball rolling this camber will have you popping like the sweet release of a tightly wound spring.
S-Rocker: A mash-up of camber and rocker creating a perfect freeride ski. Agile in deep conditions, stiff when conditions turn icy, and sturdy and grippy throughout.
Having been around the block more than once with their armada of freeride and freestyle skis, Amplid know how to make high quality shred sticks. Whether you are seeking thrilling park lines, cruising the ski resort or diving into deep powder - there is sure to be something that strikes your fancy.
One for the environment – The Green Light Project
One of the many things that makes Amplid so likable, is their constant strive toward lessening their environmental impact. In 2013, they launched the Green Light Project, an initiative aimed at developing new eco-friendly technologies and using more recycled materials to create Amplid products. This includes sourcing all of the raw materials that go into their skis and boards from suppliers located no more than 300 km from the production facilities.