It's what's inside that counts. No, we're not talking about inner beauty, but rather layering. Each layer plays its part, a base layer to move sweat away, a mid-layer for warmth and outer layer to keep you dry. Together they keep you toasty warm and comfortable.
Chapter 1
Base layers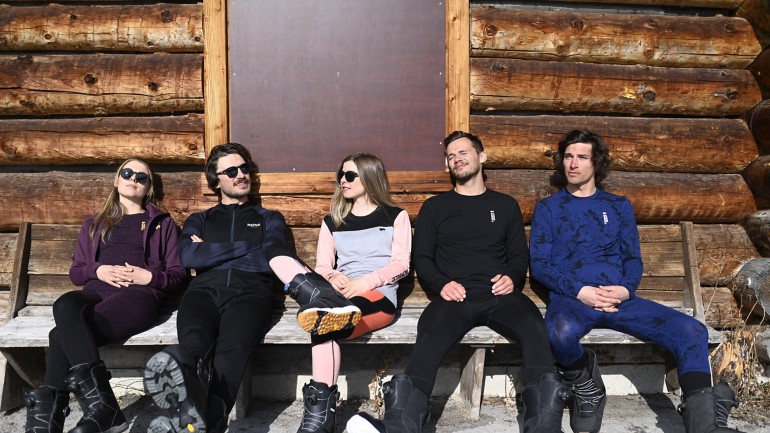 The base layer is either worn under next to the skin or over your underwear. Base layers insulate you and wick sweat away from your body. Imagine the wet clamminess of after you've been for a run - then amplified by a whole day on the mountain, under other layers. Not a nice thought! That is why wicking sweat is so important - a simple cotton t-shirt just won't do.
Base Layers are made from either merino wool or synthetic materials. Merino wool is a natural, smooth, fine fibre which is brilliant at regulating temperatures. It controls temperature by absorbing and releasing moisture. Merino wool has antibacterial properties reducing unpleasant odours and is exceptionally breathable. Synthetic materials like polyester and nylon are also used for base layers. They are sturdy, quick-drying and elastic. Another plus is they are straightforward to put in the washing machine and maintain.
Base layer tops
Your base layer top lies next to the skin, under your jacket and mid-layers. The point here is to transport sweat away from your skin and keep you feeling fresh and warm. Merino wool is the top option here as it is perfect for regulating temperature.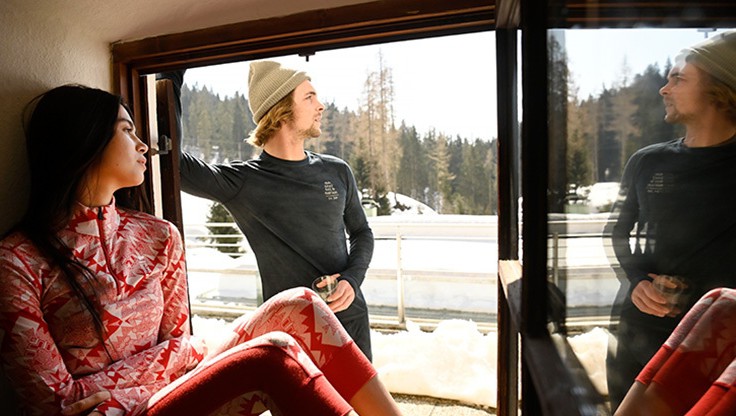 Pro Advice
With merino, you can wear your base layers a few times before washing, just make sure to air them out in-between.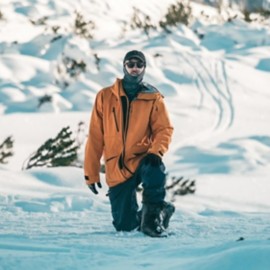 Jon
Product Content
---
Base layer bottoms
When wearing your ski or snowboard pants you are not likely to wear an insulating layer, so it'll just be a base layer then your snowboard pants. Here if you want more stretch and quick-drying opt for synthetics if you really feel the cold go for merino. Important here is to consider your snowboard pants, if you get cold quickly, go for insulated, if you get hot easily go for shell pants.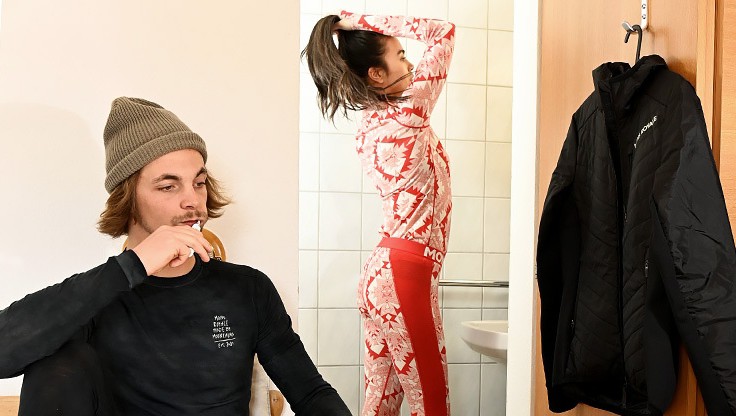 Ski and snowboard socks
Ski and snowboard socks are not your every day cotton socks! For long-lasting comfort and performance, it is best to wear socks which are designed specifically for your sport. Technical snowboard and ski socks are always made from either merino wool, synthetics or a combination of both. They have specific padding, ventilation and weights for winter sports. One of the most common mistakes is to take your normal cotton socks for riding - they just won't cut it. They are not wicking and will leave your feet sodden from sweat - not a nice thought. Also, resist the urge to wear multiple pairs of socks - they won't make your boots any more comfortable and will just bunch up!
Just wear one pair of merino, synthetic or blended socks.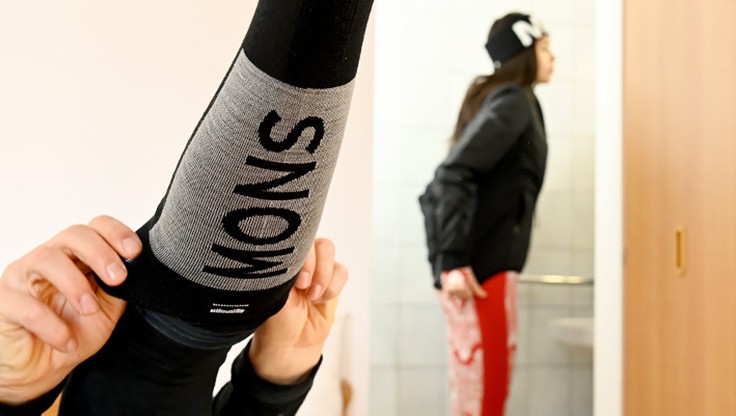 Pro Advice
Always wear just one pair of technical socks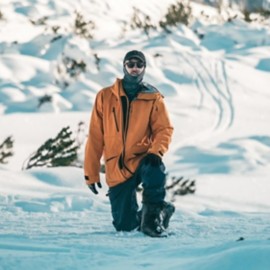 Jon
Product Content
---
Chapter 2
Mid-layers for warmth
The mid-layer is the warming or insulating layer of your setup. A good warm fleece, insulator or hoodie will keep you warm even in the coldest of conditions.
Fleece
Cuddly, warm, soothing. You can't beat a good fleece! Cotton is a naturally produced material. Fleece, on the other hand, is produced synthetically mainly from polyester and processed into yarn. After this process, the soft material is manufactured in another treatment to create the coziness which we all know and love. Fleeces have excellent thermal insulation, temperature control and importantly no-stink. Fleeces are ideally suited as mid-layers, as well as for rainy days at home on the sofa. At minus-degrees, a fleece mid-layer is a brilliant choice. The products marked with WindStopper® or WindWall® are windproof, yet breathable and functional.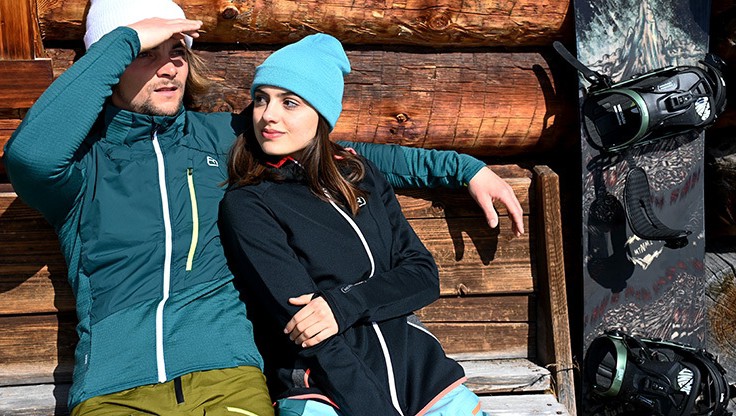 Insulator jackets
The times when you looked like the Michelin Man in bulky down jackets are over. Modern insulator jackets are light, warm and extremely packable. If you want the option for maximum warmth - go with an insulator under your ski or snowboard jacket. Insulators either use down or synthetic fillings to keep you warm. Down has the best warmth to weight ratio and packs to a fraction of its size - be careful with washing though. Synthetic insulation is light and packable too, a great example is PrimaLoft®. Originally developed for the military, PrimaLoft® has an extremely light and low-profile structure. Millions of air particles are trapped in a microfibre fabric. These microscopic air particles repel water while they capture heat. Primaloft keeps you warm and dryeven in the most severe conditions, even after repeated washes, the performance never slips.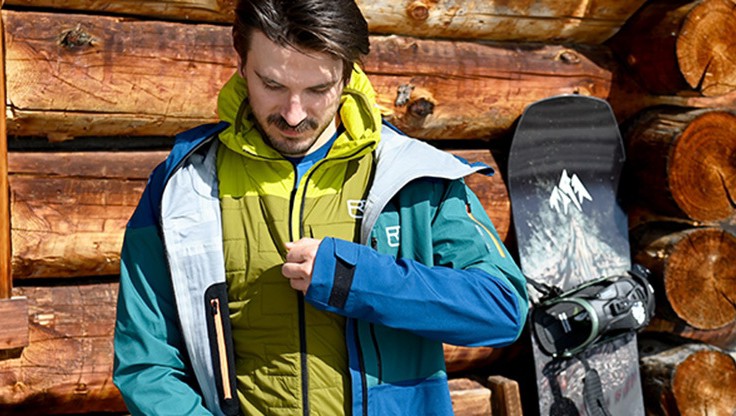 Hoodies
For warm spring days, nothing beats a stylish hoodie, but we all know: Once the hoodie is wet, it remains wet - or it freezes. Everyone has afavourite shred hoodie, but as soon as the temperatures fall, the functionality a hoodie suffers as they are often made of cotton. If you want a hoodie for riding, look for for a higher polyester content as it will wick sweat and perform better than a 100% cotton hoodie.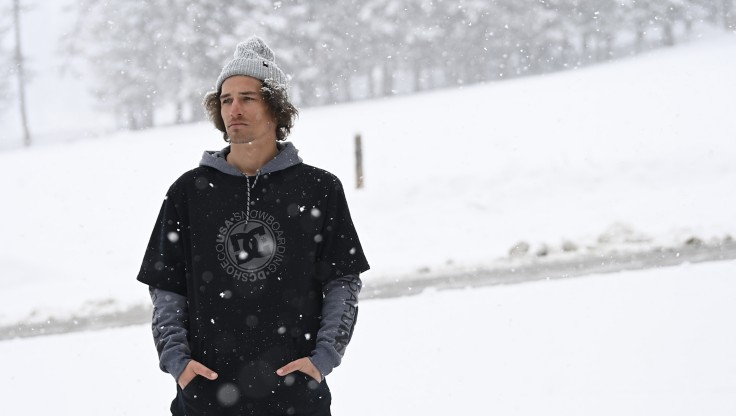 Pro Advice
If I'm riding park all day, I'll layer up with a hoodie. Then when it warms up, I can ride just in the hoodie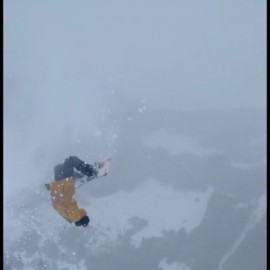 Nick
Product Content
---
Chapter 3
Outer layer - protection from the elements
The outermost layer is your snowboard jacket and pants. They are the first point of contact with the fickle and fast-changing moods of Mother Nature. If it is dumping and you're heading to the white room, snow skirts, gaiters, and a high level of waterproofing prevent snow and moisture from getting in. If you want to know more about snowboard jackets and pants, head over to our outerwear buyer's guide.
Snowboard jackets
When it is really snowing or windy you'll be glad to have a good snowboard or ski jacket. Look for a snow skirt, plenty of pockets and wrist gaiters combined with a good waterproofing.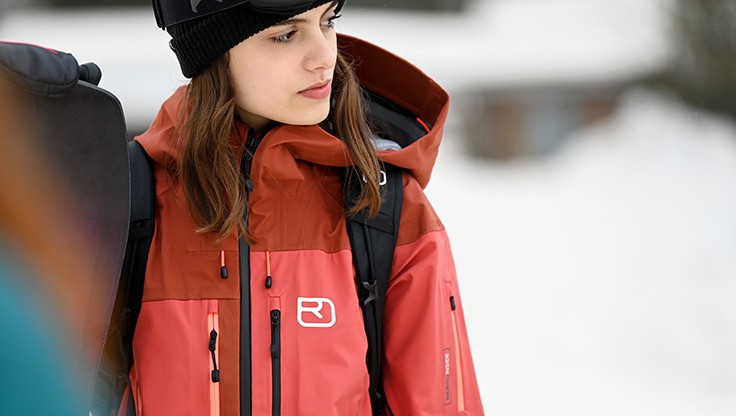 Snowboard pants
Ski or snowboard pants are indispensable, look for pockets in the right places, seam sealing, gaiters and good waterproofing. To be on-trend and for excellent coverage, you can try a pair of bib pants.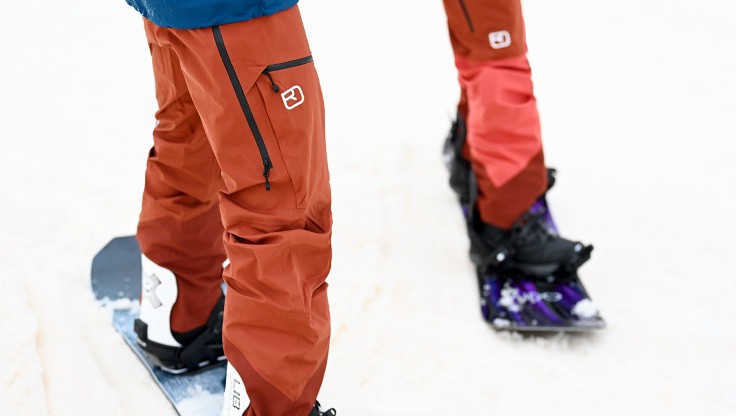 Chapter 4
Accessories - beanies, neckwarmers and gloves
The last part of your comprehensive layering system is your accessories. A bandana to keep snow and wind from your neck, a beanie for your head and finally don't forget about your fingers. Keep them nice and toasty with warm gloves or mittens.
Beanies
A good beanie will keep your head warm and will be comfortable for hours of riding and chilling in the bar after snowboarding. Everyone has a favourite beanie, find yours below.
Pro Advice
Always keep a spare beanie and neckwarmer in a pocket. Great if yours get sweaty or you want to change up your look at apres ski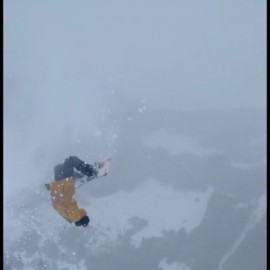 Nick
Product Content
---
Neckwarmers
You know that feeling when someone blows down your neck? Well, times that by a thousand and you've got how you feel if you forget your neckwarmer when snowboarding! Don't get caught out and get a neckwarmer or balaclava to keep the snow and wind from your neck.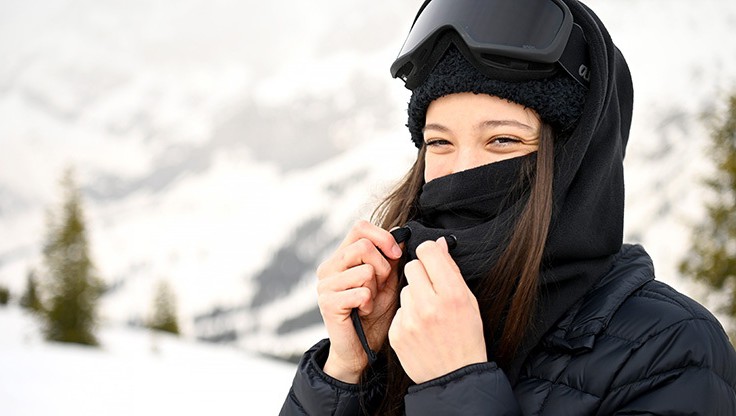 Gloves and mittens
We shouldn't need to say this - the mountain can get seriously cold. Protect your fingers from the cold with gloves or mittens. If you are interested in the features of gloves and mittens in more detail check out our outerwear guide.