Snowboard Jackets: A Symbiosis of Functionality and Originality
It doesn't matter whether you prefer to hit the snow park, head out on backcountry expeditions, or carve up the slopes - there's one thing you should never leave behind: your perfect snowboard jacket. What should consider before buying a new coat? The market is just as enormous as it is versatile, which is why Blue Tomato will help you get a good overview of what's out there.

Water column, breathability, GORE-TEX® and DWR-treatments are characteristics you should look out for when choosing your snowwear to ensure you are properly equipped for all types of weather conditions on the mountain.
If the skies are looking promising, an outdoor jacket or a softshell jacket is also a good alternative.

Water Column – the secret behind millimetres, columns and drops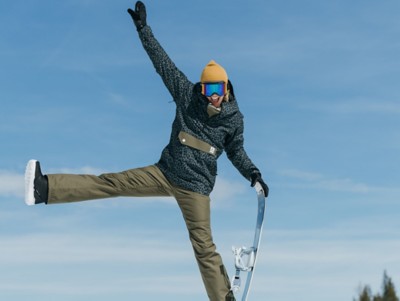 Snow is wet, cold and uncomfortable on the skin. Nevertheless, it is still every winter athlete's favourite thing, as long as your snowwear protects you adequately. The water column plainly describes how waterproof your jacket is.
It indicates the water resilience of the material in millimetres. But where does the column come from and why is it measured in millimetres?
Picture it like this: an open cylinder is filled with water and placed on top of the material to test how much water pressure can be applied before the first drops seep through the fabric. The higher the water column, the longer you can have fun in the snow without feeling moisture on your skin.

Breathability – why snowboard jackets need to breath
Even if many people don't want to admit it: we all sweat. That's why the breathability of your jacket is of importance. It is specified in grammes per square metre [g/m²]. Breathability indicates how many grammes of water vapour can escape through the fabric per square metre in 24h.
If a park rider chooses a snow jacket with a breathability level of 5,000 g/m², that means the material can transport about 5 litres of sweat away from the body within 24h. That may sound like a lot, however, on average the human body produces while exercising about one litre of sweat per hour.

Which features do I really need? Membranes and more
As crucial as the water column and breathability data, it´s also important to pay attention to the different extras that various brands offer. For example, GORE-TEX® technology is currently the leading name when it comes to snowwear. An inner membrane prevents water from passing through the material from the outside, while still transporting water vapour outwards from the inside. In numbers, it has a water column and breathability of over 25.000.

Especially while shredding in spring, or for hiking, softshell jackets are a popular alternative. Keep your eyes open for jackets with DWR-treatments. The abbreviation DWR stands for Durable Water Repellent and is a coating that makes a jacket water repellent, but not waterproof!
It's not difficult to see that the quality of an outdoor jacket increases or decreases with its waterproofness. That's why welded seams are a common feature amongst manufacturers. Depending on the fabrication and price, all seams or just the critical seams, that are particularly susceptible to letting in water, are welded to make them waterproof.

Features that guarantee you to sweeten your day on the mountain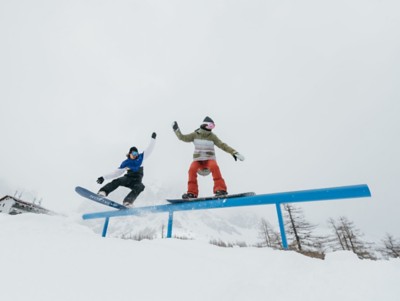 If you want to have maximum fun all day, no matter the weather conditions, these are the most helpful features:

Jacket-to-Pants interface
Powder skirts and wrist gaiters
Goggle pocket
Lift pass pocket
Ventilation system
Adjustable hood
Therefore, if your grandmother wants to get you a new snow jacket for your birthday, you should enlighten her whether you wish to go hiking in the backcountry or prefer to shred in the park. If you don't want to rely on your grandma, why not stop by yourself to check out the vast selection of snowboard jackets at Blue Tomato. Now you have the necessary knowledge to choose your perfect snowwear.
Burton snowboard jackets
or
Volcom snowboard jackets
give you with plenty of models to pick your style.