SKI HELMETS – SAFETY YOU CAN SEE
Be smart, be safe: protect your most important body part with a helmet. Wearing a helmet can reduce the chance of, or at least the seriousness of, sustaining a head injury from a ski crash. It's extremely important that children wear a helmet!



WHAT TO LOOK OUT FOR WHEN BUYING A SKI HELMET
To help you find the perfect ski helmet, we've assembled this list of the most important things to look out for when buying your ski helmet:

1. Safety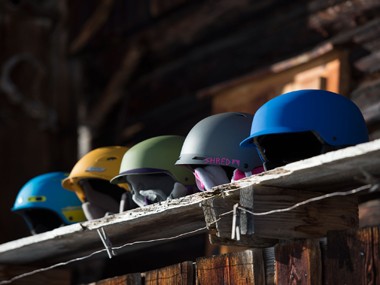 Whether you're riding in the park, piste or backcountry, safety should be your top priority. We strongly advise wearing a helmet when practicing your favourite winter sport. We particularly recommend any helmet with a DIN-NORM EN 1077 certification. This certification is a guarantee that the helmet meets international safety standards for shock absorption and penetration testing. You can read more about this certification below.

2. Fit
For your ski helmet to provide the proper protection, it has to fit properly. If it's too tight it will create uncomfortable pressure points. Too large and it will slip about on your head. Sizing charts can help you to find the right helmet size to fit your head. As men and women tend to have different sized heads, gender specific helmet designs are available for both men and women. There are also smaller helmets designed for children.

3. Style
There are two types of helmet style - half-shell and full-shell. Both types give you the same amount of protection, which style you go for is up to you:

Half-shell: this is the type preferred by most skiers. Your ears are either open to the elements or protected by removable ear pads.
Full-shell: The shell keeps you nice and warm by encompassing your whole head including your ears for the optimum fit.
Visor: For those who wear glasses, visor helmets feature an integrated visor to protect you from wind, sun and snow. There is nothing to restrict your field of view and they are extremely practical, even if you don't wear glasses.
Shield: Shield helmets protect you from snowfall and sunshine and keeps the wind from whistling around your goggles on high speed descents. Brands like Anon swear by this style.
4. Compatibility
It is also important to make sure your helmet is goggle compatible. Ideally you would try on a helmet with your own goggles but manufacturers usually also make it clear which helmet/goggle combinations are recommended for each model. Your normal glasses should also be compatible with your helmet and ski goggles so as to avoid any unwanted pressure points from the ear piece or temples.
For music lovers, certain helmets are compatible with in-ear headphones. You can also buy helmets from brands like Salomon which have headphones built in. These are usually compatible with most phones and mp3-players. You can also get removable ear pads with integrated speakers, as well as ski helmets with built in microphones that can be used as a hands free kit.


5. Chin Straps
You want your helmet to stay on your head when you fall as opposed to just flying off down the mountain. That's where chin straps come in. The chin strap lets you adjust and customise the fit of your helmet. It should rest just under your chin without digging in. Chin straps are often equipped with an area of soft padding for comfort and come with many different types of fastener, including clip-in, snap-in and hook-in, all of which can be operated while wearing gloves.

6. Ventilation
Ski helmets come equipped with ventilation systems to supply plenty of fresh air to your head and transfer away some of that heat that builds up during physical exertion. Some helmets feature a lever that lets you open and close these vents.

7. Comfort
Most helmets are lined with a soft, plush material like fleece to make them more comfortable to wear. This inner liner is usually removable and washing machine safe.

TECHNOLOGY, PERFORMANCE AND SAFETY IN ONE
These days new helmet technologies seem to be popping up left right and centre. Here are some of the most important:

Hard shell: the outer shell is made of a harder plastic and attached to the inner shell. The benefit of this construction is that it leaves room for a ventilation system to let the hot air out and fresh air in.

In-Mould: A special manufacturing process makes these helmets particularly shock-resistant. A thin polycarbonate outer shell is attached to the inner shell to keep the helmet nice and light. Hard shell technology makes for a more robust helmet than In-Mould technology.

Hybrid: this technology is a mixture of hard shell construction and In-Mould construction. This makes the helmet extremely shock and impact resistant. Most helmets have a neck protector section to protect the top part of the spinal column (the Atlas).

MIPS: MIPS is a helmet safety system for helmets of all kinds and stands for Multi Directional Impact Protection System. Classic helmets provide the best protection from impacts that come from a 90 degree angle but as most impacts won't happen at exactly 90 degrees, MIPS was developed. In a MIPS helmet the shell and liner are separated by a low friction layer, allowing the helmet to slide relative to the head, reducing rotational stresses on the brain from angled impacts to the head. Brands like Giro, Sweet Protection and POC already incorporate MIPS technology into their helmets.

Double shell: A double shell helmet is made of two ventilated shells that are placed in relation to other such that sharp objects can't penetrate, but air can still circulate freely.

All Season: This technology features removable liners so you can also use your helmet for skateboarding or biking in the summer months. The true all-rounder of the helmet world.



THE CERTIFICATION THAT GUARANTEES YOUR SAFETY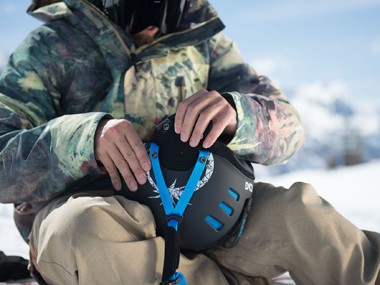 Ski helmets have to meet certain safety standards, namely the DIN-Norm EN 1077 certification, which guarantees that a ski helmet meets all the relevant safety criteria. They are tested to ensure that no foreign bodies like rocks or ski poles can penetrate the outer shell, protecting you from more serious injuries.

If you do happen to take a large impact to your head it is important to inspect your helmet for rips or cracks. These may be invisible at first glance so it's important to replace your helmet after a heavy fall to guarantee you are as well protected as possible. Generally you should be able to get three to five years out of a helmet before you need to replace it.