The bindings connect you to your snowboard. Finding the right ones is vital because they transfer all your movements. Read through our guide to learn what to look out for. The perfect binding brings your riding up to the next level.
Chapter 1
How do you snowboard?
When looking for a new pair of snowboard bindings, you should ask yourself, 'How do I ride?' A beginner, for example, will have different requirements to an intermediate, park or freeride snowboarder.
Comfort and support
If you are completely new to the sport or have spent a couple of weeks on snow, you could be considered a beginner. When you are progressing, it is important to be comfortable. These bindings are more flexible, making it easier to turn. You can always take a course at the Blue Tomato Snowboard School in Obertauern to progress.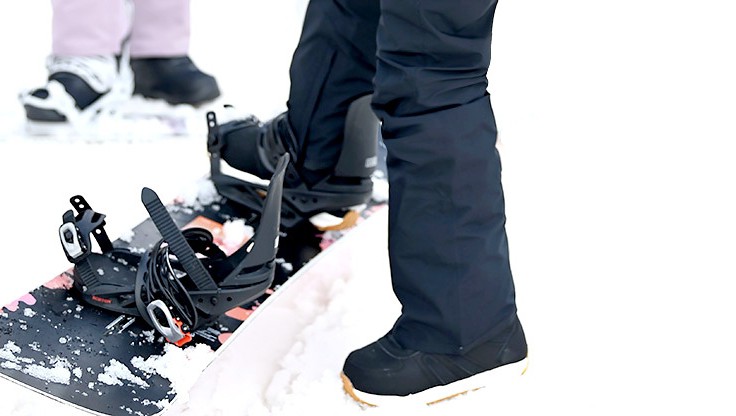 Intermediate and all-mountain
As you improve as a rider, so might your scope to explore the whole mountain. For faster, more aggressive riding over varied terrain, you need a different binding to when you were learning. An all-mountain binding is stiffer for riding the whole mountain. Versatility is key here. All-mountain bindings are comfortable wherever you want to ride.
Freestyle and jib
If you spend all your time in the park jumping kickers (freestyle) or riding rails (jib) you should look for a binding which compliments your style. Freestyle bindings are lighter and more flexible. The lightness helps you spin in the air and flexibility allows you more leverage over the binding to perform grabs. The highback will also be shorter and the footbed more padded.
Freeride
If your Snowboarding has taken you the direction of powder snow and exploring the backcountry, there are bindings for that too! Stiffer more supportive bindings will allow you top-level response so you can rip powder and steep lines with maximum confidence.
Chapter 2
Which flex snowboard bindings?
In snowboarding, we often discuss 'flex' or 'stiffness' in regards to equipment. What does this mean with regards to snowboard bindings? The flex refers to the materials and construction of the bindings. These come together to make a binding which can be either soft, medium or stiff. Most snowboard manufacturers grade their snowboard bindings on a scale of 1-10, so we have included the numeric values as well.
Soft: flex 1-4
Softer flex snowboard bindings are made more flexible materials. These bindings are great for beginners as they are a little more forgiving. Also, a more flexible highback is easier to make heelside turns with. Freestyle and jib riders often ride with softer bindings for a couple of reasons. Firstly, like beginners, they will appreciate the more forgiving ride, particularly when going for bigger landings. Secondly, the flexibility allows more leverage over the bindings to perform presses and grabs.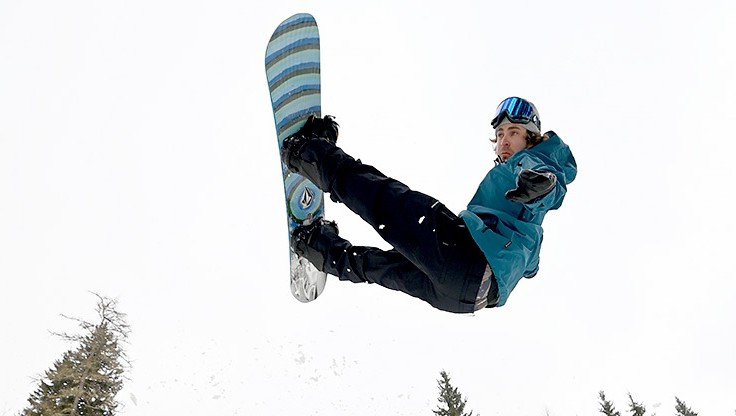 Medium: flex 4-7
Medium bindings are 'just right' for many riders. An intermediate rider will like the added support and control which these bindings give. An all-mountain rider can appreciate the versatility of binding which are more supportive but not too stiff. More aggressive freestyle and jib riders will even like the ability to go bigger off features.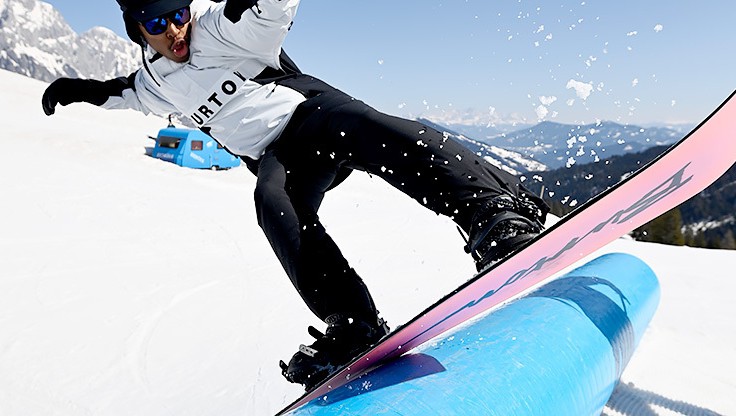 Stiff: flex 7-10
Some people want it a little harder. If you are riding fast on piste and lying deep carves into the snow, you will appreciate the added control. Equally, if you're freeriding on big mountain terrain, these bindings will help you when you need it the most.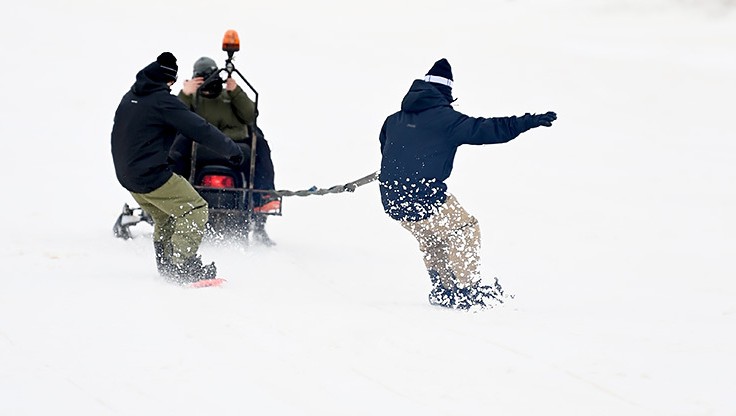 Chapter 3
Which type of snowboard bindings?
One of the clearest differences in bindings doesn't actually concern function so much as convenience. There are traditional bindings with straps, rear-entry bindings, Step On® bindings and step-in systems.
Strap-in bindings
The tried and tested, traditional binding for snowboarding. The boot is secured by two straps, one over the ankle and one over the toes. Every time you want to take a lift or skate you have to undo these straps, then fasten them again when it's time to ride. Two straps do, however, provide the best performance and foothold. With two separate straps and a fixed highback, you have a massive amount of customisation available as all parts are customisable.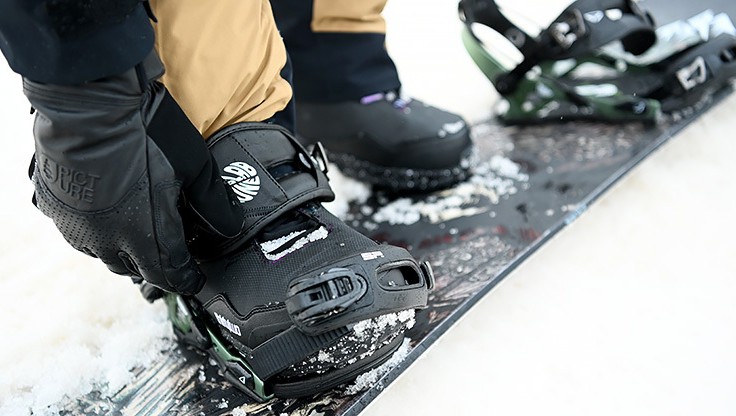 Rear-entry bindings
If you like it quick, easy and uncomplicated, then bindings with rear entry are the right choice for you. Their design allows you to easily slide your boots in from the rear. After you have placed your boots securely, pull up the highbacks and close the lever. That's it. When it's time for the next lift ride, you can quickly release the lever and the binding opens again.
Adjustable straps guarantee the ideal fit - no matter which boots you use.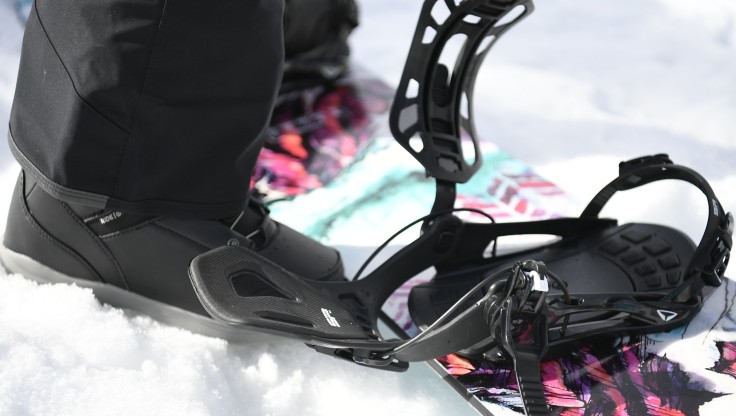 Pro Advice
When you're learning rear-entry bindings are the best! You don't need to bother ratcheting in and can focus on your riding.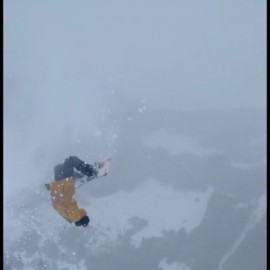 Nick
Product Content
---
Snowboarding simplified for everyone
Where Burton leads, others follow. This is definitely the case with their revolutionary Step On® system. Many of us assumed that step in systems were dead and buried - Burton proved us wrong back in 2017. They redesigned the system from the bottom up to guarantee the same performance as traditional bindings. There are lines for intermediates and for advanced riders. DC have joined now too, with a boot which utilises the system and fits with Burton Step On® bindings.
Be quick, though! Every year they sell out early.
No waiting. Ever
If you want a quick and easy connection to your snowboard, then look no further than the K2 Clicker step-in binding system. As you come off the lift, just step in with your Clicker boots, you'll hear a click, adjust a lever at the base you're good to go. It's really that easy. One thing to bear in mind is that the systems are NOT compatible with each other, so a Burton Step On® boot will NOT fit with a K2 Clicker binding and vice versa.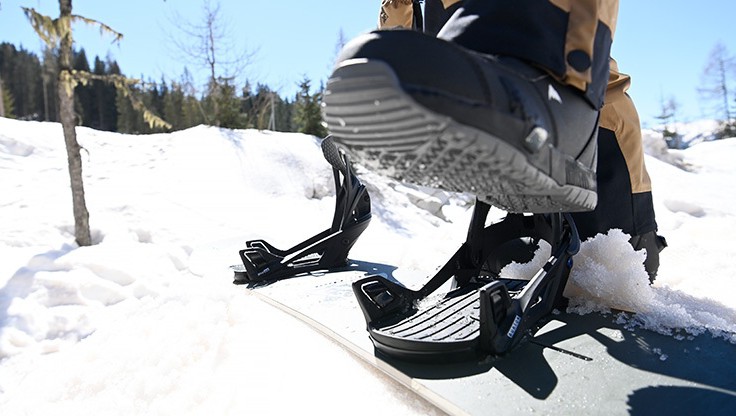 One step-in system which doesn't have this problem is CLEW. The innovative snowboard binding combines the benefits of a strap binding with the comfort of a quick and easy step-in system. The CLEW system connects to any boot and with an integrated highback and an easy-to-use handle.
Chapter 4
How should my bindings fit?
Your bindings should fit with your snowboard and your boots. Here we break down what this actually means. How to get the best-sized binding for your boots and whether your chosen binding fits with your favourite snowboard.
Sizing and fit
Your Boots and bindings should fit together, that goes without saying, but how? First, you should buy the right size - every binding on our webshop has a corresponding size chart. Make sure to order the proper size, so if you have a boot in EU size 42, you can order a binding M which has a range of sizes 41-44. Even if you do order the right size of binding for your boot, further tool-free adjustment is available on the straps to get it perfect. A well-fitting snowboard binding should grip your boot all over with no gaps: your boots should fit snuggly in the heelcup of the binding. If you have chosen the right size, your toes shouldn't protrude too far over the edge of the binding.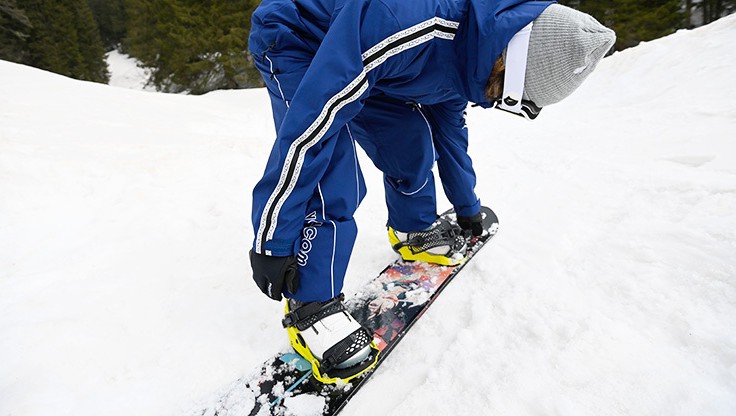 Compatibility with your snowboard
Equally as important as fitting to your snowboard boot your binding has to fit with your snowboard. There are two different systems for mounting snowboards, the traditional and channel systems. The traditional system uses as a 12 pack of inserts which you attach four screws into through the binding disk. The channel system is a CNC'd rail which you attach two screws to. The channel needs either a special EST binding, from Burton or a special disk. Nowadays most companies included such a disk for free with their bindings. If you choose both a Burton snowboard and binding an EST binding offers the best board-feel and most stance options.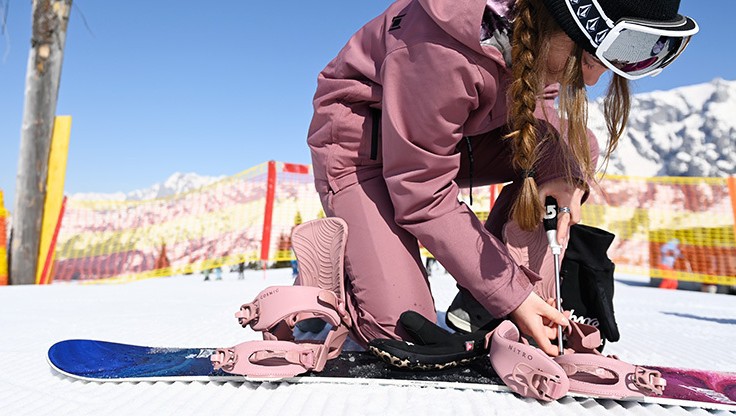 Chapter 5
The parts of your binding
Here are different snowboard binding components and why they are important to you.
Highback
The highback is responsible for transmitting your power during heelside turns and manoeuvres. So if you're doing it right, half of your turns will use your highback. A stiffer highback which comes further up your calf is better for freeriding and aggressive riding. A shorter more flexible highback is better for freestyle and jib riding as the extra flex allows you to tweak out grabs and is more forgiving. In a rear entry binding it is the highback which folds down allowing your boot in. Most Highbacks now rotate a little and have forward lean adjustment to match you stance and legs.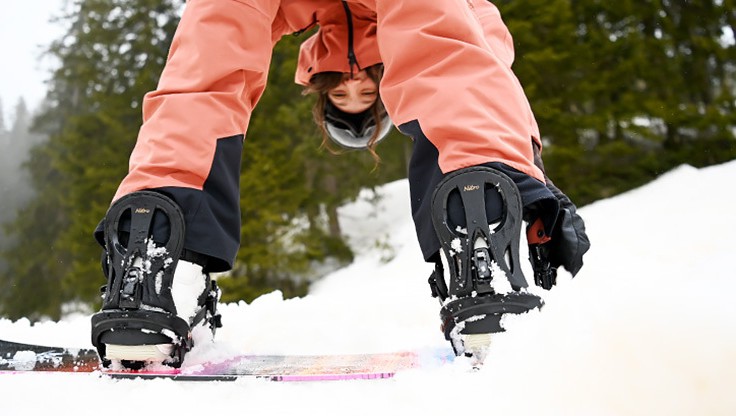 Pro Advice
Make sure that your bindings are as customizable as possible so you can tailor them to your riding.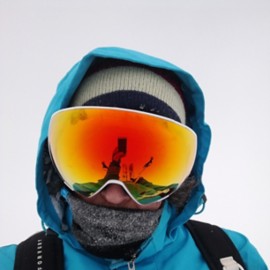 Oli
Product Content
---
Baseplate
The baseplate is the frame of the binding. Everything on the binding is attached in some way to the baseplate. Aluminium or glass filled nylon is commonly used for baseplates as they are designed to be durable and responsive. After all, all your weight goes through the baseplate.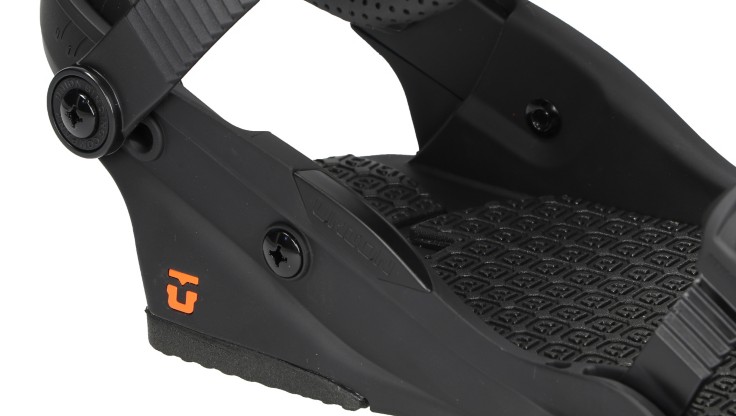 Footbed
The footbed is the direct connection between you and your bindings. Its functions are cushioning and power transmission. Usually made from foam the footbeds take a large amount of the shock absorption. For more comfort footbeds are canted, so the angle slightly outwards so your knees are aligned better. Footbeds can also have a 'gas pedal', where the toes of the raised up for better power transmission.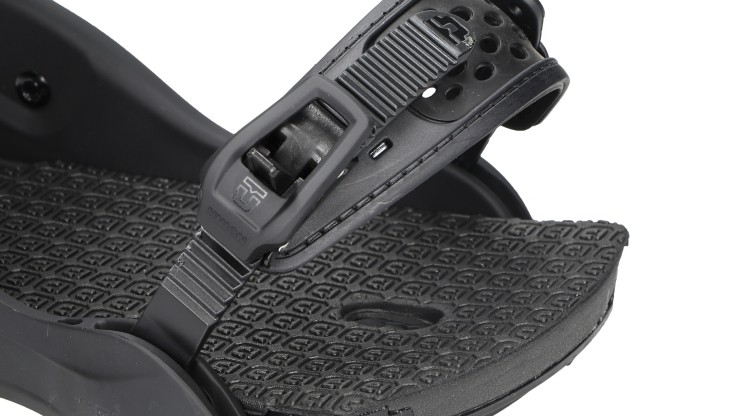 Straps
The straps hold you in the binding. Normally there are two: one over the ankle and one over the toes. The ankle strap holds you in the heelcup of the binding and is usually padded for comfort. The toe strap is little less padded and helps with toe-side turns. All of the straps on bindings are adjustable so you can position your straps to fit your boots perfectly.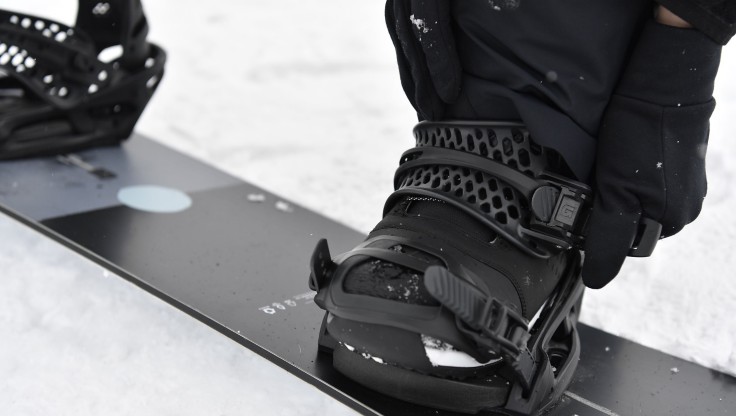 Disks
The disk is the direct link between you, your bindings and your snowboard, so in short, it is pretty important! Depending on the manufacturer of your bindings they might look and feel differently. The key here is adjustability, you want to be able to fit with any insert pattern and have any stance you desire. Thankfully now manufacturers either have disks with multiple mounting possibilities (4x4 and channel) or supply multiple disks for different systems with their bindings. The exception here is Burton EST bindings, which only fit with Channel snowboards.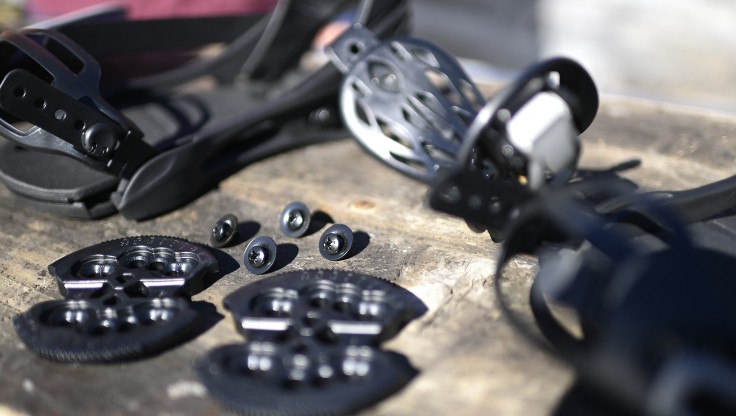 Heelcup
The heelcup holds your heel in the binding. It can be made in the same mould as the rest of the base plate or made separately. A separate heelcup can be adjusted to fine tune your kit. A separate heelcup is often made from aluminium.