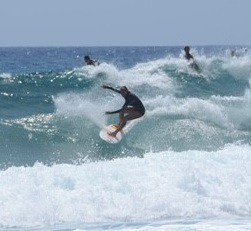 Catch Surf lets you catch more waves
of Nusa, Customer Service, Blue Tomato, Jun 18, 2022
I´m Nusa and I´ve been working for Blue Tomato as senior customer service agent for the last 8 years and I´m a passionate surfer girl. I surf all kind of waves, mostly with a hybrid short boards, but on smaller days I prefer bigger and floatier boards.

I always wanted to have a sotftop surfboard in my quiver for smaller summer surf days, but I didn't want that big beginner board. As I´m a bit obsessed with fishtail surfboards, the Catch Surf was just the perfect option for me. It is the perfect size for summer surf days, but it can of course be used in any conditions. It paddles fast and allows to catch more waves. With 4 fins it gives good stability and control in manoeuvres and it offers a bit more speed down the line. The fish tail also offers a more playful feeling in turns.

All in all it´s a really fun board to surf, but I would not recommend it to beginners, as it´s too small in size and a bit short on volume that beginners need to efficiently start learning to surf. The board is meant more for intermediate/advanced surfers, with prior surfing skills, to use it on mellower days or just to catch more ways on any surf day.
About me:
Hi, I am Nusa and have worked at Blue Tomato for 8 years. I am a Surfer with over 9 years of experience, mainly riding Shortboard. I am 170 tall and I bought this product in size 44717 .