Keep warm! When choosing a wetsuit, make sure that the thickness matches the temperature of where you surf. The warmer you stay, the more energy you have for catching waves. Find out how with our guide.
Chapter 1
Which type of wetsuit?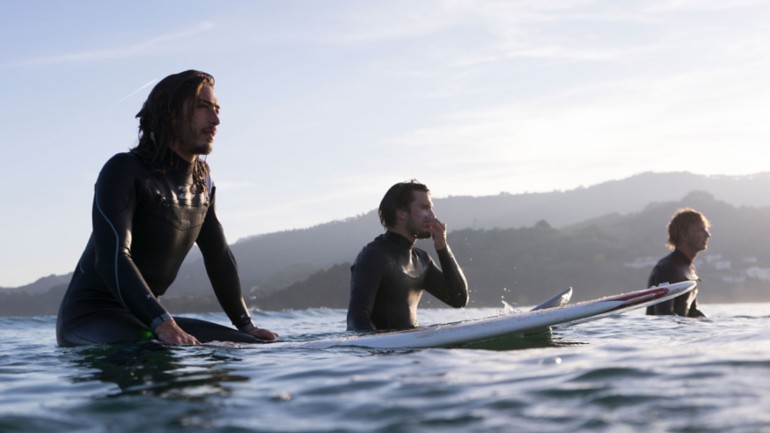 Wetsuits are made of neoprene - it is elastic, insulating and protects your skin from injuries and UV radiation. Perfect for surfing!
Choosing the right wetsuit depends on the conditions. You will need a very different setup for surfing in tropical Bali than you would in the cooler Atlantic Ocean or frigid North Sea. Think about where you are going to surf then pick a wetsuit to suit the conditions.
Rash guards, lycras and surf tees
In tropical climates, you don't need neoprene or a full wetsuit. Grab slim fit lycras or loose cut surf teesinstead. These lightweight tops protect you from sunburn and rashes from your surfboard's wax. After surfing you can throw them in the washing machine.
Combine these with boardshorts or a bikini and a strong sunblock and you are ready to go in tropical waters over 23°C.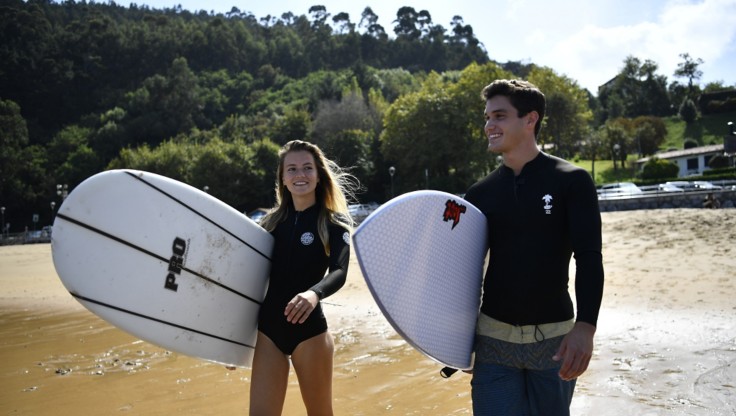 Short Wetsuits
Even in warmer climates, if you stay in the water for a long time you will cool down. Wear springsuits and shorties or layer up with neoprene tops, vests, shorts or surf leggings to keep warm.
We recommend these for water temperatures under 23°C.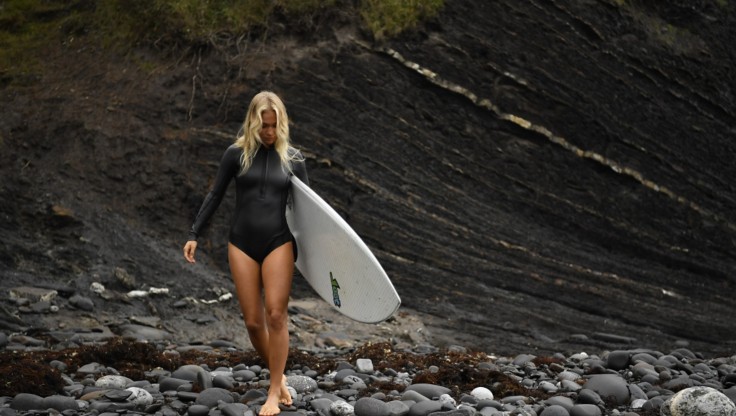 Full wetsuits
Classic wetsuits can be used in a variety of different situations. They can have different thicknesses, seam constructions, wind repellency and linings. The arms and legs are long and cold-water models can have hoods. Full wetsuits offer the best protection, warmth and are a must in colder waters.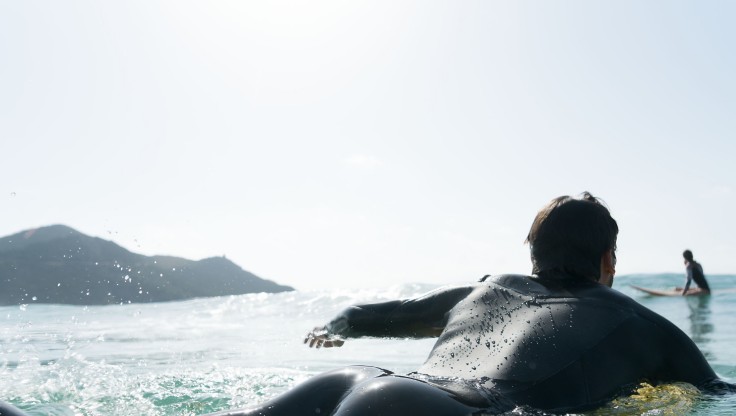 Chapter 2
Wetsuit thickness overview
The colder the water, the thicker suit you'll need. Neoprene thickness is measured in millimetres and listed in most product names as numbers separated by slash: /. The first number relates to the torso and the second to the limbs. A 4/3 wetsuit is 4 mm thick on the torso and 3 mm on arms and legs, for example. The material around the torso is thicker to keep your core warm, while it is thinner around areas of the body like the arms and legs which require more mobility. This guarantees a mix of warmth and flexibility for paddling and surfing.
Check out this table to help you choose what to wear in different water temperatures.
| Water temperature | Wetsuit style |
| --- | --- |
| Over 23 °C | Rash guard and boardshorts |
| 19 - 23 °C | Springsuit or shorty |
| 15 - 20 °C | 3/2 wetsuit |
| 12 - 17 °C | 4/3 wetsuit + booties |
| 9 - 13 °C | 5/3 or 5/4 wetsuit + booties + hood |
| under 9 °C | 6/4 wetsuit + booties + hood |
Springsuits and shorties
Springsuits and shorties designed for warmer waters so they use the thinnest neoprene. Models differ in thickness, sleeve and leg lengths, so it's easy to find an option that works for you. One thing they all have in common: they keep your core warm and they stay in place – no matter how big the wave. We recommend these for long surf sessions in water between 19 and 23 °C.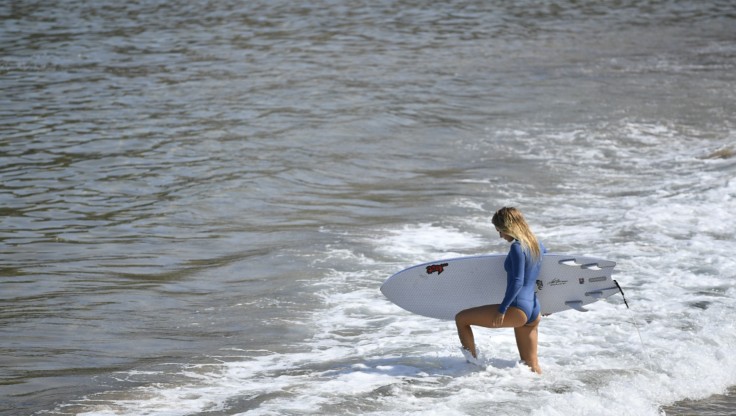 3/2 Wetsuits
Wetsuits with a thickness of 3/2 mm are the most common. These summer suits are ideal for water temperatures between 15°C and 20°C. A 3 mm suit with a good thermal lining and wind-repellent neoprene will also work in colder regions.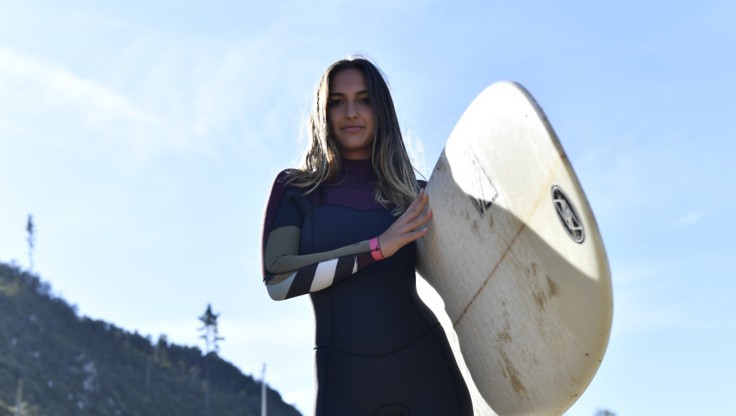 4/3 Wetsuits
With a 4/3 mm you can still enjoy surfing on colder days or during spring. These suits keep you warm and still provide great flexibility. Optional gloves, booties and hoods with a similar thickness will keep your hands, feet and head warm.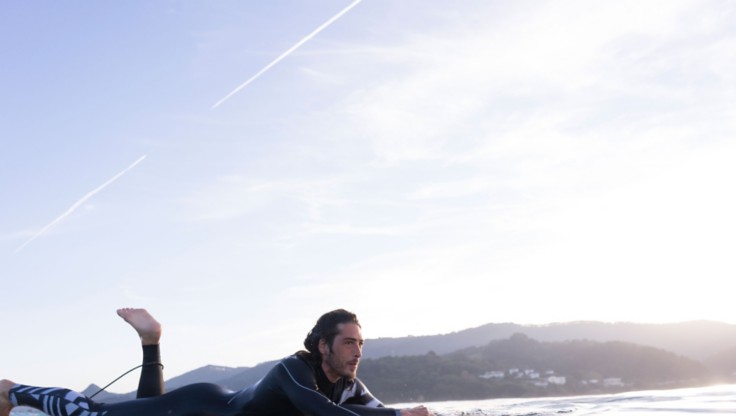 5 and 6 mm Wetsuits
If you are a cold-water enthusiast, suits with thicknesses around 5/3 mm, 5/4 mm or even 6/4 mm will work for you best. Combine these winter suits with accessories to keep heat loss as low as possible. Remember: You can cool yourself down easily by opening your suit when you got too hot – but it's hard to warm up if you got too cold.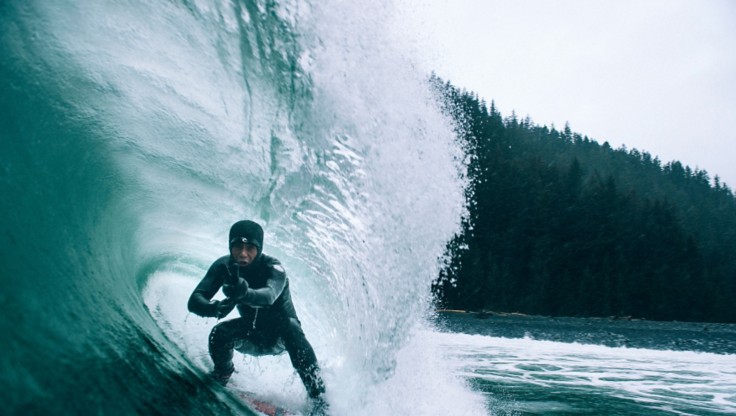 Chapter 3
How should my wetsuit fit?
It is important that your wetsuit fits snuggly. If it fits too tightly, it will restrict your movement. If it is too loose more water will get inside your suit which will cool you down, increase drag and make it more difficult to paddle. To prevent water getting in, you should ensure that the neck and cuff openings are tight.
Each brand differs in their fits and sizes. Luckily, they give very detailed size charts making it easier to choose a suit perfect for your body shape.
Checking the brand specific size chart will save you a lot of time as you don't have to try on too many wetsuits.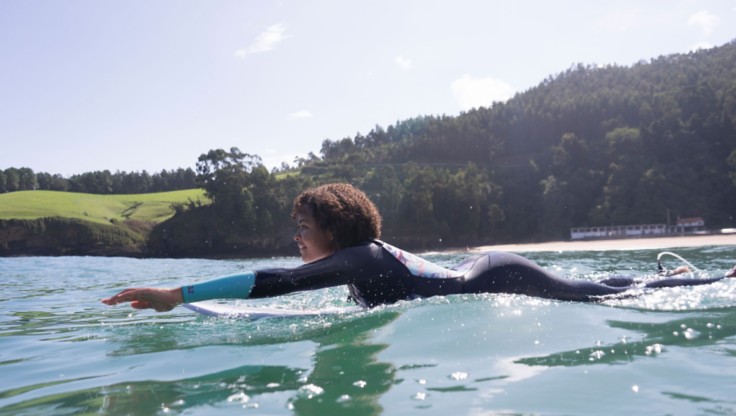 Some brands also have intermediate sizes to help your selection. These are given by the manufacturers as Short or Tall which reflect the height while the regular sizes refer to a standard body shape. An MT is a medium wetsuit in the tall version. If you are tall and slim, you should opt for a MT size.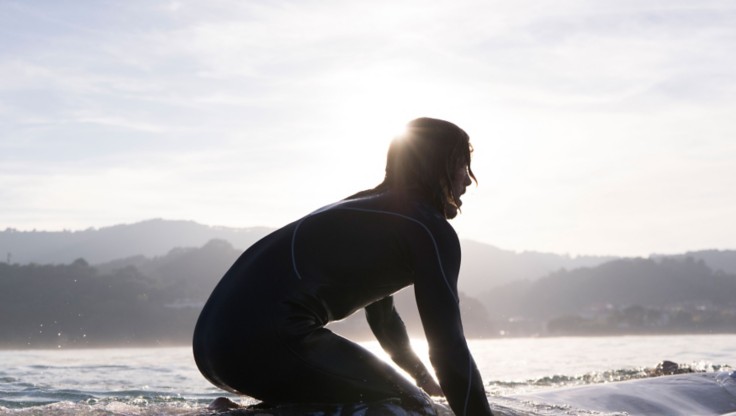 Chapter 4
Wetsuit zips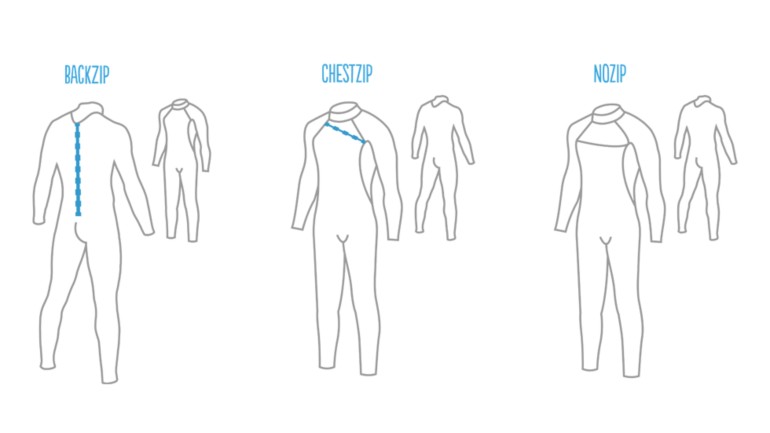 Zips might sound like a small detail but they make a big difference, more than just getting you in and of your wetsuit.
The four zip options work well for different conditions.
Back zip
Back zips open from the lower back to the neck. This opening makes it easy to get on, so it's the perfect option for beginners. The zipper material is less flexible and water-resistant than neoprene - so we recommend this system for milder climates.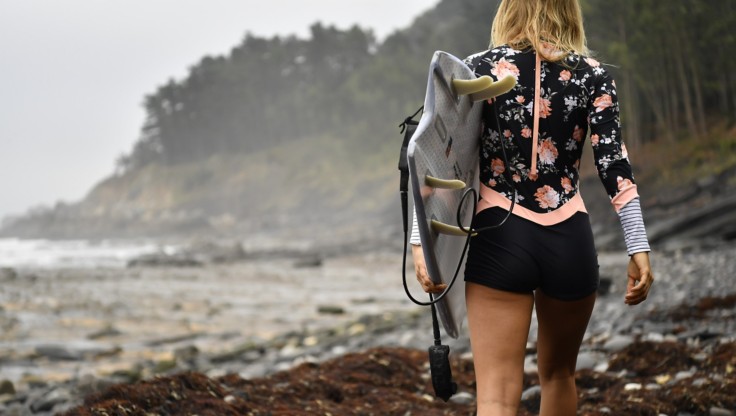 Front zip
A front zip opens from the top of your neck to the bottom of your torso. The opening allows you to get into the top of the wetsuit easily. Front zip systems are designed for warmer waters and typically found on springsuits and are usually for women.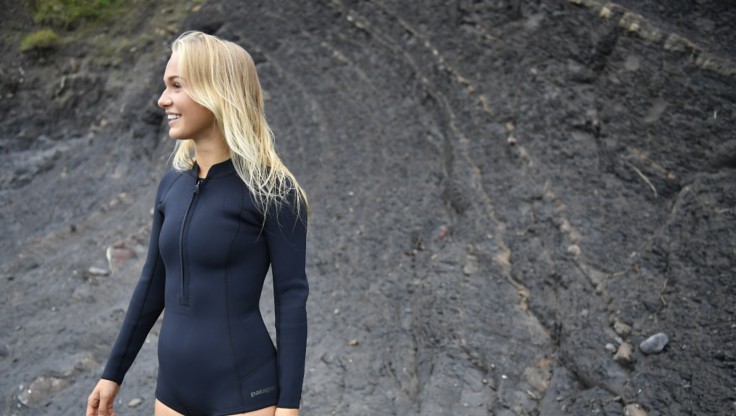 Chest zip
Chest zip wetsuits are more flexible and warm becasue of the continuous neoprene across the shoulders and back. They are a little more difficult to get on, but they will keep you warmer for longer.
No zip
The small opening make no zip wetsuits harder to get on, but the unrestricted flexibility makes them the most comfortable system for surfing. Leading brands pair this system with their best neoprene to create top performance wetsuits. If you are looking to spend a long time in the water, this is the best option for you.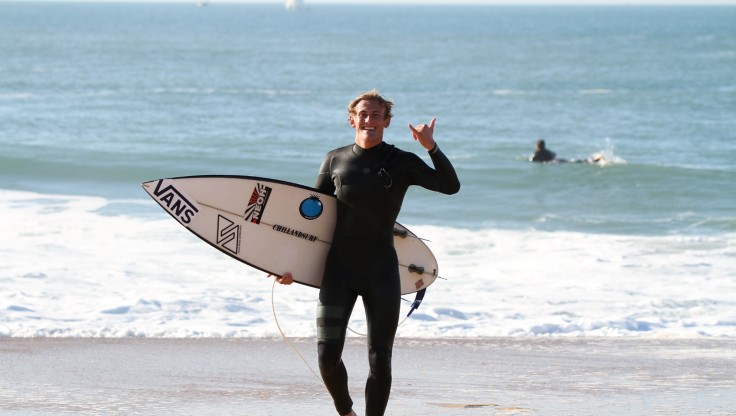 Chapter 5
Wetsuit Seams and Technologies
Seams are becoming more watertight, durable and flexible for more comfortable wetsuits. With high-quality suits, seams are strategically absent from areas that require the most flexibility and clever panelling promotes an anatomic fit.
Some wetsuits can also feature insulating and quick-drying linings to ensure the great warmth without compromising on flexibility.
Flatlock seams
This is a very flexible and strong seam found on summer wetsuits. The panels of the wetsuits are stitched through the neoprene. This seam is designed to let water in to prevent overheating in warmer regions.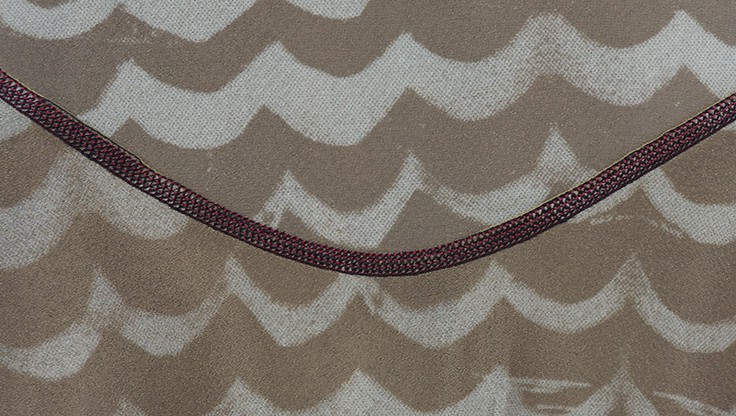 Glued and blind stitched seams
For this seam technology, the neoprene panels are first glued together and then blind stitched through the glued area. With this technique, the material is only sewn from one side which doesn't cause any needle hole through the neoprene resulting in a more water-resistant seam. Some brands glue and blind-stitch multiple times to make the seam stronger, more durable and even more water-resistant.
Additional taping and liquid sealing are other technologies to further reinforce GBS seams.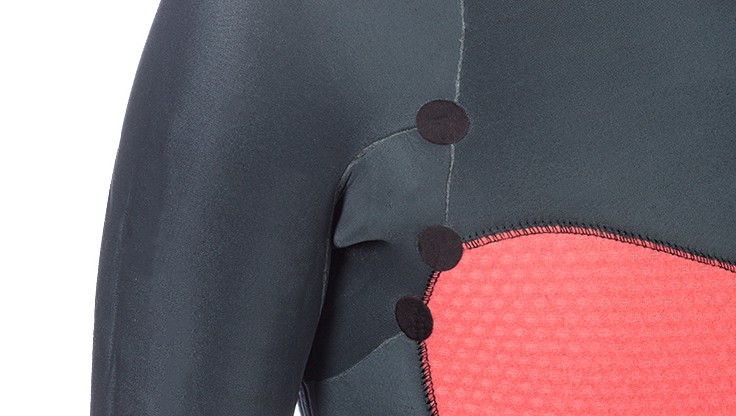 Taped seams
Stretchy, lightweight tapes are glued to the inside of the seam to advance comfort, durability and water-resistance. Seams can be spot taped in high-stress areas or fully taped.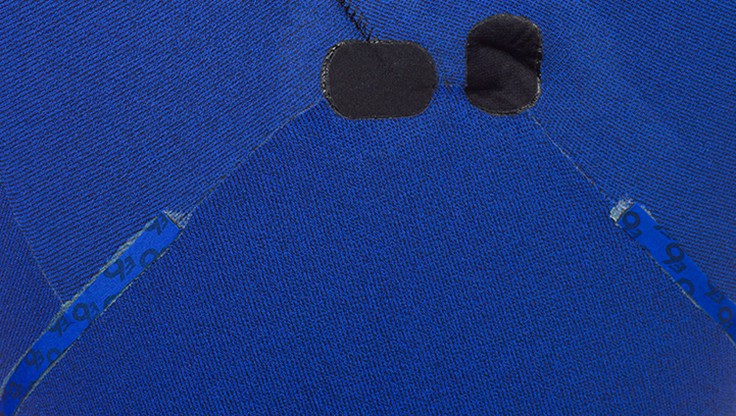 Liquid seal seams
Liquid sealing is the ultimate method to create leak-free seams. This seam reinforcement lets the least water through so is essential for cold water surfing.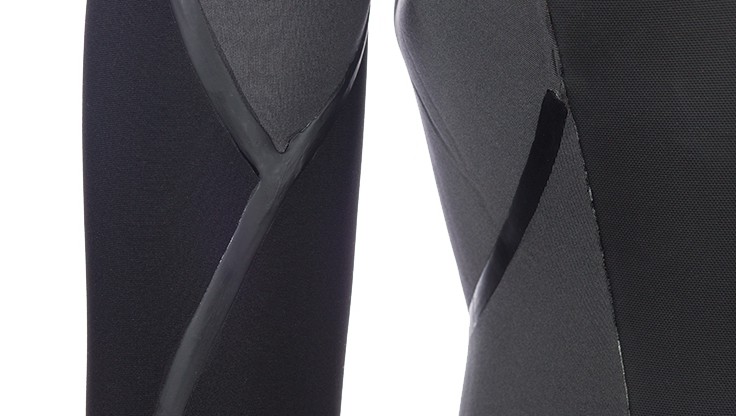 Wetsuit linings to keep you warm
For heat retention wetsuits are equipped with a partial or full thermal lining. These are stretchy, lightweight, water-repellent and fast drying. Advanced lining technologies increase the insulating properties so much that wetsuits with thinner neoprenes can now be used in colder waters.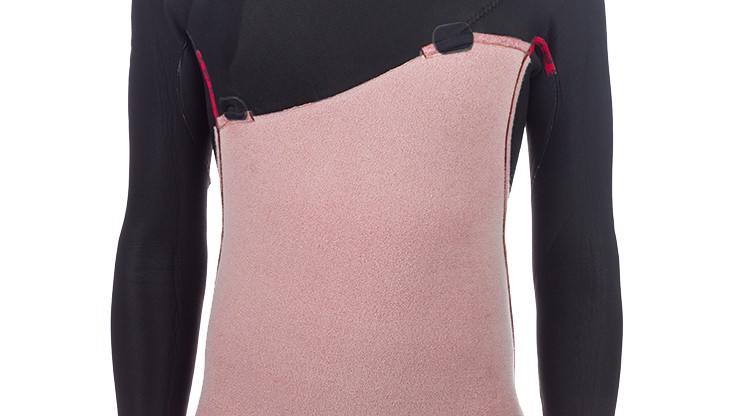 Reinforced knees
Reinforced knees make your wetsuit last longer and add a second protective layer. This is beneficial for take-offs, especially for beginners.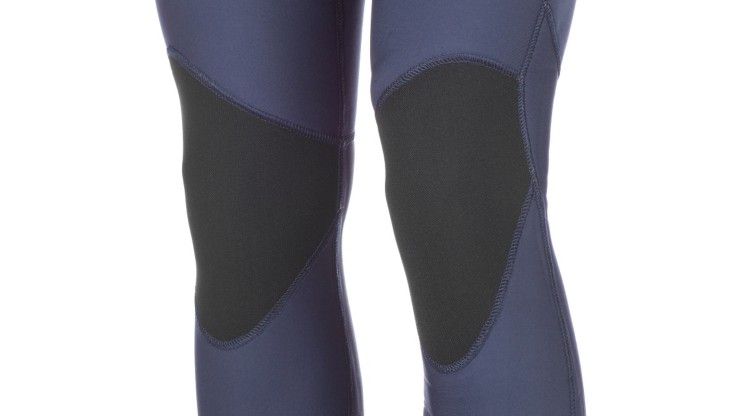 Chapter 6
Gloves, booties and hoods
Sometimes when you're surfing you need a little extra protection. Booties, hoods and gloves compliment your wetsuit to keep your extremities warm.
Booties for reefs and cold weather
For surfing reef spots special reef booties are ideal. The sturdy rubber sole protects your feet from reef cuts, sea urchins and other dangers from the sea. Thin neoprene and mesh ensure that you don't overheat.

For cold water surfing try thicker neoprene booties (3 - 5 mm). Since your feet have the longest contact with the water they cool down quickly. Booties also add grip with their non-slip soles.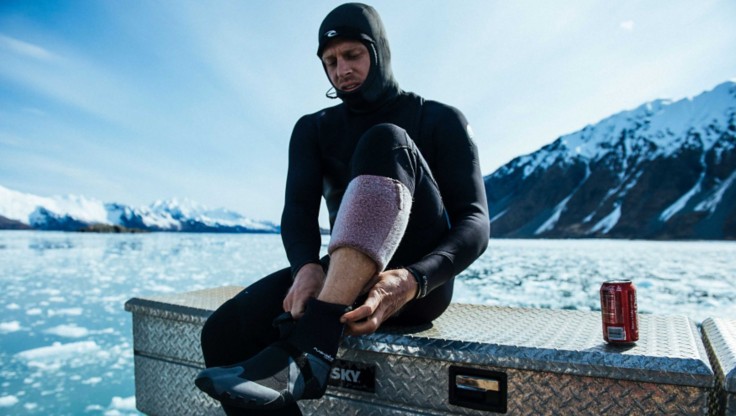 Gloves and hoods
Gloves are another helpful addition to your winter setup. They are available as mittens, 3-finger models or 5-finger version. Mittens are comparably the warmest, however, they do limit fine motor skills.
Hoods provide protection against cold wind and water. Depending on the outside and water temperature you can choose between different models.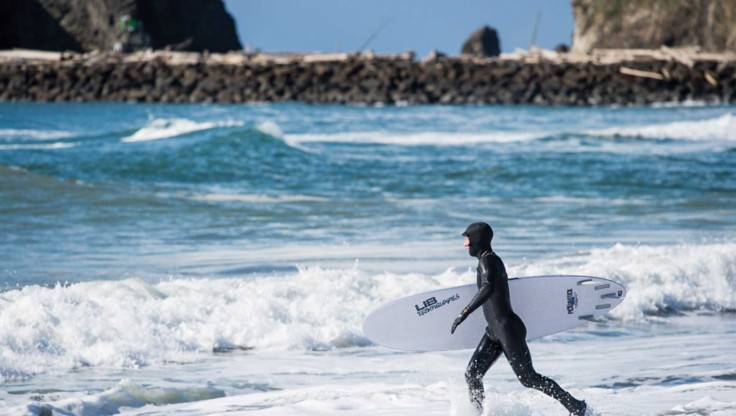 Chapter 7
Environmentally friendlier alternatives to neoprene
A drawback with neoprene is that the manufacturing process of synthetic rubber is harmful to the environment. Luckily, different brands have developed environmentally friendlier alternatives. With innovative and sustainable technologies, these manufacturers bring a breath of fresh air to the surf industry.
Patagonia Yulex wetsuit
Patagonia works with Yulex™ to create a cleaner, plant-based replacement for neoprene. This neoprene-free wetsuit is 85% natural rubber and 15% synthetic chlorine-free free rubber. This material is certified by the Forest Stewardship Council and uses much fewer petrochemicals to create.