Lisbon - the perfect skateboard destination
Lisbon is not only great for surf- or city trips, the capitol of Portugal also made a name for itself amongst skateboarders. Lots of streetspots, skateparks with great views and the option to cool off in the Atlantic Ocean, in combination with the typical architecture and the hilly ground the city is built on, make Lisbon an ideal destination for a productive skateboard trip.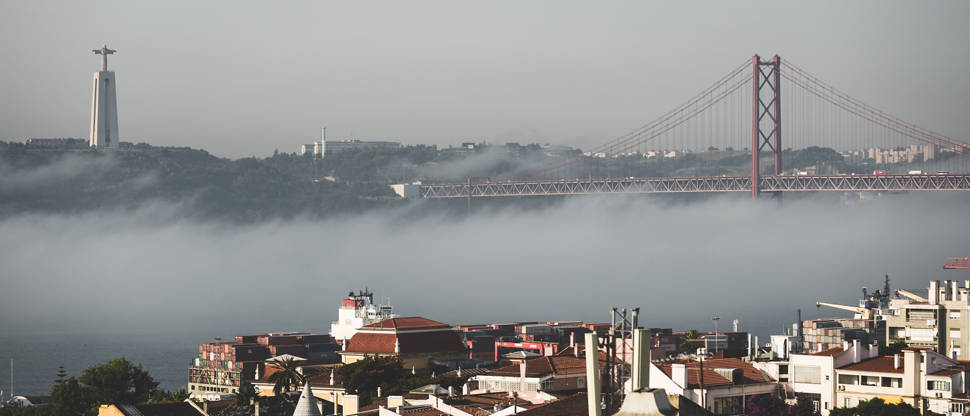 Got enough decks?
To be productive, you need the necessary equipment. In Marco Kada's case, that's roughly 20 skateboard decks. On the one hand because he likes to throw himself down huge gaps for breakfast, on the other hand because he had more trips planned right after the tour. In filmer Matthias Reich's case, it was so much video equipment that at least two more people had to help out carry everything – but thus for every spot, angle and light, Matthias had the perfect lens, tripod or gimbal at hand. Preparation is key.

Marco Kada's destroyed shirt and deck
Spotguide Telmo, Tobi, Marco, Philipp and lots of equipment
Skateboard spots from the city to the beach
From spots in the middle of the city next to lively cafés all the way to schools, pedestrian bridges or right at the beach – without the spotguide Telmo Goncalves, our boys would probably have found only half as many spots.

Marco Kada BS Nosebluntslide
Highlight photos
Pictures speak more than a thousand words, therefor enjoy the highlights of the trips in photos, all shot by Hannes Mautner: