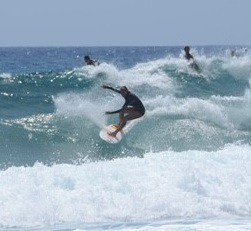 The all-time classic skate protection
of Nusa, Customer Service, Blue Tomato, 19 May 2022
You can´t start skateboarding without a proper skateboard protection and TSG Basic Set offer just that! The basic set is very stylish, with its classic shape. I chose size S, as I want the protection to fit snuggly.

The EVA padding below the plastic parts offers a very good shock absorption when you crash. They also don´t slip down and don't rotate once you pull them on. They are very comfortable to wear, you sweat a little underneath, but that´s quite normal when you´re doing sports. I also like the easy closing with Velcro straps.

I´m very satisfied with the product and this basic set is my to-go choice every time I would need to buy protection. I will definitely buy them for my son, once he starts skateboarding. I would recommend them for beginners and also advanced riders.
About me:
Hi, I am Nusa and have worked at Blue Tomato for 8 years. I am a Skateboarder with over 4 years of experience, mainly riding Bowl. I am 170 tall and I bought this product in size S .