Rome SDS - From Snowboard to Binding to Boot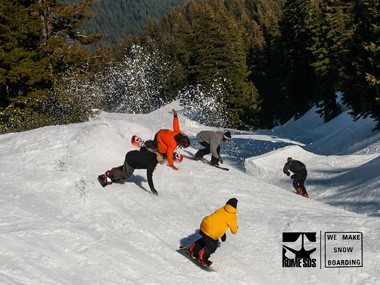 Rome Snowboard Design Syndicate (SDS) was founded as a result of Josh Reid and Paul Maravetz' reaction to all the Olympics hype in 2001. Since then the anti-establishment label has become a truly influential institution on the snowboard scene. Their motto is "We make snowboarding" and damn do they! The dialogue between snowboarders and manufacturers is incredibly important to the Syndicate and both sides work together to produce the best high performance products possible. The guys and girls behind the brand are all about keeping independence in snowboarding, the magic of fresh powder lines and living a life off the beaten track and are helped by their creative and design backgrounds.


Hardware by Rome SDS - Made for Riding Deep Pow, Park and Piste!

Rome SDS make damn fine snowboards. Whether it's a men's, women's or youth snowboard you're hunting for, Rome absolutely spoil you for choice. Their freestyle snowboards are playful and ultra-flexible thanks to a variety of rocker shapes, while their freeride and all mountain collection features a range of rocker-camber combinations, as well as positive camber snowboards and boards featuring the Powder-S shape, a rocker-camber combo with rocker at the front and camber at the back for a floatier, surfier feeling. Their snowboards are made even better thanks to technology like Skatecore Profiling and QuickRip Sidecuts to give you even more of that skate/surf feeling and make each ride better than the last.

To go with your new, top-quality, ultra tech board, Rome also offer a whole range of snowboard bindings.
All Rome SDS snowboard bindings are chock full of technical features such as:

New Yes, I Cant System: Footbeds that can be adjusted to fit different sized boots to optimize your ride.
New UnderWrap Heel Hoop with Channel Adjust: Lifts the toeside section of the binding on heelside turns and vice versa leveraging power into both edges more effectively. Channel Adjust lets you move the heel hoop without having to fiddle with nuts or bolts.
Auto Strap: Makes strapping in as fast a process as possible by holding your ankle strap away from the footbed when not in use.
V-Rod Baseplate: a v-shaped "rockered" baseplate that lifts areas of your binding off the board for more pop, flex and board performance.
Cant-In-The-Back: Extra customizable highbacks to match any style of riding.
Last but not least is the new, completely reworked softboots collection, designed to meet the demands of any shredder. Thanks to
heat mouldable memory foam inners
and F.I.T Foot Impression Technology
in the inners and soles, their boots fit like a glove… for your feet! On top of that, Rome boots offer plenty of shock absorption to protect those knees and ankles from hard, hard landings and feature the
Boa Lacing System
to make getting them on and off a piece of cake. Rome's women's boots are specifically designed to fit female feet and are beautifully designed with input from team rider
Marie France Roy
.
Snowboard Gloves and Accessories from Rome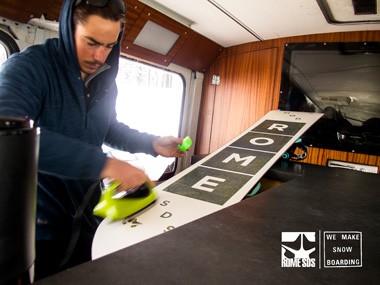 Rome don't limit themselves to just snow hardware, oh no. Anyone who has ever owned a pair of Rome gloves knows how rad they are. Rome gloves are everything you've ever dreamed of: warm, waterproof, breathable and, above all, robust enough to last you winter after winter. Made with flexible materials and high quality leather they are also mind-blowingly comfy! Their mittens look so good you'll never want to take them off - and the same goes for their beanies, caps, backpacks and, to a lesser extent, board bags - which you shouldn't really be wearing anyway.
Check out the Rome SDS collection in the Blue Tomato Online Shop!