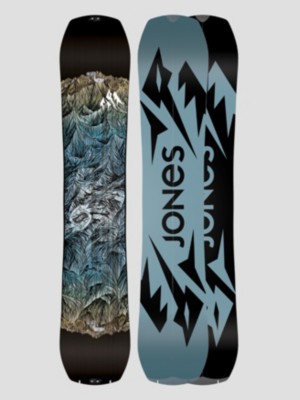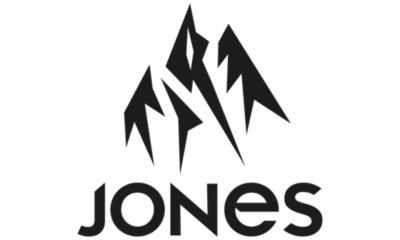 Jones Snowboards
Mountain Twin Splitboard
Delivery time

only 3 to 5 business days
FREESTYLE MEETS FREERIDE
Men's Mountain Twin Split 157, 159W, 160 compatible with Jones Pre-cut Nomad Group D Splitboard Skins

If you want to combine freestyle with freeride, there is only one sensible solution: the Jones Mountain Split. It was designed to make the whole mountain unsafe. Whether you're in the mood for high-speed lines or a cliff drop, the Mountain Twin does it all and is the ultimate toy for freestyle-focused freeriders.

Riding style
An air here, a nice powder line there - with the Mountain Split, the whole mountain becomes your personal skate park.

Shape
The Directional Twin Shape of the Mountain Twin is perfect for improving your switch skills. In deep snow, you'll enjoy less snow being carried back over the sides of the nose thanks to the Blunt Nose. This means you get the benefits of a longer traditional nose without the extra weight. Traction Tech 3.0, the corrugated edge, ensures the best grip in all snow conditions.

Profile
The Mountain Twin's CamRock profile features a rocker in the nose and tail for easy presses, along with a camber under the bindings for added pop, power, and edge hold.

Flex
The medium-hard flex provides a precise and controlled feel so you can focus on what's in front of you.

Construction
The FCS™ Control Split Core is a double-density solid wood core with paulownia and poplar stringers with a 2:1 ratio. The biax fibreglass provides a forgiving, playful ride. Bio resin is plant-based and is used instead of petroleum-based epoxy, making production a little more environmentally friendly. The material of the sintered 8000 Base is made of UHMW-PE and carbon. It is fast, easy to repair and absorbs wax excellently. The Freeride Freestyle Insert Pack allows you to ride the board with a centre stance or set back. The ECO-Plastic Topsheet is made from castor seeds. This biomaterial is extremely light, resistant to scratches and breaks, and water and snow repellent. Jones boards are made with oversized recycled steel edges for added durability and improved sustainable production. The rubber for cushioning the edges and the ABS in the sidewalls is made from 100 % recycled materials. All Jones boards are 'ready to shred' and are waxed at the factory with natural WEND wax, as well as slightly rounded at the tip and tail to be ready to go on the mountain right after the shop. For a higher material yield, Jones swaps the colours of the base, reducing waste generated in production.
The Mountain Twin Split comes with Karakoram Ultra Clips 2.0 and the new Karakoram Tip Clips for even easier handling. 


Attributes
Ideal for freestyle: great pop and easy landings

More float in powder and versatile all-mountain riding
Article number:

703172

Riding Style:

Riding Level:

Advanced

Stiffness:

7

Flex:

Stiff

Gender:

Men

Eco:

Recycled materials
More sustainable
FSC® certified wood

Base:

Sintered

Extruded: low maintenance and extremely durable, ideal for jibbers and weekend shredders
Sintered: hard and fast, but a little higher maintenance, the best choice for powder
Premium: highest quality and speed with carbon/graphite additives

Length (cm):

160 cm

Sidecut Radius:

8 m

The smaller the radius, the better the turning ability. A large radius brings a smoother ride at high speeds.

Running Length:

123.4 cm

The part of the edge that has contact to the snow. Shorter=agile, longer=more control

Nose Width:

30 cm

Waist Width:

25.7 cm

Tail width:

30 cm

Nose length:

23.8 cm

Tail Length:

22.8 cm

Rider Weight:

67kg / 91kg

Features:

Base rotation

Snowboard width:

Regular
Features
Twin Directional Shape
CamRock profile
Traction Tech 3.0
Progressive sidecut
Blunt Nose
Flex 7/10
V-Core
Twin Flex Pattern
FSC™ Control Split Core
Biax fibreglass
Bio resin
Sintered 8000 Base
Eco-plastic topsheet
Oversized recycled edges
Recycled Black ABS
Wend Natural Wax
Freeride Freestyle Pack
Boltless Bridge.
Karakoram Ultra Clips 2.0
Men's Mountain Twin Split 157, 159W, 160 compatible with Jones Pre-cut Nomad Group D Splitboard Skins
About Jones Snowboards
"Snowboarding is not my job, it's my life". Jones Snowboard founder Jeremy Jones explains so much in so few words. He wanted to create the ultimate snowboarding gear that lived up to even the highest standards, and he has done exactly that. The company prides itself on giving back to the wild places they so dearly cherish through actions such as 1% For the Planet. There is nothing we don't love about Jeremy Jones and his vision.