Nixon – stylish watches from the beginning

For Nixon, time starts in 1997 in beautiful California. The surf enthusiastic founders Andy Laats and Chad DiNenna were looking for a watch that matched their lifestyle. At that time, this was easier said than done. Nothing on the market met their high standards and so they founded Nixon. The brand reflects their enjoyment of life and risk acceptance in sports and combines quality with style.

How they came up with the brand name is a simple but original story: it should be a name that's already familiar to many, without infringing a patent. And that's how ex-president Richard Nixon comes into play: In fact, a gentleman who has nothing to do with the surf and skateboard scene. Why they used specifically his family name for naming the company will stay Andy and Chad's secret.


At the cutting edge

The goal Nixon has set itself is nothing but love for detail. They combine traditions with the latest trends and succeeded in this way to distinguish themselves. Nowadays they are indispensible in the field of watches. But even in the areas of accessories, bags, backpacks, clothes and headphones Nixon plays its part successfully and stylishly.



No one can lead Nixon on concerning watches. Where other watches stop, Nixon goes on and looks damn good at the same time. The used materials are carefully selected and processed with the utmost care. No matter if a watch is made of stainless steel or with a leather strap – here you get the best quality.

Because the watches are so varied, there is no time in your life in which a Nixon watch does not fit. Whether sporty or elegant, digital or analogue – you decide! Different materials for different models and different moments.


Seductive watches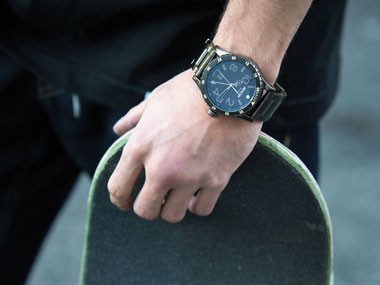 Many copies have already attained a cult status among watch lovers. The Time Teller can consistently be found on the wrists of both men and women because of its simple but exciting design.

The women's Kensington Leather watch also pleases many wearers with its stylish look. The leather strap and the elegant housing fit perfectly together. Men just cannot resist the Manual. This stainless steel watch looks as if it is made from one piece and stands out with its universal look.


Designed down to the last screw

Small details make the Nixon watches into something special. The following features can be found in many of them:

pre-programmed tide-indicator
High-resolution display technology
Waterproof housing
Hardened mineral glass
Quartz clock mechanism
Luminous or illuminated surface
Calendar, alarm and countdown timer
A warranty for all cases

Should there be something wrong and your Nixon accessory has a manufacturing defect, there is a warranty, except on clothing. You will not be abandoned if something happens to your beloved item within the relevant warranty period.

For the Elite Class watches Nixon even offers a lifetime warranty on material and manufacturing defects. Good to know!


Nixon uses its time wisely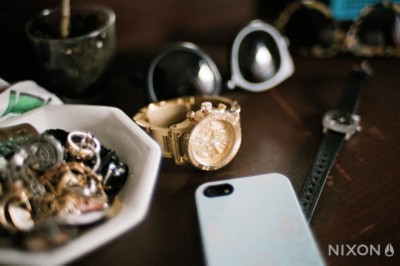 The Nixon team was assembled for one simple goal: to unite the best of this world into one coherent group, no matter how different talents, interests or styles are. Among them are legends from different fields. Andrew Reynolds, Paul Rodriguez and Ryan Sheckler can be found in the Skate Team. Bruce Irons, Marlon Lipke and Rob Machado in the Surf Team and Cheryl Maas, Jenny Jones as well as Nicolas Müller in the Snow Team.

Of course Nixon also supports events and happenings in the fields of sport, art, music, travel, and charity.


Nixon Surf Challenge

Originally, the Nixon Surf Challenge was a nice gathering of surfing friends. It is now a yearly event, which stands for free and casual surfing. Not a jury, but the participating guys and gals decide among themselves who has earned the cup. Transworld Surf also agrees with this event and calls it "a refreshing change".

If you need a refreshing change as well in terms of watches, accessories etc, check out the Nixon range at Blue Tomato! But be quick, because time is money!