We have over 300 different snowboards here at Blue Tomato. That sounds like a lot. Have a look through our buyer's guide for your style, level and learn what makes these boards unique. When you find the right snowboard, this amazing sport gets easier and much more fun.
Chapter 1
Which snowboard for my riding style?
Think about how you ride when you choose a snowboard. There are great boards for all styles. Read more about, all-mountain and freestyle riding, freeriding and splitboarding here.
All-Mountain: Snowboarding anywhere and everywhere
An all-mountain board can ride in any terrain. These boards allow you freedom and are great fun regardless of where you ride. Beginners and intermediates love the versatility of an all-mountain snowboard and can improve quickly.
Freestyle: The snowpark is your home
Sunshine, a freshly groomed park and all your friends to share the day with. Does this sound like your dream? If so, then freestyle could be your style. A twin tip or a directional twin shape will serve you well when riding and landing in both directions in the park. Freestyle snowboards help you make the most of kickers, rails and the halfpipe.
Jib: Boxes, rails and urban features
Is your perfect day on the mountain spent hitting that box or handrail again and again? If this sounds like you, then look at jib snowboards. Similar in shape and profiles to freestyle snowboards, often ridden a little shorter for even quicker spins. These boards usually have reinforced bases and strengthened edges for repeated abuse from rails and boxes.
Freeride: At home off-piste
If your idea of happiness is floating through a field of virgin powder or attacking the highest peaks, then a freeride snowboard is for you. We have shapes and profiles which perform in fresh, deep snow. These snowboards are commonly directional with a broader nose than tail for greater floatation.
Splitboards: Freedom to explore the mountain
As splitboard is a snowboard which is split vertically down the middle. When split you can climb up the mountain with the aid of 'skins', with the two halves of the board acting as skis. When at the top you can reassemble your snowboard and ride down. Splitboarding represents true freedom. The ability to go anywhere on the mountain.
Chapter 2
What is my snowboarding level?
How long you have spent in the mountains and how comfortable you are on a board determines your snowboarding level. Be honest with yourself. If you choose the right snowboard for your level, then your progression will be faster and much more fun.
Beginner: It's easy to get started
Shorter and softer boards are suitable for beginners as they make your first turns and tricks easier. An all-mountain snowboard will help you ride across the hill and learn quickly. You can always take a course at the Blue Tomato Snowboard School in Obertauern to progress.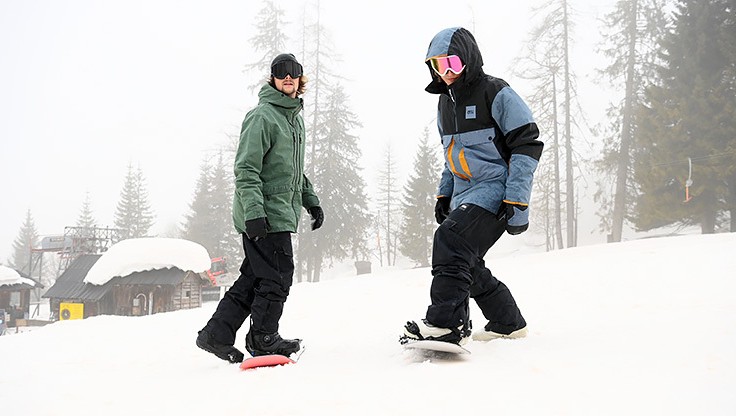 Enjoy progressing
Hopefully now, you'll spend less time on your knees or backside and you'll spend more time enjoying snowboarding. As you venture further around the mountain, you'll see and experience more. Now all-mountain snowboards are great for you, as are freestyle shapes, which will let you ride in the park but also are forgiving.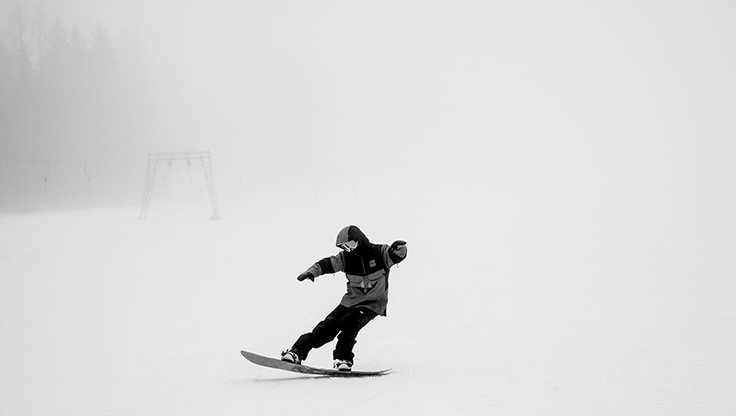 Confidence riding everywhere
Now we're getting somewhere. You can ride all over the mountain, comfortably and with skill: either carving on-piste, hitting jumps in the park or searching out powder stashes. Look for a snowboard specific to your style - you can pick whatever you like.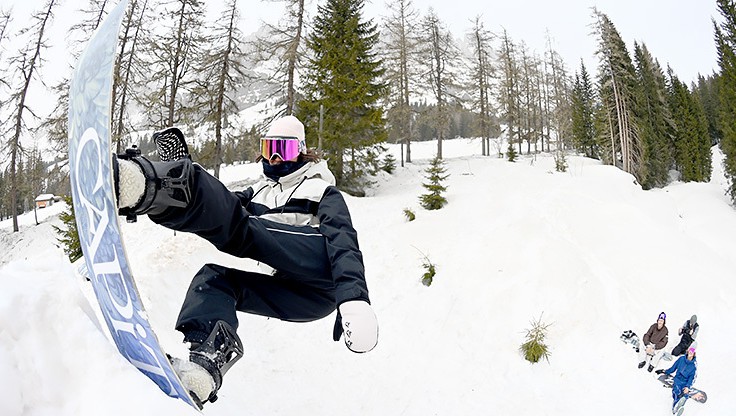 Expert: A quiver of snowboards
An expert rider has spent a long time on the mountain - we don't need you to prove yourself. Safe to say, you've mastered your side of snowboarding. You need specialised equipment for the different types of boarding you do, so a freestyle or jib board, a freeride snowboard and a splitboard. Build a quiver of snowboards!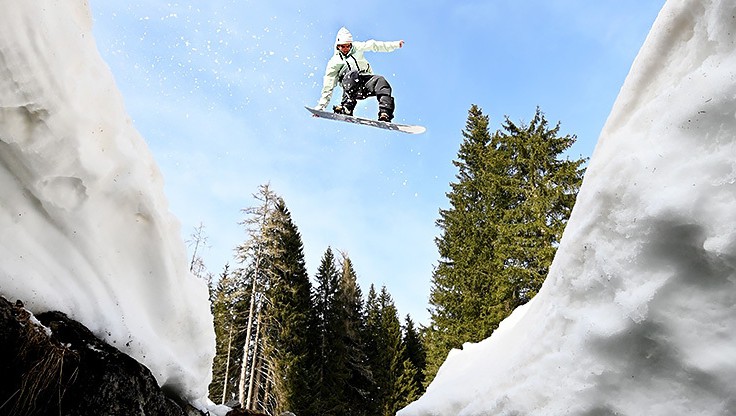 Chapter 3
Which shape of snowboard?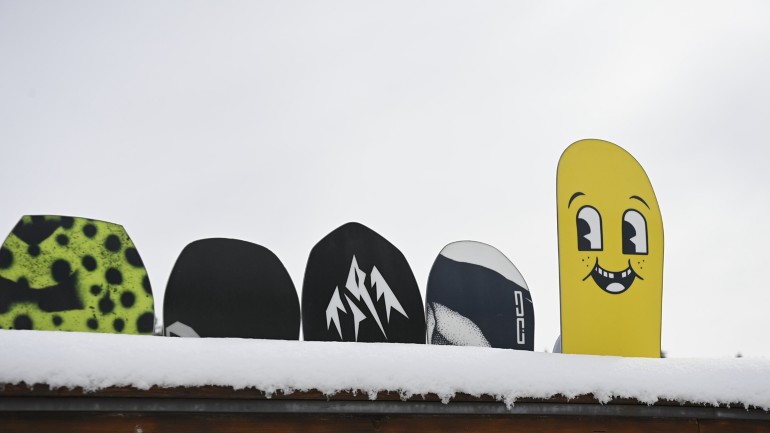 The shape of your snowboard has a massive influence on how you perform. There are shapes which work particularly well for all-mountain, freestyle and freeride snowboarding.
Twin tip: Symmetrical shape for freestyle
A twin tip snowboard has a perfectly symmetrical shape. The nose and tail have the same dimensions and the board rides the same both forward and backwards. This applies to the sidecut and flex, too. You find this shape in freestyle and jib boards as they are best suited for park, kickers and rails.
Directional twin: Taking your tricks all over the mountain
The shape of a directional twin snowboard is symmetrical but other aspects of the board design are not. It could be that the binding inserts have a setback position or that the flex pattern and profile are for riding forwards. A directional twin snowboard will work in the park but you have the versatility for all-mountain riding. If you like to throw tricks when you're freeriding, this shape is for you.
Directional: For freeriding and carving on piste
As the name suggests, this shape is for riding forward. The binding position is moved backwards for a longer nose. This allows better floatation in soft snow and more power carving on-piste. A directional shape is found commonly on all-mountain and freeride snowboards.
Tapered: Maximum floatation in powder snow.
A tapered board narrows towards the tail. This shape is particularly suitable for freeride snowboarding because it gives the board more buoyancy due to the greater surface area in the nose area.
Asymmetric: Easy Carving
The human body is not symmetrical, why should snowboards be? This shape counteracts the natural imbalances in your body for easy turning with a shorter sidecut toeside to heelside. You can find asymmetric freestyle, jib, all-mountain and freeride snowboards.
Chapter 4
Which snowboard profile is best for me?
The profile of your snowboard is how it lays on the snow, from the side. Like the shape, the profile has a significant bearing on how your snowboard performs in different conditions.
Camber: Great for power and grip
Camber is the 'traditional' profile for snowboards. Unweighted, camber is a gentle upwards curve between the tip and tail. When you put your weight on the snowboard, you have a uniform pressure from tip to tail. This profile is excellent for grip and power.
Rocker: Catch-free, floaty and easy to turn
Rocker is a smoothly curved profile from tip to tail. The contact point is between the bindings and the tips and tails are raised. With a central pivot point, rocker snowboards are catch-free, floaty and easy to turn.
Powder Rocker: The greatest floatation in soft snow
Engineered for deeper snow. This profile has a more pronounced rocker in the nose of the board to help you float in powder. This profile an S-shape with a camber or flat area before or under the back binding. Often combined with a directional or tapered shape for the most fun freeriding in powder snow.
Zero: Stable and balanced
This type of board lies flat on the snow. A zero profile combines the benefits of rocker and camber giving a zero snowboard more edge grip than a rockered snowboard and making it less aggressive than a camber snowboard. Because of this balance, you find zero profiles on freestyle and jib snowboards.
Hybrid Rocker: Stability, grip and floatation
A hybrid rocker has a rocker between the bindings, with camber towards the tip and tail of the board. The rocker allows the snowboard to pivot easily and float in soft snow while the camber guarantees grip. A snowboard with a hybrid rocker performs in all conditions.
Hybrid Camber: Great for freestyle
A hybrid camber has camber under your body and bindings with rocker or flat section at the tips. This profile works particularly well with freestyle and jib snowboards. You get the grip and power of camber for going fast into kickers and jumping high onto features. The rocker or flat sections add just a touch of forgiveness so if you don't stick the landing perfectly, just ride out!
3D base snowboards: More float, less drag and added agility
These snowboards are not flat! A 3D base profile takes shaping to new levels. In the tip and tail of a 3D shaped snowboard, the sides are bent up to create a 'spoon' shape. This means you get a greater surface area in the tip for more float in powder. The 3D base ensures catch-free turning and landing on hard snow and a new level of agility in the park.
Pro Advice
A 3D base works great on the piste and in the powder for me.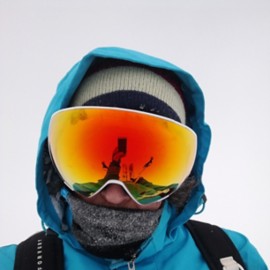 Oli
Product Content
---
Chapter 5
Which length snowboard is right for me?
The traditional rule is that your snowboard should reach your chin, however with modern snowboard shapes there are exceptions. Freeride snowboards can paradoxically be both shorter and longer than this recommendation. You can ride jib snowboards shorter, so they are lighter and easier to spin.
This chart below is a guide to all-mountain snowboard length:
| Height (cm) | Weight (kg) | Snowboard Length (cm) |
| --- | --- | --- |
| < 145 | < 40 | < 125 |
| 145 - 150 | 40 - 50 | 125 - 130 |
| 150 - 155 | 45 - 55 | 130 - 135 |
| 155 - 160 | 50 - 60 | 135 - 140 |
| 160 - 165 | 55 - 65 | 140 - 145 |
| 165 - 170 | 60 - 70 | 145 - 150 |
| 170 - 175 | 65 - 75 | 150 - 155 |
| 175 - 180 | 70 - 80 | 155 - 160 |
| > 185 | > 80 | > 160 |
Snowboard Length for Beginners
When you start, you want to make riding as easy as possible. One of the easiest ways is to use a shorter snowboard; it is easier to turn and learn on.
This chart below is a guide snowboard length for beginners:
| Height (cm) | Weight (kg) | Snowboard Length (cm) |
| --- | --- | --- |
| < 145 | < 40 | < 120 |
| 145 - 150 | 40 - 50 | 120 - 125 |
| 150 - 155 | 45 - 55 | 125 - 130 |
| 155 - 160 | 50 - 60 | 130 - 135 |
| 160 - 165 | 55 - 65 | 135 - 140 |
| 165 - 170 | 60 - 70 | 140 - 145 |
| 170 - 175 | 65 - 75 | 145 - 150 |
| 175 - 180 | 70 - 80 | 150 - 155 |
| > 185 | > 80 | > 155 |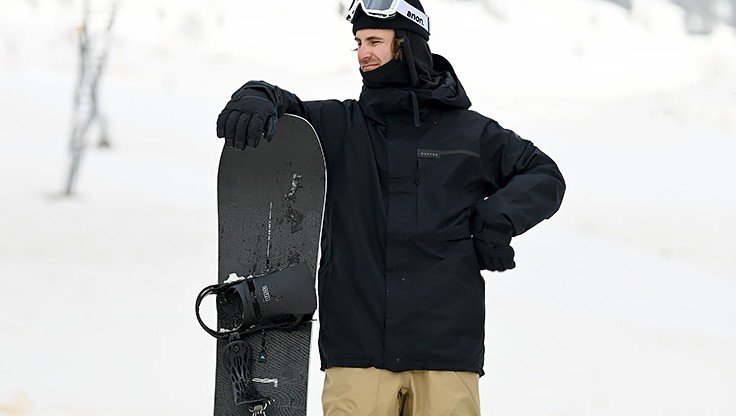 Pro Advice
My boards just reach up to my chin approximately - for riding kickers I like it a bit longer for having more control. On rails, I prefer shorter boards for more manoeuvrability.
---
Freestyle and Jib Snowboard Lengths
Similar to beginners, jib riders benefit from shorter snowboards. They are easier to spin on and off rails and they too are more forgiving.
If you are jumping big kickers rather than rails, go with an all-mountain length for your snowboard.
This chart below is a guide for jib snowboard length:
| Height (cm) | Weight (kg) | Snowboard Length (cm) |
| --- | --- | --- |
| < 145 | < 40 | < 123 |
| 145 - 150 | 40 - 50 | 123 - 128 |
| 150 - 155 | 45 - 55 | 128 - 133 |
| 155 - 160 | 50 - 60 | 133 - 138 |
| 160 - 165 | 55 - 65 | 138 - 143 |
| 165 - 170 | 60 - 70 | 143 - 148 |
| 170 - 175 | 65 - 75 | 148 - 153 |
| 175 - 180 | 70 - 80 | 153 - 158 |
| > 185 | > 80 | > 158 |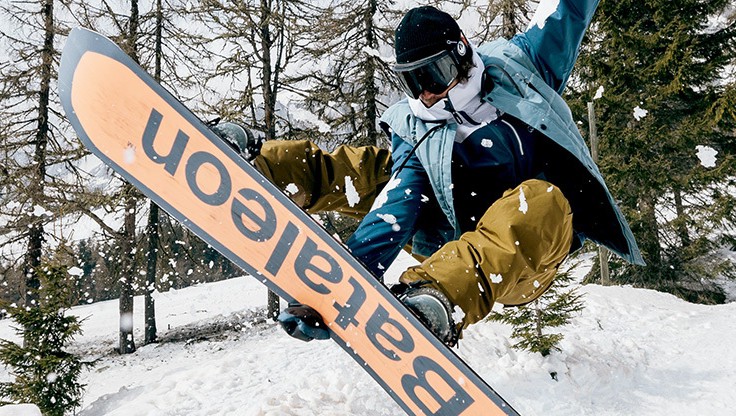 Freeride Snowboard Length
For freeriding, when you need the best control and float, go a little longer. A longer snowboard will naturally have a larger surface area than a shorter one, so will float better in powder. Also, for better response and control, a longer snowboard will have more effective edge so will turn aggressively. One big exception is very short freeride snowboards, which are very wide. These snowboards have massive flotation because of their width and can turn because of an adapted sidecut. Check the product descriptions of these snowboards and check against the all-mountain length chart.
The chart below is a guide to freeride snowboard length:
| Height (cm) | Weight (kg) | Snowboard Length (cm) |
| --- | --- | --- |
| < 145 | < 40 | < 135 |
| 145 - 150 | 40 - 50 | 135 - 145 |
| 150 - 155 | 45 - 55 | 140 - 150 |
| 155 - 160 | 50 - 60 | 145 - 155 |
| 160 - 165 | 55 - 65 | 150 - 160 |
| 165 - 170 | 60 - 70 | 155 - 165 |
| 170 - 175 | 65 - 75 | 160 - 170 |
| 175 - 180 | 70 - 80 | 165 - 175 |
| > 185 | > 80 | > 175 |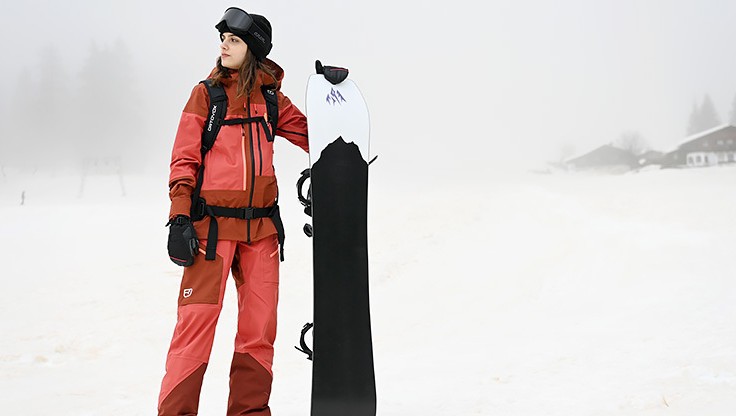 Chapter 6
Do I need a wide snowboard?
Do I need a wide snowboard?
If you have a boot size of EU 44 or upwards, then you could need a wide board. Be careful to measure the length of your boots then compare it to the waist width given on every product description for a snowboard in the specifications. If it is the same or greater than the width of the snowboard, then you should try the wide version.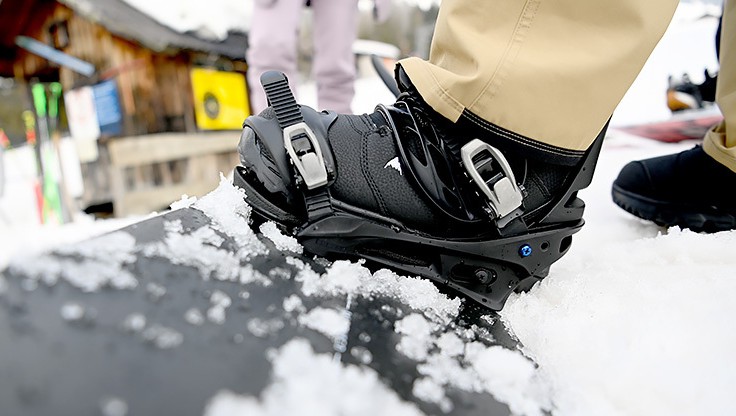 Chapter 7
Which flex snowboard?
A term you'll often hear snowboarders talk about is the flex or stiffness of their boards.
But what does this mean? The flex is how much effort is required to bend the board. What difference does this make to you? Stiffer snowboards require more strength to turn and softer ones less so. We have summarized our range to Soft – Medium – Stiff snowboards.
Forgiving and fun
The softest snowboards are best for beginners and freestyle snowboarders. A softer board is easier to make your first turns with and is more forgiving if you fall. It's also better for rail and box tricks. Freestylers will also appreciate the forgivingness for when you don't stick the landing 100%.
All-mountain snowboarding
Most riders prefer medium flex. They are the most versatile snowboards – forgiving for everyday riding but also stiff enough to hold an edge when you want to carve. Perfect for all-mountain riding. Also, if you're riding bigger features in the snowpark; you'll appreciate the added support.
Speed and perfomance
The stiffest snowboards are best for freeriding, splitboarding and riding very fast on the piste. In all three of these instances; you need the ultimate control. The stiffest snowboards offer the highest response and support. Be careful though – these boards need strong riders too!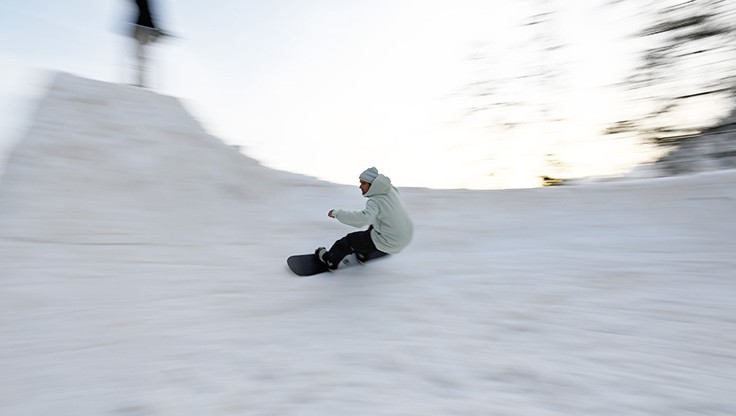 Chapter 8
Snowboard technology: What do I need to know?
Snowboard product texts often have a long list of specifications. Some of this information is really important to how your board works, some less so. Here we break down the essential technolgies and features for you to look out for.
Does my snowboard fit with my boots and bindings?
Does it all fit together? Another really common question for us. And the answer is ….. probably! There are now two systems of mounting snowboards: the channel and traditional inserts packs. The most bindings come with two disks or disks which work with both systems. If you have any doubts, please contact our customer service.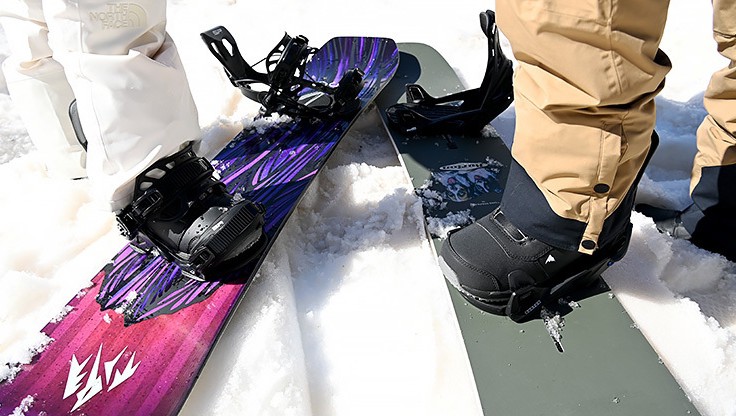 How does my snowboard turn?
A very commonly used term when describing snowboard performance is sidecut, radius or sidecut radius. Simply put: the sidecut is how your snowboard turns on the snow. A longer sidecut radius (~7,5-9) is better for going fast with long carves. A shorter radius (~6-7,5) is easier to handle and turns quickly.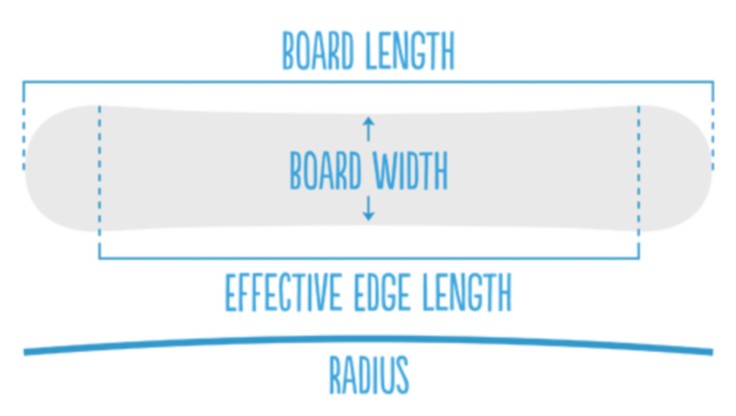 Needed to turn your board
To turn your snowboard you need steel edges, but there's so much more than just that. For extra grip, some snowboards add serrations or extra contact points to the edges. These work like a serrated knife would cut into food, with the serrations biting into the snow for a stronger grip. Some boards have strengthened edges, which either use thicker or tempered steel. For jib and freestyle snowboards, these edges take the abuse from rails and boxes.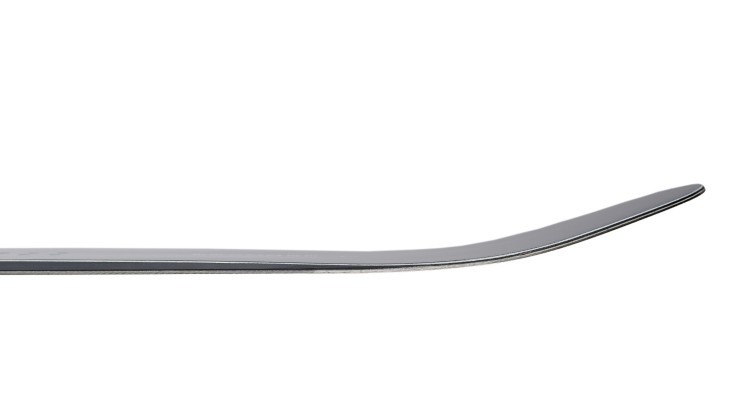 Keeping everything running smoothly
At Blue Tomato we divide out snowboard bases into three categories: sintered, extruded and premium. An extruded base is typically the cheapest, but the lowest maintenance: An extruded base is straightforward to repair and will run even when it isn't waxed as often. A sintered base is harder and faster but requires a little more work. If damaged, repairs can be a bit tricky. A sintered base should be regularly waxed to keep running fast. The top level is the premium base. This is made from World Cup standard base materials and is the fastest available. You will find extruded bases on beginner level and jib boards, as they need little maintenance and jibbers can quickly fix any repairs. Sintered bases are often found on freestyle, freeride and all-mountain snowboards to go faster. The top splitboards, freeride and all-mountain snowboards use premium bases for the utmost speed.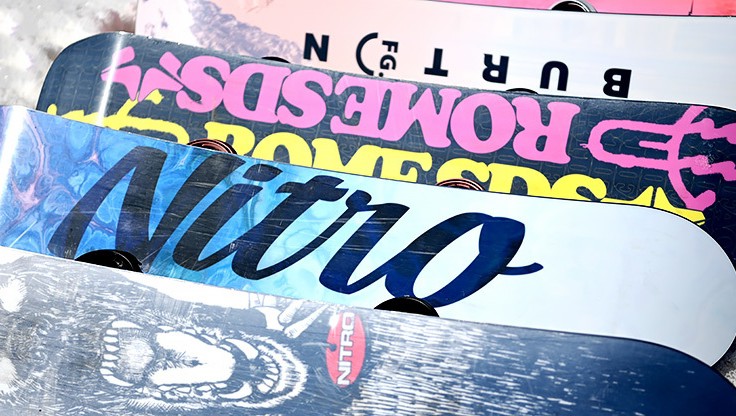 Like a really tasty sandwich
What's inside my snowboard? There can be a lot squeezed in that 1 cm thick snowboard. Wood is the main ingredient to nearly all of the snowboards which we offer. Wood is often complimented by fibreglass which add torsional rigidity and flex when laminated at opposite angles to the grain. Other materials include carbon fibre and basalt for stiffness and titanal, cork and rubber for dampening. All of these materials are laminated and glued together using epoxy. ABS plastic is used for the sidewalls of the laminated snowboard and is both waterproof and shock absorbent.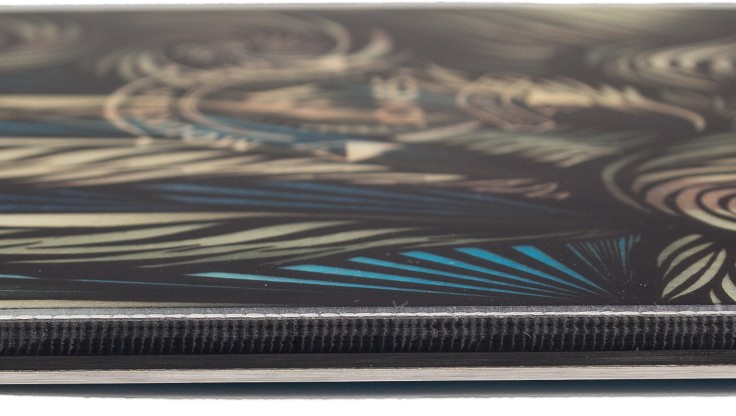 Where to put your bindings
The setback is where the bindings are on the snowboard. On a twin tip snowboard, the bindings should be centrally positioned to ride the same forwards or backwards. In directional twin and directional shapes, the bindings can have a setback. This means that the bindings are mounted towards the tail for riding powder snow. The more of a setback, the more powder-centric the snowboard is.