Which skis, bindings and poles are best for me? First, think how you want to ride - freestyle or freeride. Pick the right ski, then match the bindings and the poles. We'll help with every step of the way.
Chapter 1
Choose your riding style
There are great skis for all styles of riding. Read more about, all-mountain, freestyle and freeride.
All-Mountain: skiing everywhere
All-mountain skis perform in any terrain. They allow you freedom and are great fun regardless of where you ride. Beginners and intermediates love the versatility of all-mountain ski and can improve quickly.
The snowpark is your home
Sunshine, a freshly groomed park and all your friends to share the day with. Does this sound like your dream? If so, then freestyle could be your style. A twin tip or a directional twin shape will serve you well when riding and landing in both directions in the park. Freestyle skis help you make the most of kickers, rails and the halfpipe.
Freeride: at home off-piste
If your idea of happiness is floating through a field of virgin powder or attacking the highest peaks, then you could be a freeride skier. We have shapes and profiles which perform in fresh, deep snow.
Chapter 2
What is your riding level?
How long you have spent in the mountains and how comfortable you are on your skis determines your level. Be honest with yourself. If you choose the right skis for your level, then your progression will be faster and much more fun.
Beginner: It's easy to get started
Shorter skis are suitable for beginners as they make your first turns easier. All-mountain skis will help you ride across the hill and learn quickly.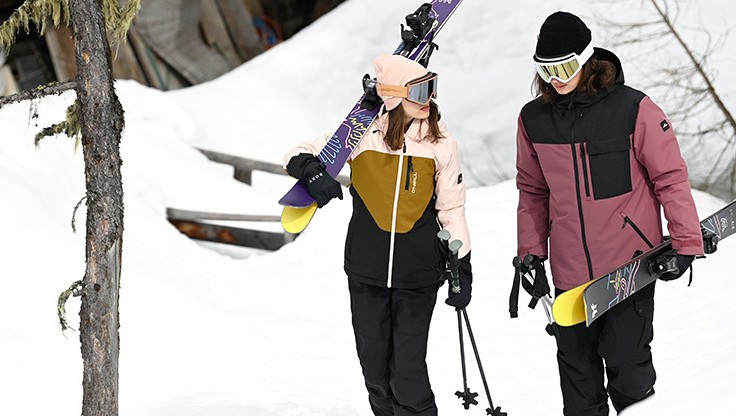 Gaining confidence
An intermediate skier is starting to explore. You are gaining confidence abilities, and with this, new areas of the hill are opening up to you. You begin to try steeper runs or try to ski a little off the side of the piste. If you're feeling adventurous, you might take a run through the smaller jumps in the park. Now, all-mountain skis are still great, or you could go for directional twin freestyle skis. They can ride in the park, but also all over the mountain too.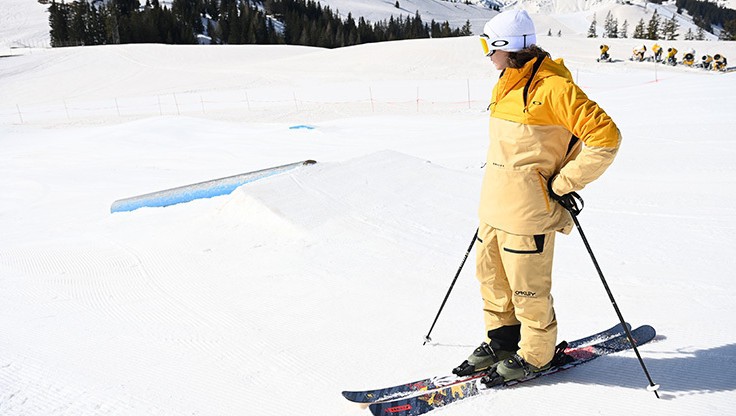 Mastering freeskiing
If you're an advanced skier, then you're comfortable all over the mountain. You can get down any piste, you go off-piste regularly and can do laps in the park. Here you can handle all the skis we have. You might be looking for more specialised equipment, or perhaps you want one setup to do everything. Either way is cool - we have the right skis for you!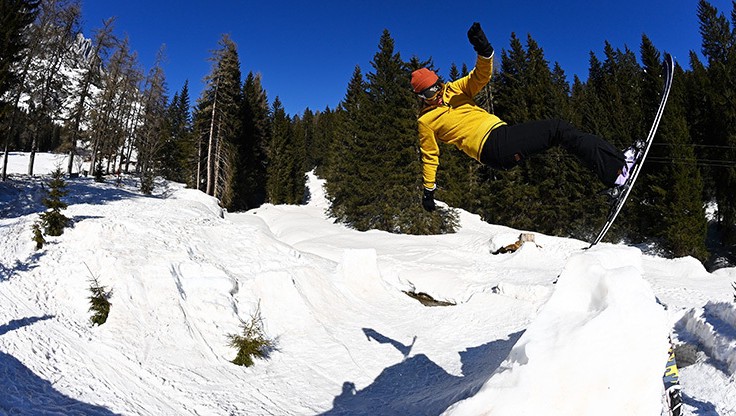 Expert: A quiver of skis
An expert rider has spent a long time on the mountain - we don't need you to prove yourself. Safe to say, you've mastered your side of freeskiing. You need specialised equipment for the different types of skiing you do. Build a quiver of freeskis!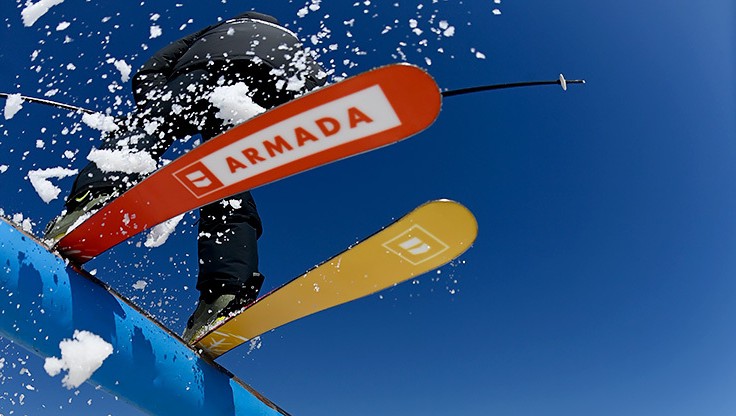 Chapter 3
Which freeski shape is right for me?
The shape of the ski plays a massive part in how it performs. If you are riding 100% in the park, freeriding or riding fast on-piste, there is a shape for you.
Twin Tip: Symmetrical shape for freestyle and switch riding
A pair of twin tip skis is symmetrical. The tips and tails have the same dimensions and the skis perform precisely the same riding forwards or backwards. When you are riding in the park, jumping off kickers or landing switch, this is really helpful. Freestyle and Jib skis are often true twin tips for maximum performance in the park.
Directional Twin: Perfect for taking your tricks all over the mountain - even in powder
This shape has a twin tip but isn't symmetrical. A directional twin is a versatile shape which can work for riding on and off-piste or in the park. This shape twin is designed to ride forwards, with a sidecut and mounting position geared towards directional riding. However, the twin tip on the tail allows you to throw tricks in or outside the park. You can find directional twin freestyle, all-mountain and freeride skis.
Directional: Freeriders, ski-tourers and carvers love this shape for stability and power
This shape is for forward-faced riding. If you spend your days riding fast downhill or touring for fresh turns- a directional ski could work for you. With a longer nose, a more set back binding position and a specific flex profile a directional ski offer you most stability and power for riding forwards.
Chapter 4
Which freeski profile is best for me?
When you lay your skis down on the snow, how and where the base contacts the snow is the profile. Different profiles have very different applications and will change the performance of similarly shaped skis.
Full camber: Grippy and stable for riding on hard snow
A ski with full camber has the best possible edge grip and stability. For riding on hard snow or in groomed parks when you need the best grip. A full camber freeski will turn very aggressively and give you a little more pop on kickers.
All-mountain rocker: Perfect for piste and powder
The most common rocker profile found on freeskis. An all-mountain rocker has a strong camber underfoot with rockered tips and tails. This means that you'll get the grip for riding piste from the underfoot camber but also soft snow performance from the rockered tips.
Park rocker: Quick to pivot, spin and less likely to catch an edge
Park rocker is a mixture of mellow camber and tip and tail rocker. This mix means that you're less likely to catch an edge with landings and rail tricks. Secondly, the rocker shortens the running length of your ski meaning that it's quicker to spin. Plus, rockered tips are softer and more forgiving on your not-so-perfect landings!
Nose rocker: Perfect for riding forwards on piste and in powder
A nose rocker features rocker only in the nose with camber through the waist into the tail. This profile is found mostly in directional skis because it ensures excellent grip and power for charging fast all over the mountain. The added grip of the tail means that these skis power through a turn and the rockered nose will help you float through soft or variable snow.
Powder rocker: the greatest floatation in soft snow
Powder rocker profiles feature a slight camber underfoot with a big rocker in the tips and tails. This ensures a little grip underfoot for piste or variable snow performance with massive floatation and surface area from the tips. With a powder rocker, you won't sink regardless of how deep the snow gets!
Chapter 5
How wide should my ski be?
The third aspect to design which has a considerable bearing of performance is the width of your skis. It's measured at the "waist" of the ski, hence the name: waist width.
For freestyle and hard snow
Skis with waist widths up to 95 mm are great for snowparks and hard slopes. The narrower dimensions mean that the skis are quick from edge-to-edge and turn easy.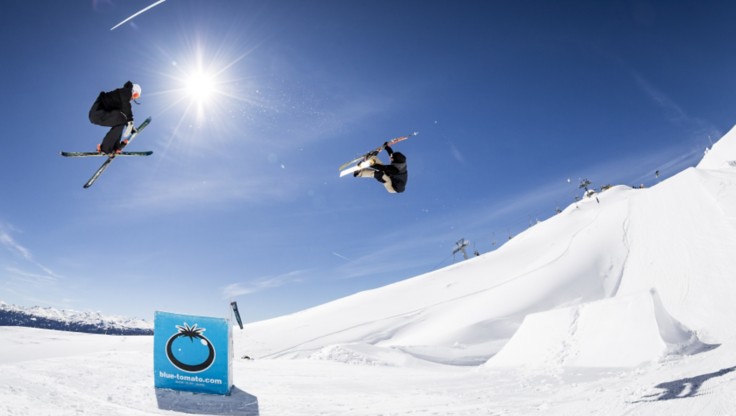 All-mountain performance
Skis with a waist width between 90 mm - 110 mm are great for all-mountain riding. This width means that the ski can turn quickly but still has a little more meat under your feet so you can float better in soft snow.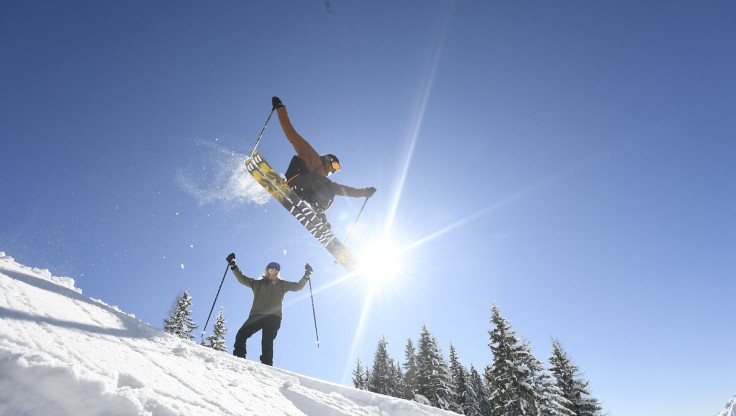 Great for freeriding
A wider platform means that you will float better in softer snow. Combined with a nose or powder rocker you can ride powder snow until your smile is wider than the skis.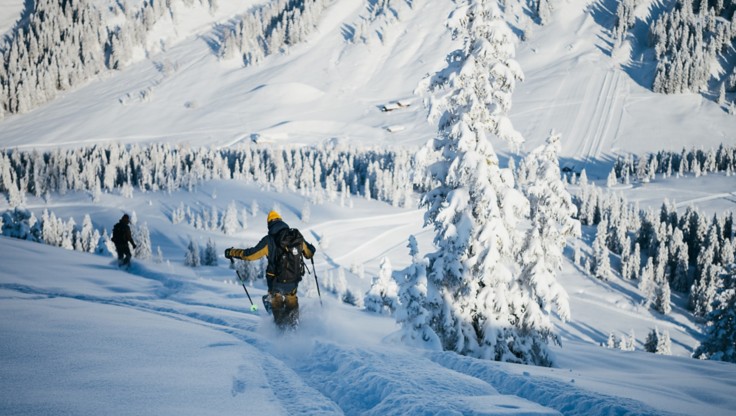 Chapter 6
Which length skis should I choose?
Beginner length
A beginner will benefit from a shorter ski – up to the chin, these are easier to turn and more fun to learn on.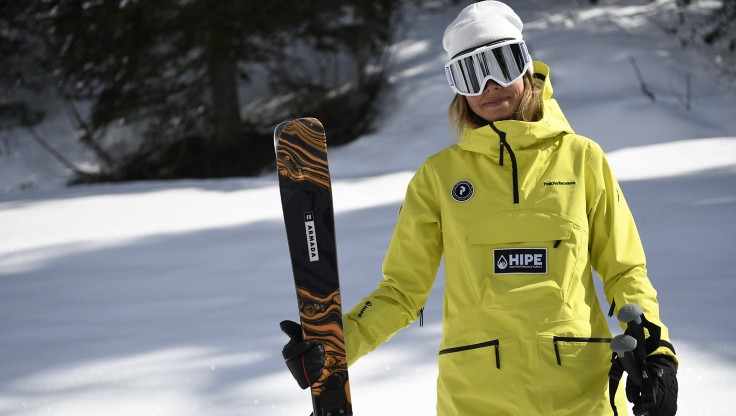 All-mountain length
An all-mountain ski should be between your brow and chin in length, this means you have a little more stability for going fast.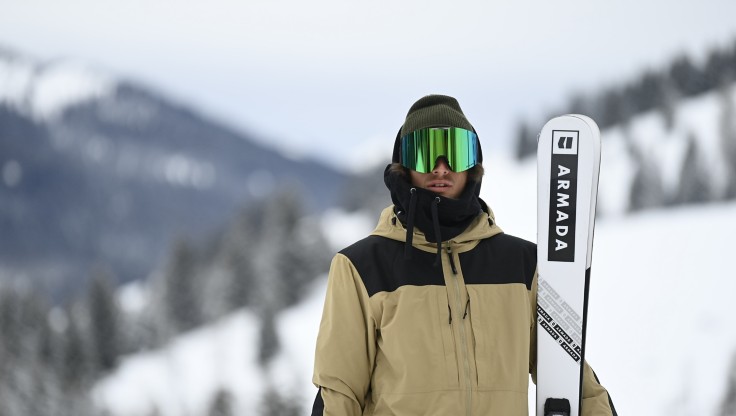 Freestyle length
Freestyle skis like all-mountain should be between your chin and brow. Go longer if you want to go bigger off kickers, shorter if you want to spin onto rails and boxes.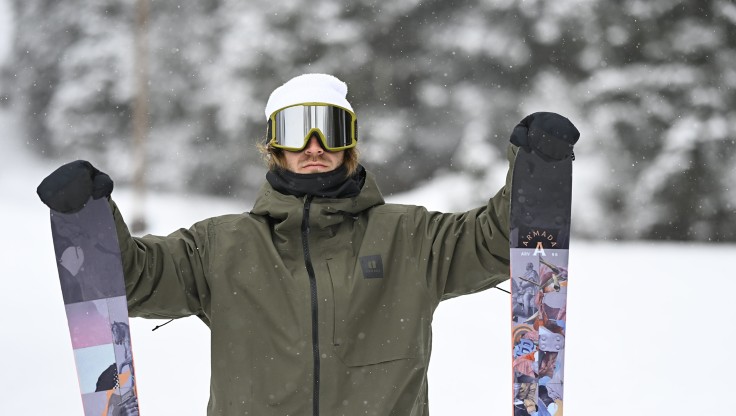 Freeride length
With freeride skis, the bigger, the better! Go with a length over your brow for maximum float in powder snow.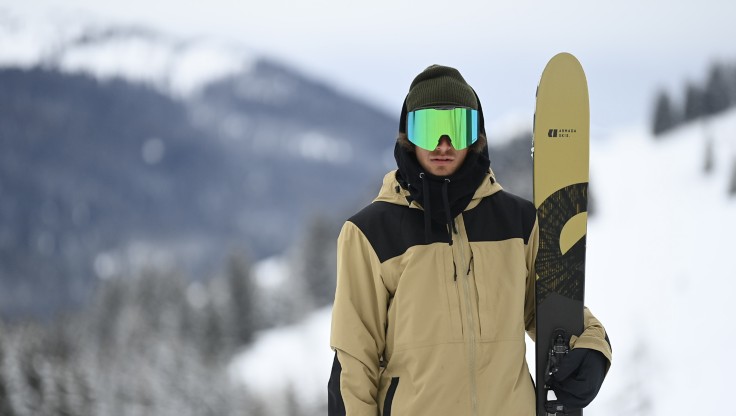 Chapter 7
Ski technology: What is important?
Sidecut
The sidecut defines how your skis turn on the snow. A longer sidecut radius (larger than 19) makes wider turns which are better for going fast with long carves. A shorter radius (smaller than 19 m) makes smaller turns which are easier to handle and more agile.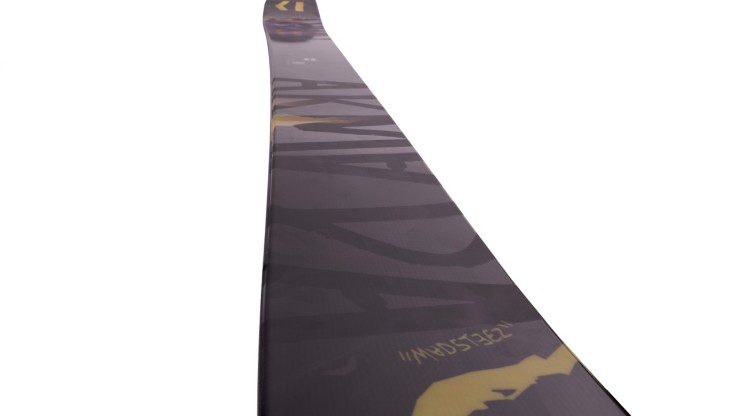 Flex
Another physical factor which can affect how you ride is the flex of your freeskis. Brands grade their skis on either a 1 -10 or a 1-5 scale. A softer (1-4) pair is suitable for beginners as it is easier to turn and is more forgiving for learning. Medium flex (4-7) skis are better suited to intermediated, all-mountain and freestyle riders. The balanced flex will suit riding in all-conditions as well giving a little more support. Stiffer flexes (7-10) work best for freeride skis, as you need the maximum of control and power.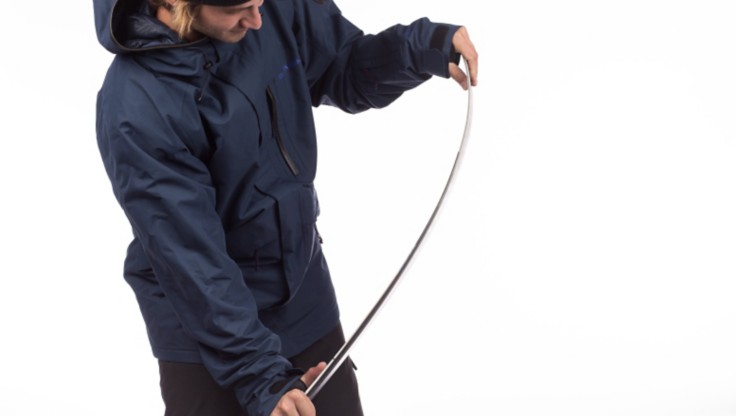 Base
At Blue Tomato we divide out ski bases into three categories: Sintered, extruded and premium. An extruded base is typically the cheapest, but the lowest maintenance. An extruded base is straightforward to repair and will run even when it isn't waxed as often. A sintered base is harder and faster but requires a little more maintenance. If damaged, repairs can be a bit tricky. A sintered base should be regularly waxed to keep running fast. The top level is the premium base. This is made from World Cup standard base materials and is the fastest available.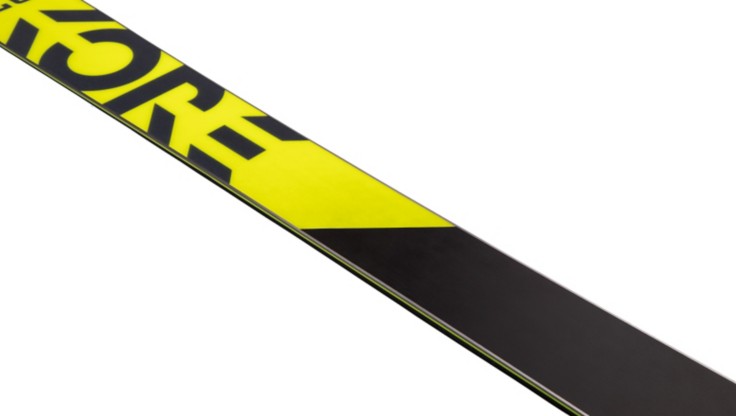 Edges
To turn your freeskis, you need steel edges. Some skis have strengthened edges, which either use thicker or tempered steel. For freestyle skiing, these edges take abuse from rails and boxes.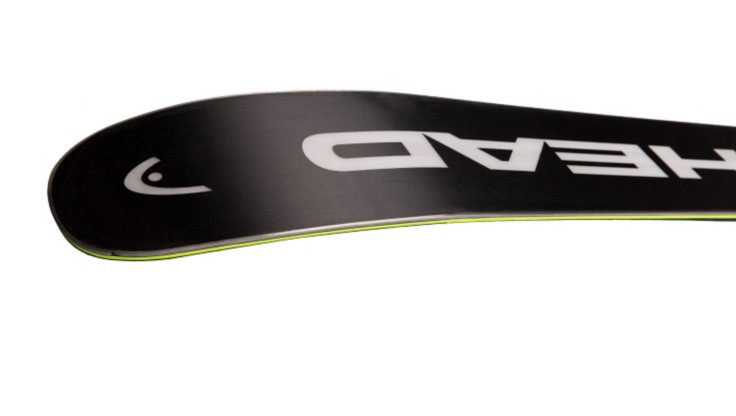 Sidewalls
Skis have sidewalls to fix the base to the topsheet. Cap construction is the cheapest and easiest. Capped skis are durable and can take a beating. Full sidewall skis have the best edge grip for railing hard turns. Hybrid construction sidewalls have a combination of increased grip underfoot and durability in the tip and tail of the ski.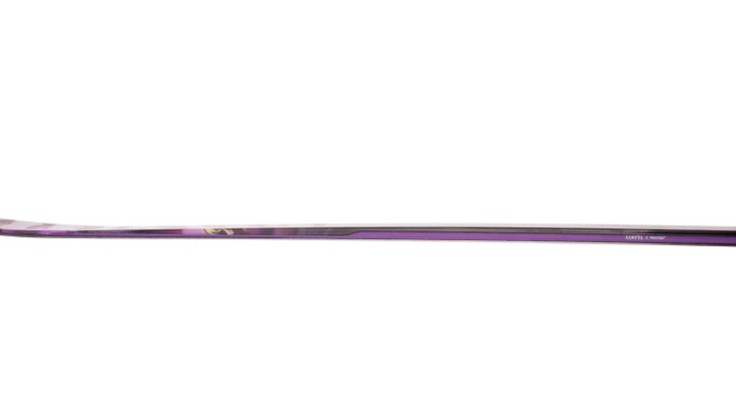 Chapter 8
Which ski bindings should I choose?
You should select your ski bindings on your ability level – be honest with yourself. If you overstate your ability, then your bindings could not release and you could injure yourself.
Beginner bindings
When you are learning to ski you want a binding which will release easily when you fall – beginner bindings have lower release settings.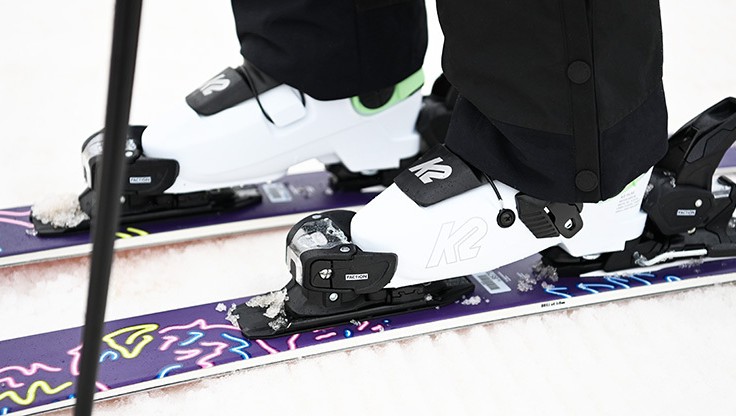 Intermediate bindings
As you progress as a skier, you will push your equipment a little harder. Intermediate bindings have a little higher release values to support more aggressive skiing.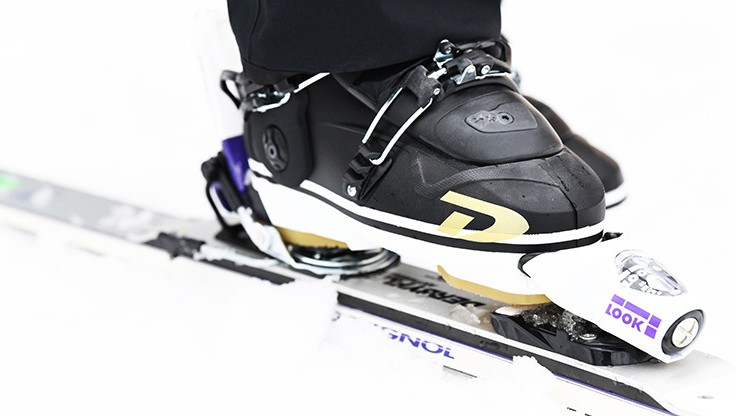 Expert bindings
For the top riders, there are special bindings. With the highest release settings, these bindings should only be used by very experienced riders.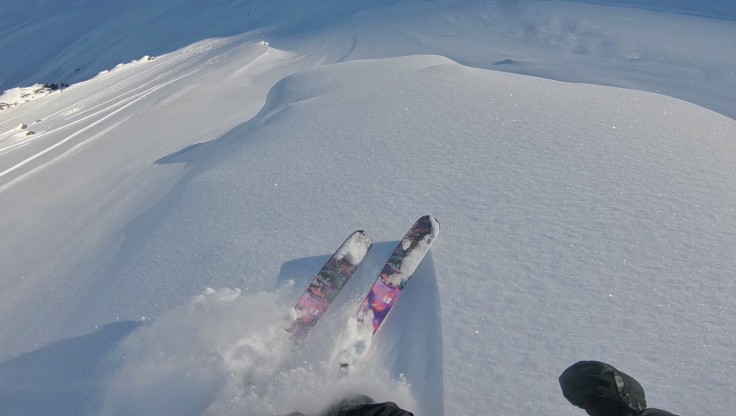 Ski touring bindings
If you want to get out into the backcountry with your own energy look at touring bindings. The allow you to skin up the mountain with a 'walk' mode. They are either mounted on a frame or use pins which attach corresponding holes on a ski touring boot and let you glide up the mountain with help from climbing skins. When you are at the top you change back to 'ski' mode and ride down. When buying ski touring bindings be careful to make sure that your boots fit with the bindings.
Pro Advice
You can mount a touring binding on to any ski. So you can take your favourite freeride ski with you further into the backcountry.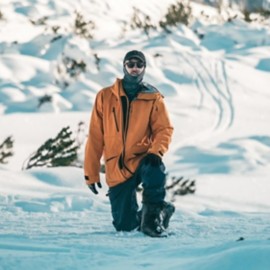 Jon
Product Content
---
Chapter 9
Where should I mount my skis?
Recommended mounting position
We strongly suggest the 'recommended' position for when you mount your skis. This is where the ski has been designed and tested to ride the best. A recommended position on a freeride ski will work best for skiing powder, a recommended position on a freestyle ski will help you in the park and the recommended point on an all-mountain ski will ride everywhere comfortably. The recommended line is clearly marked on every ski which we sell with a line or an arrow.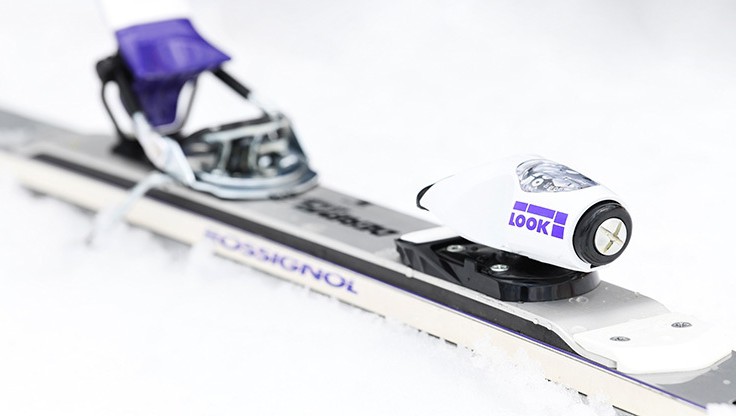 Chapter 10
Which poles should I choose?
Last but not least - to ski you need poles. You have a straightforward decision - if you want a fixed length or adjustable pole. To find your length of ski pole, multiply your height by 0.7.
Fixed length poles
Fixed length poles are easy to understand, find your length and you're good to go. They are usually made from aluminium which is light, strong and durable. If you fall and bend them, you can simply bend them back!
Adjustable poles
A step up for the lowly ski pole – the adjustable pole! If you are ski touring or want to change the length of your poles you can. If you want a lighter pair go with carbon.