The Bikini - Swimming and Sunbathing In A Two-Piece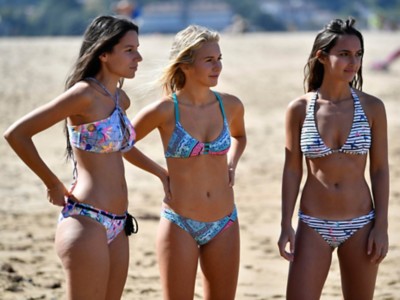 Mono, bi, tri, tank, bandeau, triangle - there are so many names for all the different shapes available! ... And there is the right shape for every woman and every girl. We're talking about bikinis. The summery swimwear for mermaids and beach beauties alike.

The bikini wasn't always as popular as it is today. It made its debut in ancient times but was frowned upon and soon disappeared from all shelves. However, the two-piece swimsuit had its victory and is now a beachwear essential. Today, it is women's first choice of swimwear - much to the joy of all men as well. Designers such as Louis Réard, Rudi Gernreich and Paco Rabanne have all made contributions to the success of the bikini. Bikinis are now available in all kinds of colours, patterns, materials and shapes. A colourful array of the latest bikini styles is available at Blue Tomato.

Build Your Own Bikini! Mix It Up!
Fashion keeps becoming more creative, enabling you to choose your own unique styles. The 'classic' bikini is made up of a top and bottoms. This is usually a triangle or an underwire top. Push-ups, bandeaus and neckholder tops in all shapes and sizes by brands like O'Neill and Rip Curl are trendy alternatives.

Many brands now sell bikini tops and bottoms separately for you to combine any way you like. Mix & Match is the name of the game here. The general rule is: the more material, the more hold the bikini offers. Tops without straps are less suitable for surfing or other water sports. Active girls should opt for bustiers or tankinis. If you just care about what the bikini looks like, you can go for a bit less material to show off more skin.

Bikinis - Hot Tops And Cheeky Bottoms
There are also many different kinds of bikini bottoms to choose from. You can choose to wear more or less material on your hips, according to your personal taste. Bikini bottoms usually have quite a high cut leg. The panty and hipster versions show off less skin than other bikini bottoms, so you can hide away those extra pounds. If you want to show off what you've got, then choose some bottoms that have a lower cut, side ties or a Brazilian fit. Brazilian bottoms show off a bit more, but they also give you less tan lines and more looks from the guys. Of course you can also combine your bikini with some cool Boardshorts.

Not Too Much, Not Too Little Material - The Monokini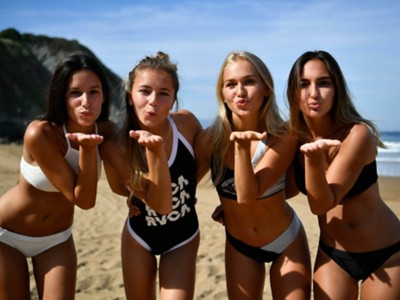 So you don't want to wear a bikini, but a full swimsuit isn't quite your thing either? Then you should go for the cool and flattering alternative - the monokini. Similar to a bathing suit, the mono suit covers you up slightly more than a bikini but is still super stylish. If you think that those are old fashioned, let yourself be persuaded otherwise by Roxy swimsuits with their stylish new designs.

The most important thing is that you feel comfortable and your choice of swimwear is fit for its purpose. Let your new bikini take you to hidden beaches with the best breaks, relax after an intense round of beach volleyball and soak up the sun.

The Material That Ocean Dreams Are Made Of
Thanks to innovative technologies, bikinis are constantly being improved and updated. The latest materials feature UV protection, microfibres and stretch. This makes them elastic without losing their shape. Further advantages include faster drying, breathability and non-fading colours.

As you can see, there are no limits to your bikini shopping experience and you can put together your dream swimwear in no time. Be your own beachwear stylist here at Blue Tomato.