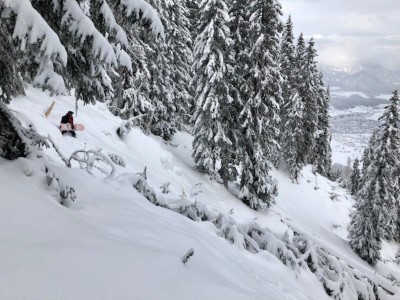 Staff Pick: Ein Tourenrucksack den man gern trägt!
of Lisa, Retail Operations, Nov 27, 2019
Ich war auf der Suche nach einem hochwertigen Rucksack, der mich sowohl im Winter im Gelände als auch im Sommer beim Biken und Hiken begeistert. Ich habe mich für den Patagonia Snow Drifter 20L , Größe L entschieden, da ich bereits einen größeren ABS Rucksack habe und eine kleinere, leichtere Alternative wollte. Ich habe den Rucksack bereits am Klettersteig und bei einer Skitour getestet. Super fand ich, dass der Rucksack alle Möglichkeiten hat Helm, Ski oder Snowboard zu befestigen, dabei aber trotzdem ohne lästige wegstehende Bänder und Gummizüge auskommt. Das geräumige Hauptfach, bietet genug Platz für meine Lawinensicherheitsausrüstung, Essen, Trinken und Wechselkleidung. Auch meine Tourenfelle haben noch Platz. Super finde ich auch, dass ich den Rucksack aufgrund der Klappöffnung sehr schnell öffnen kann und dadurch Zugriff auf alle Ausrüstungsgegenstände habe, auch wenn der Rucksack vollgestopft ist. Völlig überzeugt hat mich schlussendlich das Tragegefühl. Der Rucksack schmiegt sich an den Rücken an und Nichts drückt oder zwickt. Ein weiteres Plus ist die Möglichkeit, ein Trinksystem einzubauen. Für mich und mein Einsatzgebiet hat der Rucksack wirklich keine Nachteile. Ich kann den Rucksack jedem empfehlen der auf kurze bis mittlere Ausflüge ins Backcountry steht. Das einzige was zu Bedenken ist, ist die Größe. Für alle die längere oder extreme Freeride Touren planen, wäre bestimmt eine größere Version (30L) besser geeignet.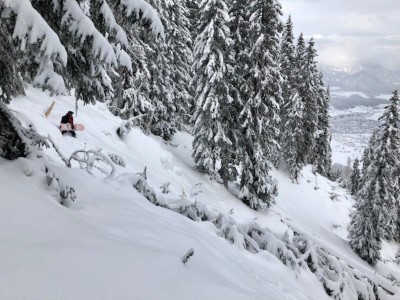 Staff Profile
of Lisa, Retail Operations, Nov 27, 2019, Blue Tomato
Hi, ich bin Lisa und arbeite seit 4 Jahren bei Blue Tomato. Schon über 25 Jahre lang ist meine große Leidenschaft das Ski fahren. Mein Riding Style ist Freeride. Ich bin 169 groß und habe dieses Produkt in der Größe 20l (L) gekauft.