Vans Old Skool - Kick it Old School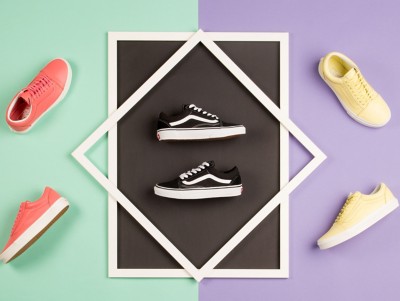 Born in the Californian sun in 1977 and a huge part of the sneaker world ever since: The Vans Old Skool! After the release of the classics Vans Authentic the van Doren brothers strived to develop the perfect skate shoe.
It all started with the idea of manufacturing a durable sneaker which would meet the hard requirements of the street skate-scene. The developers wanted to provide a shoe for the boys and girls shredding the skate parks that wouldn't tear up just after a few kickflips. Because of this they equipped their Old Skool Sneaker with useful tough features:


Resilient suede material to keep the shoes from ripping
A reinforced toe-cap to guarantee durability
The classic vulcanized rubber sole with waffle design to ensure grip
A cushioned insole and tongue to prevent pressure marks
A trainer made for the streets!
The Californian way of life
But the thing that makes the Old Skool Sneakers so unique besides their awesome features is the classic Vans side stripe. Today it is considered as the status symbol of the skate scene. That's what makes the Old Skool sneaker a must-have in every shoe collection. Because of the minimalistic design and authentic style, it fits with every outfit and is very easy to combine with a lot of different styles. The skate shoes are available in both low and high cuts and a whole lot of different colorways. No matter if classic black and white, simple gray, bright colours or crazy prints - the Old Skool is always a great companion for any adventure. Do you want to take your style to a whole new level? So you can go through summer lightheartedly, Vans refined the classic Old Skool and born was the Vans Old Skool Lite. The same shoe, same design, different material and less weight. With this shoe you're definitely ready for summer!

The Vans Old Skool skate shoe mainly represents one thing – a unique lifestyle. So pick your favourite pair from our wide collection and bring some southern Californian sun into your grey big city life.