Rossignol - the Mountain's New Lifestyle Brand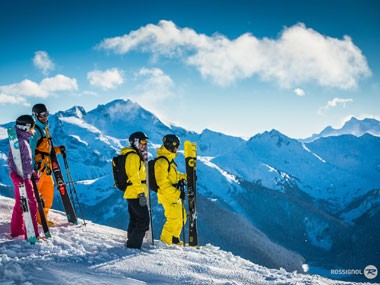 Rossignol are known around the world for producing ski hardware of the highest standard. Having released one high performance ski after another ever since 1907, the brand enjoys a fantastic reputation in the world of competitive skiing at the highest level. But even after 100 years the driving force behind the company shows no signs of slowing down; Rossignol have developed their brand to become an integral part of the alpine sports world with hardware and clothing for both winter and summer. Rossignol is the new lifestyle brand for the mountains and all those who love them.


Precision-made Alpine Products

In Rossignol's diverse collection you'll find high end snowboards and skis alongside all the accompanying bindings, boots, functional clothing and technical equipment. Rossi's clothing collection, which extends to both summer and winter wear, is the embodiment of function, style and alpine elegance, and has everything for pro's and recreational athletes alike. There is also a women's range for ladies who canto hold their own in the mountains. Behind every Rossignol product stands a team of experienced mountaineers devoted to absolute precision engineering and dedicated to producing the highest quality products and designs.


From Freeride to Freestyle - on both Skis and Boards.

Freeriding is the future and Rossignol know it. Just check out their freeskis and snowboards if you need proof. Their freeride skis are absolute powder destroyers and are equipped with some of the best ski technology in the world: super lightweight and with a rocker shape for massive float in deep snow. Naturally, they also make a range of precision bindings and boots to complement their skis and boards. Rossignol ski boots have a high flex rating for experienced riders and are made incredibly versatile with their built in hike mode. Freestyle riders will also find a playful range of twin tips alongside freestyle boots to make park riding a breeze.

Rossi also cater for snowboarders, using their years of experience developing winter hardware to create a range of top quality snowboards, from directional freeride snowboards to incredibly versatile freestyle snowboards. The Freeride models feature their AmpTek rocker and Magne-Traction edges for all-terrain performance, but if you're more about dropping hammers and destroying rails, their freestyle boards might be more up your alley. Thanks to wider stances, RadCut, CBF and Jib Roller technology, their freestyle boards have explosive pop and ride super smooth. Of course, Rossignol also offer boots and high performance bindings to complete your setup.


Protect your Grey Matter - Rossignol Helmets

With so much power beneath your feet you might want to think about protecting that thing that sits on top of your neck. Luckily, Rossignol are here to help with their range of helmets that feature a 3d structure, foam padding and size adjustment for the optimum fit. Their helmets' built in passive ventilation will keep your head feeling comfortably cool all year round.

With so much to choose from, picking the right equipment can be a bit daunting - but not anymore! Just head to the Blue Tomato store to find the full range of Rossignol gear, we've made it easy to quickly find the right kit for you.