Herschel – Bags for adventure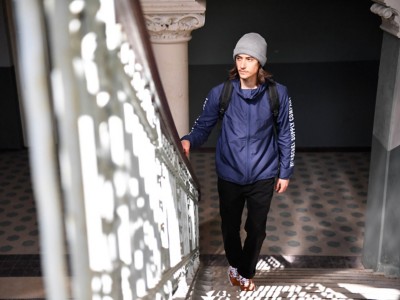 Which are the backpacks you see everywhere? They let us revel in nostalgia – old school but with a touch of modern design. Behind these packs are the brilliant minds of Herschel. In September 2009, the brothers Jamie and Lyndon Cormack established the Canadian Label Herschel Supply Co. The company named after a Canadian frontier town which the brothers called home. Now, the Vancouver-based company is renowned for its meticulously designed travel accessories - Backpacks, travel bags, wheeled luggage and bumbags. The company always focusses on the timeless style and attention to detail in its collections.
Perfect for trips, small and big
From this point onwards, there is no limit to your wanderlust. Well, at least in the case of the right luggage! With Herschel bags; you're never going to run out of space. These bags have been designed too well, with too much style and too much passion.A Herschel Bag will be your most reliable travel companion, stashing the items which mean the most to you safely away. With these durable bags and backpacks, you are prepared for anything.

A weekend away is coming up? Give me The Weekender! Robust, spacious and functional. If you'd rather stay at home and work out in the gym – take The Weekender! This bag works just as well for sports. If you're heading to tan on the beach. Then you can hit three birds with one stone. Take The Weekender. With double looped, sturdy handles and a clean look – this bag works everywhere. Plus, we guarantee, Herschel will never go out of style.

Herschel will take you to Little America.....
…………… Or bring Little America to you.

Every good brand has a showpiece, a classic, something which makes the brand "click" instantly. A ying to a yang. An association in your head. Fries? Ketchup! Hipster? Beard! Herschel? – The Little America Backpack! It is one of the most popular backpacks worldwide. Padded, comfortable and with plenty of storage. All your stuff finds its place, your laptop, water bottle and everything else wrapped up in timeless style.

Just like the motto, "if it ain't broke, don't fix it", the Little America isn't changing anytime soon. Herschel is happy with the design, which has barely changed since the very beginning. It's proof that new isn't always better.

A little more for travel
We know this much: Herschel tailors luggage to your needs. If it's a little longer trip, then take a wheelie bag. If you want to go to the mountains for a couple of days, then take a backpack or weekender. Need a new jacket? Don't panic! The Canadian label provides matching streetwear and accessories for both men and women. Waterproof coach jackets and parkas keep you dry on your next city break. Beanies keep your head warm and dry.