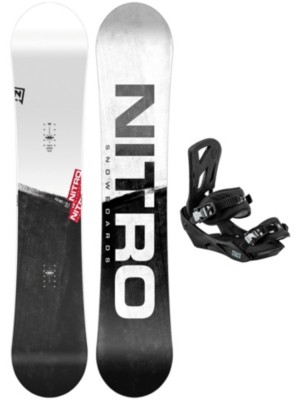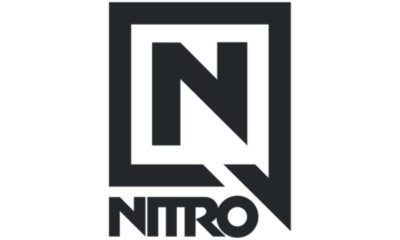 Nitro
Prime Raw 163W + Staxx L Snowboard Set
€ 319.95
€ 455.95
You save 30 %
For the pure joy of snowboarding
The Prime Raw is for those who want to progress quickly and keep at it. The board offers a comfortable ride and easy control for fast progression in any terrain. The Directional Shape offers good floatation in powder and with the forgiving Flat-Out Rocker profile you'll learn new tricks in the park every day without getting stuck.

Features
Flat-Out Rocker Profile
Directional shape
Radial Sidecut
Powercore
Bi-Lite laminates
Premium Extruded FH Base
Nitro Staxx binding - proven all-mountain technologies with minimal weight
The Nitro Staxx comes with user-friendly features to help you get better and better effortlessly and confidently. The pleasantly flexing A-Frame Base and the Hammer Highback result in a perfectly tuned combination with minimal weight. The Perfect FIT Ankle Strap and EVA cushioning provide pure riding comfort.
Information: Bindings won't be mounted by us when ordering sets.
Attributes
Contains sustainable materials, such as organic or recycled materials

Manufactured in a more eco-friendly way

Stability, better balance and continuous edge control

Perfect for freeriding and carving
Article number:

655148

Riding Style:

All Mountain

Riding Level:

Stiffness:

4

Flex:

Soft

Country of production:

Taiwan

Gender:

Men

Weight:

3000 g

Base:

Extruded

Extruded: low maintenance and extremely durable, ideal for jibbers and weekend shredders
Sintered: hard and fast, but a little higher maintenance, the best choice for powder
Premium: highest quality and speed with carbon/graphite additives

Length (cm):

163 cm

Sidecut Radius:

8.4 m

The smaller the radius, the better the turning ability. A large radius brings a smoother ride at high speeds.

Running Length:

121 cm

The part of the edge that has contact to the snow. Shorter=agile, longer=more control

Nose Width:

31.8 cm

Waist Width:

27.2 cm

Tail width:

31.8 cm

Setback:

15 mm

The inserts of the rear binding are set back x mm towards the tail for a more effortless powder riding.

Stance:

50cm / 62cm

Minimum - maximum stance width

Core:

poplar wood

Rider Weight:

70kg / 110kg

Features:

Toe strap
Highback rotation

Compatibility:

Standard Inserts

Entry Mode:

Straps
Features
A-Frame Baseplate
Hammer Highback
EVA cushioning
Board Saver Technology
Perfect Fit Ankle Strap
B.E.S.T. Convertible Toe Strap
Aluminium Speedwheel Buckles
Easy Entry buckles and ratchets
Straps reinforced with cables
About Nitro
Nitro was founded by two heavy duty snowboarders, who were disappointed by the selection of snowboard gear available to them. From day one, Nitro's focus has been on nothing but snowboarding and they are dead set on keeping it that way. Together with a star dusted team, Nitro's goal is to bring people together. With the help of snowboard events for kids, youths and adults, their plan for the next few years is to bring back the stoke and love for snowboarding around the world.