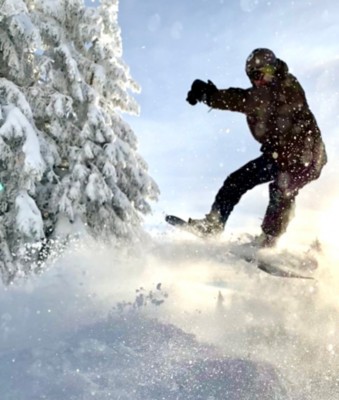 perfect board for every level
of eric, Brand Marketing, Blue Tomato, Feb 1, 2023
I am snowboarding since I am 11 years old. I love to ride on the slopes, powder and hit some side hits. Since i was 11 I didn't change my board too much, i was riding a 161, which was very stiff. I chose the DOA as a friend recommended it to me, i went to the "rent your ride" shop and rented the board to test it first. It immediately felt really great under my feet, very light and it did everything I wanted in a board. For me it was important that the board felt easy, I wanted to go fast on the slopes without compromising on stability but at the same time I wanted to have flex and the opportunity to take the board to deep powder.
Since I have shoe size 44, I chose the DOA wide. I tested the 155 and the 157 but with my height of 187 and my weight of 80kg the 157 wide seemed to be the better choice for me.

I tested the product on the slopes first to see how it feels under my feet and to see how it behaves in certain situations. Then i took it to the park and some deep powder. I just wanted to make sure that it is an overall good board and that I can use it in every condition if i have to. The material feels really high-quality. It is perfectly flexible to get a very good pop, at the same time it is very manoeuvrable on the slopes and in powder. I truly have nothing that I would change or improve on this board.

In conclusion and I can say that the DOA really is a board for very experienced as well as people who just started with snowboarding. I lent my board to a total beginner, who never snowboarded before, he was able to ride proper turns after half a day. On the other hand, i know really experienced rider who would not ride another board due to its variety and reliability. Before I would buy the product, I would recommend everyone to test it and see which size fits you.
About me:
I am eric and have worked at Blue Tomato for 0,5 years. I am a Snowboarder with over 17 years of experience, mainly riding All-Mountain. I am 187 tall and I bought this product in size 157 .