Freeride Skis – The Deep Snow Is Waiting for You!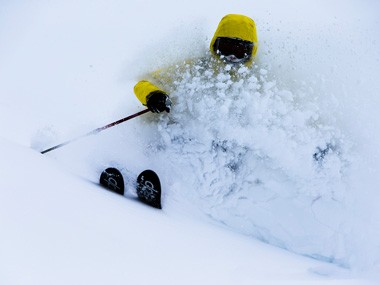 Do you live for the great outdoors? Is the whole mountain your giant playground? Are you more excited about the season's first snow fall than about Christmas? Then you're definitely the right candidate for a new pair of freeride skis! At Blue Tomato you are guaranteed to find the right equipment, within the right price range, to get yourself immersed in powder – free your soul, free your skis!With two planks alone, your equipment setup is not yet complete. In addition to skis, you need the perfect boots, poles and possibly a decent touring binding. Without avalanche equipment and protective gear you won't get very far either.


Freeride Skis Make all The Difference

Skiing with monstrous powder planks on the piste is not very fun. However, when you are up to your hips in deep snow, you understand the raison d'être of freeride skis. For maximum lift in powder snow you just need the right equipment. Here you won't be finding anything less than a 100 millimetre width. Setback is also absolutely essential. By mounting your binding slightly further towards the middle of the ski, you will have greater front lift. Your thighs will definitely thank you for it! Of course, twin tip skis are a welcome companion in the backcountry. Whether riding forwards or switch, the upward bend of the tip and tail let you enjoy maximum flexibility when pulling tricks in powder.


In-Depth Construction and Design

Today's skis can no longer even be compared to the average wooden planks. Now you can decide between sandwich, torsion box and monocoque construction. Sounds like Chinese to you? Not for much longer!

The Sandwich construction not only sounds tasty but it is also the most popular ski design. This technology comprises of a vertically glued bottom shell, core and upper layer. Manufacturers such as Head and Fischer place great importance on using the sturdiest of materials. Flex can also be accurately determined when using this construction method.

Torsion box construction shares some similarities with sandwich construction, but is formed using specific core material. A fibreglass coated wooden core is popular with some brands. The cost of production using this method is significantly highly, meaning that you'll have to dig deeper into your pockets. Brands such as Rossignol, Völkl and K2 have nevertheless embraced the box.

Monocoque construction has no disadvantages when compared to other construction methods, however it is less commonly employed due to the elaborate manufacturing process. The result is a lightweight construction with the top and bottom sheet being bound to the sidewalls, forming a single piece.



At first glance, a freeride ski looks similar to a classic carving ski. However, there are some fundamental differences, especially in the waist. The tip is normally the widest part of the ski and the centre the narrowest. The ski then widens out towards the tail so that you don't sink into deep snow in either direction of travel.

The term taper refers to a different style of side cut: the widest point of a tapered ski is not the nose or tail, but instead a spot just before the two ends. This technology offers maximum buoyancy. Due to the shorter effective edge of the ski it is also more manoeuvrable, especially over harder snow and even with a width of over 100 millimetres.


Rock The Powder – Shapes that Take You to Cloud 9

Have you ever been out in the backcountry with a classic camber ski? Although possible, your legs probably turned to jelly pretty quickly. An alternative is the rocker shape, which has already been used in the ski and snowboard industry for years. With the upturned nose and tail you gain sufficient lift in deep snow and enjoy a whole new level of manoeuvrability. Position your bindings centrally and you are ready to pull even the toughest tricks in powder. Whether you want to ski normally or switch, the banana shape is the ultimate off-piste beast.

You're likely to find a powder rocker shape on touring skis. This powerful rocker is slightly shifted towards the tip of the ski, guaranteeing optimal lift. The flattened tail lends itself perfectly to climbing up the mountain with skins. When you are looking for a ski that is also strong over the terrain when hiking up, you are well equipped with the powder rocker.

Shape is not the only important factor when looking for optimal backcountry performance. For even more fun, a soft flex rate is recommendable. A softer flex stops you from sinking into the powder and offers no resistance when turning in softer snow. Freeriding also means going big - you should be looking at a freeride ski that is generally 10 centimetres longer than your piste ski.


Bindings, Boots and Poles – The Choice Is Yours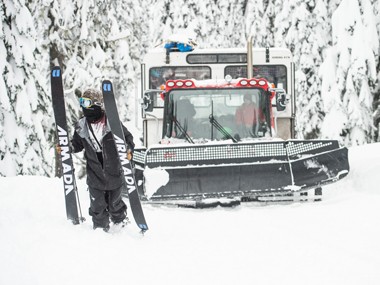 Choosing the correct DIN setting, also known as Z value, for your bindings is also very important. The setting should be calculated according to your body weight, height and ski boot sole length (in millimetres). Your skill level and skiing technique are also factors. Once you have calculated the right setting, you need to choose the type of binding. A classic binding for hitting deep snow that is accessible from the piste, or a touring binding for excursions into the backcountry?



Touring bindings are equipped with a special climb setting, making backcountry touring possible. Your ski boot clicks into the binding as normal but, with the climbing setting enabled, your heel is free to move. If required, you can also use crampons and other climbing aids to help you get to the summit as easily as possible. When you are ready to enjoy the downhill, simply click the bindings back to their normal setting.

Freeriding exerts a lot of pressure on the tip and tails of your skis, making it advisable to avoid ski boots that are too stiff. If you are mostly skiing in powder, go for a lower flex rate. Brands such as Dalbello, Full Tilt and K2 are guaranteed to have the right boot for you among their ranges. When buying a pair of boots, don't forget that the more buckles they feature the more accurately you can adjust them to fit your feet.

The right ski poles are also extremely important, especially for ski touring. When skiing in deeper snow the basket diameter should be larger than normal to prevent the pole from sinking too deeply into the snow. To find the correct pole length for you, multiply your height by 0.7.


Prevent Risks and Accidents – Opt for Avalanche Equipment and Protective Gear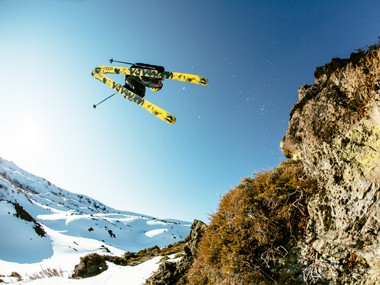 Even though we have everything in our range to ensure maximum fun out in the powder, you are the one responsible for your safety. We can only provide you with avalanche equipment and protective gear. You need to be aware of your own skills and limits, keep up-to-date with your backcountry and safety knowledge and inform yourself about different alpine conditions. Only you are responsible for this.

Your equipment should always include an avalanche transceiver and you should also always carry a shovel and probe in your backpack. Many lives could be saved from avalanches by the use of an avalanche backpack with an integrated airbag. So don't forget, freeriding is fun but also carries risks. Enjoy powder days safely!

Everything that you need can found at Blue Tomato!