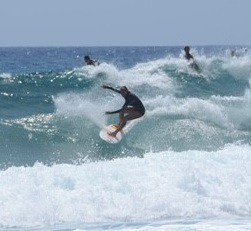 Just the best wetsuits on the market
of Nusa, Customer Service, Blue Tomato, Sep 5, 2022
I surf throughout the whole year and a spring suit is a must in my surf wardrobe. I already own 1 summer suit from Rip Curl and it´s still like new after 5 years of surfing. I´m personally not the bikini type of surfer, because I get rashes from the wax, and I don´t like losing bikini parts while duck diving, so I always prefer a wetsuit. Therefore I decided to get a new one with long sleeves for bit longer surf sessions.

I´m super stoked about the material of the wetsuit because it´s really stretchy and comfy. The bottom part is thinner and super soft and with the rubber band on the inside border, the bottom part stays put and doesn't slip off. It also doesn't have any stitches on the armpit area, that can cause rashes while paddling and this is super important for me. I always get rashes in the armpits and this can be really frustrating when having longer surf sessions. I also love the front zip, because you can open and close it to your desire and for me importantly it doesn't get stuck in my hair. I used to have a spring suit with the back zip and my hair constantly got stuck onto the Velcro tape, destroying my hair every surf session. And lastly, I love the print of the wetsuit, as it just happen to have my favourite flower printed, so in addition to all the super specs the wetsuit have, the flowers and palm leaves are just the cherry on top.

I would recommend this suit to all surfer girls who love to surf longer and not loose bikini parts all over the line-up or for any water sport actually. I use it for wakeboarding and windsurfing as well.
About me:
Hi, I am Nusa and have worked at Blue Tomato for 8 years. I am a Surfer with over 9 years of experience, mainly riding Shortboard. I am 170 tall and I bought this product in size 10 .