Adidas Originals Superstar
The Superstar in your Wardrobe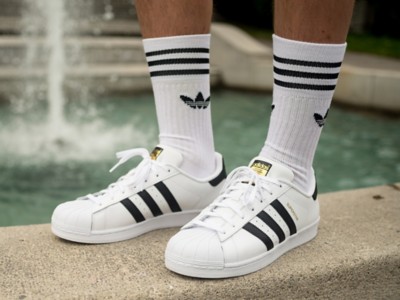 Everybody can be a fashion hero: the adidas Originals Superstar sneaker for ladies and gents will transform you into the fashionable hero you've always wanted to be. The adidas sporting shoe has been the embodiment of style since the 1970s and is an essential for every sneaker collector. Showing off its skills on the basketball court back in the day, the low-cut adidas Originals Superstar still knows how to win us over with its functionality and style. The recipe is fairly simple: an understated design, ultimate longevity and a timeless shape for a legendary pair of Superstar shoes. The adidas sneaker continued its triumph and didn't even stop at the skate and street scene, which is impossible to imagine without adidas' Superstar nowadays. The classic leather look and the minimalistic details give the skate and fashion shoe all the glamour which it deserves.

Be as "Happy" as Pharrell!
For the Supercolor version of the original adidas got the appropriate testimonial on board: superstar and fashion icon Pharell Williams. His soulfulness and versatile, uniquely positive music make Pharrell a perfect match for the colourful look of adidas' stylish sneaker. In addition, the claim which accompanies adidas' colourful classic "Equality through Diversity" carries a serious message indeed: no matter where you come from, what you believe in, or how you dress – with the help of adidas Originals' Superstar Supercolor everybody can turn into a superstar. It was obvious right away that the collaboration with Pharrell would be special and that the Superstar's colourful sidekick would be an icon in no time. The stylish shoe is overwhelming and just as exceptional as its patron himself because Pharrell gave life to a multicoloured and unique Superstar which shouts in 50 different ways: "Be happy!"

Perfect Sneaker for every Occasion
Classic white with its well-known three black stripes, decorated with unique design patterns or monochrome and colour intensive – the adidas Originals Superstar is the perfect fit for any occasion. History has proven it: the success story for over 40 years makes the Superstar the go-to sneaker – for skating, sport or simply style. Adidas never misses a trend and this summer it is all about Shiny Shoes! And if you want to kill two birds with one stone, just combine your Adidas Superstars, no matter if shiny or classy, with the latest summertrend: Roseblush. With its visual versatility, you can go with any look hip trendsetters require.