This is your opportunity to be part of a great adventure, because you can use the elooa Snow Break in Hossegor-Seignosse to relax, surf some great waves, and just have a lot of fun. Besides lot's of surfing, you'll be part of the Welcome evening, have a big BBQ, make day trips to shopping outlets and to San Sebastian in the Basque region, and do many more activities.
The Atlantic coast is one of the best surf spots in Europe, and is offering perfectconditions for beginners, as well as advanced surfers. Endless sandy beaches, dream waves, a beautiful environment and a relaxed atmosphere will guarantee you an unforgettable experience.
You and your friend are finally going to learn how to surf, and take a surf course with a certified surf instructor - no matter if it's a course for beginners or an advanced course. It's one of the best surf schools in the area, so it will definitely be a success.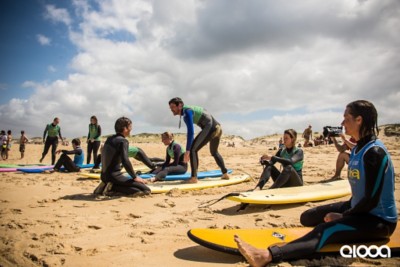 You'll be living in a new location, with a fully equipped Cabana, only 600 m away from the long, sandy beach. There you'll find a 450 sqm pool, a supermarket, a bar, a pizzeria, some ping-pong tables, a beach volleyball field, and many more cool things for a perfect holiday feeling! You'll be spoilt for choice: You can either arrive by plane, or rent a car and do a little road trip to Seignosse. It's your decision!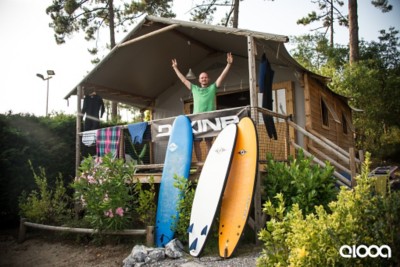 That sounds good, doesn't it? And you're just a click away, so go on!
The price is redeemable in June 2020.
The prize includes:
The journey to and from Seignosse
7 x nights in a double room (Cabana)
7 x surf guiding
3 days beginner surf course (1,5 h per day)
7 days rental material including surfboard & wetsuit
1 x welcome dinner incl. dinner & free drink
1 x BBQ dinner & free drink
1 x photo shooting
+ 1 x elooa goodie bag
Participation form:
Conditions of participation:
The competition is organised by
Blue Tomato GmbH (short BT)
Hochstrasse 628
A-8970 Schladming
Register of commerce: 80499 g, Leoben
Mail: info@blue-tomato.com
Tel: +43 3687 2422 333
BT is responsible within the terms of DSGVO: data protection officer: Mag. Christian Nitsche - christian.nitsche@blue-tomato.com
An overall winner will be drawn to win the following prize:
One week for two people at the elooa SNOW BREAK CAMP in Seignosse / France including the journey to and from France, lodging, welcome evening, free BBQ & Drink, surf guiding, surf coaching, rental boards, elooa Goodie Bag, No cash alternative possible, the prize is nontransferable and redeemable in June 2020!
The following conditions apply for participation in the competition:
Participants must be 16 years old or above.
Submission deadline: 30.09.2019
The winner will be drawn by BT on the 15.11.2019. The winner will be informed via call or e-mail.
BT is not liable for damages caused by inadequate travel or accommodation. Moreover, BT is only liable for damages caused by intent and gross negligence. This does not apply to injuries to body, life and health.
Any legal action is prohibited. These current conditions of participation and the entire legal relationship between the participants and BT are exclusively subject to Austrian law.
Privacy Policy
BT will store or process the data provided in the entry form for the purpose of the competition for the duration of the competition.
At the end of the competition, BT will store and process the above-mentioned data for marketing purposes within the scope of BT's legitimate interests.
BT is entitled to address the above-mentioned data to its service partners for advertising purposes.
The winner agrees to the publication of his/her name and image on the Blue Tomato website.
Each participant has the right to oppose the treatment of his / her personal data for legitimate motives, and is entitled to withdraw his / her permission at all times. Each participant has the right of information towards BT over his / her personal data, as well as having the right to correct, block, or delete all this data, as well as the right to data portability.
The participant has a right of appeal to the competent regulatory authority in case of any violations.
More information on www.blue-tomato.com/datenschutz
Date: 1.04.2019