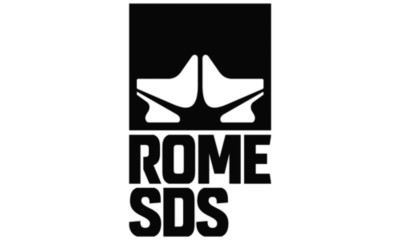 Rome
Cleaver 2022 Snowboard Bindings
Responsive, powerful and ready for fast runs
The Cleaver was launched last year by Rome. It is Rome's most responsive and strongest binding ever. The Cleaver consists of a carbon-filled nylon highback and baseplate, a redesigned FullWrap baseplate and a D3O SubBase pad for maximum shock absorption. Combined with the absolute hold of the new ProFlex ankle straps, this binding is built to put you down like Ståle, Hardpack and Rail Euro carves.

Highback
The Cleaver comes with a PivotMount Max that offers 8 different strap positions per side of the strap, 64 configurations in total. 
The highback rotation can be adjusted exactly to your stance, from 0 to 24 degrees. For a perfect power transmission to the heel edge.
The slope of the highback is designed so that you can adjust the angle of your highback to match the angle of your lower leg to increase connection and stability.

Baseplate
Redesigned, recalibrated and re-energised, the FullWrap platform is pure power and maximum energy transfer. The brand new FullWrap platform is a robust, bombproof chassis that loves it when you bust out 100 % of your tricks with it. The Adjustable Baseplate is designed to accommodate a wider range of boots. Auxetic Shape technology is the result of years of refinement and rethinking how bindings work and how to improve their grip and durability. The one-piece design made of one material means increased durability in all conditions. Better grip, longer durability and better connection comfort, that's AuxTech™.

Straps
The Proflex Ankle Straps are brand new and powered by AuxTech™. They are incredibly stretchy, extremely durable and offer excellent support. Progrip toe straps work with an innovative network of small hinges to provide unsurpassed support and a firm hold.


Attributes
Article number:

654949

Riding Style:

Riding Level:

Expert

Stiffness:

9

Flex:

stiff

For:

Men

Compatibility:

Standard Inserts
The Channel®

Features:

Highback rotation
Toe strap
Toe ramp

Entry Mode:

Straps
Features
Full Wrap Platform
Proflex Ankle Strap
Progrip Toe Strap
Pivotmount Max
Highback rotation
Highback Canting
Adjustable baseplate
Highback 30 % carbon, 70 % nylon
Baseplate 70 % nylon, 30 % carbon
Duracush™ Pad
Auxtech™
About Rome
Rome SDS lives and breathes snowboarding and has done so since day one. Seeking to reestablish the true roots of snowboarding, Rome kicked off production is 2001. Their goal was to create a brand that "lives the values of snowboarding and innovates products that increase the one thing that matters most in snowboarding: fun." They have overshot their goal by miles, and as true snowboarders at heart, we are stoked to have them as a part of our team.