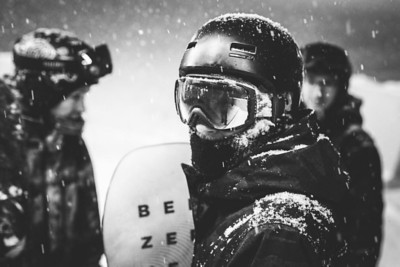 Schlicht, vielseitig & stylisch Kurzum: Absolut TOP!
of Patrick, Blue Tomato, 02-Jan-2019
Ich habe mir diese Jacke in Größe L gekauft. Mit meinen 183cm und ca. 75 kg hat sie für meinen Geschmack die optimale Passform. Es passen ohne Probleme zwei Layer und ein Rückenprotektor darunter, ohne dass die Jacke an einer Stelle spannt und/oder Reißverschlüsse nicht mehr zu gehen würden. Man kann jedoch genauso gut nur eine Schicht darunter tragen und die Jacke ist trotzdem nicht sackig. Tendenziell hat die Jacke einen etwas längeren Schnitt. Das Material fühlt sich sehr angenehm und weich an. Die hoch-qualitative Verarbeitung erfüllt auch bei diesem Preis definitiv alle Erwartungen. Dies hat sich auch bestätigt, als ich die ersten Male mit dieser Jacke auf dem Berg gewesen bin. Bei bisher eher schlechterem Wetter (viel Wind und Niederschlag) mit ca. -5° bis 0 °C getestet, trotzt die Jacke ohne Probleme Wind und Wetter. Die Feuchtigkeit bleibt draußen und die Wärme bleibt drinnen. So wie es sein sollte. Ein kleiner Minuspunkt ist die fehlende Ärmeltasche für das Liftticket. Steckt man das Ticket jedoch in eine der Jacken-Innentaschen kommt man ohne große Verrenkungen auch durch das Drehkreuz. Ich trage dazu übrigens die Volcom Articulated Hose (L) in grau und ich finde es steht mir ausgezeichnet. Fazit: Eine schlichte Jacke, die bisher keine meiner Wünsche offen gelassen hat. Das Preis-Leistungs-Verhältnis ist wirklich Top und natürlich dem Gore-Tex System, sowie der hochwertigen Verarbeitung "geschuldet". Und natürlich nicht zu vergessen: 1% for the planet!
About me:
Seit über 13 Jahren snowboarde ich und verbringe gut 25 - 35 Tage in der Saison auf dem Berg. Mein bevorzugtes Terrain ist abhängig von den Conditions. Anfangs eher All Mountain, was halt gerade Bock macht. Zum Frühling hin mehr Park. Am Snowboarden liebe ich die Community, der Flow, das Kopf frei kriegen. Größe: 183cm, Gewicht: 71- 80kg, Local Area: Planai/Ski Amadé