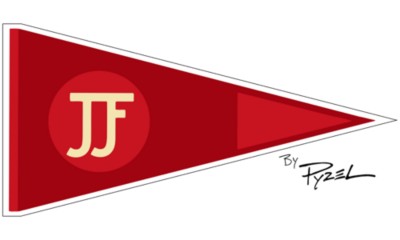 JJF by Pyzel
Gremlin 5'6 Surfboard
Delivery time

only 3 to 5 business days
Your first shorter board or a quiver killer for experienced surfers 
The Gremlin from JJF by Pyzel is the perfect board for your first performance shape as a transition from a funboard and longboard, or for those who are already advanced and looking for a go-anywhere and do-anything addition to their quiver.  Manufactured using the most advanced construction for maximum durability and performance and featuring genuine Futures fin boxes and durable Eco EPS construction. 

Every Funformance™ board made by Pyzel is constructed from the highest quality materials and built to perform from progression to performance surfing. Each of the boards features a lightweight and durable epoxy/fibreglass construction, a continuous core of recycled EPS foam with an internal wooden stringer, genuine Futures™ boxes and a soft, durable EVA top layer. 

For maximum performance, each of our boards features hand-ground rails that match the performance profile of each board design. This is a major advantage of Funformance™ boards over traditional softboards, as the geometry of the designs can be transferred to our exclusive technology through the detailed hand machining of each board. 


Please get in touch with our customer service team if your preferred surfboard size is not available online. We will check directly with our suppliers if we can order your desired surfboard.

SHIPPING DETAILS FOR SURFBOARDS
Surfboards shorter than 6'1
The delivery of surfboards shorter than 6'1 is charged at the standard delivery price within the EU and Switzerland. Express delivery is not possible.
Surf & SUP Boards longer than 6'1
Surf and SUP boards from a length of 6'1 can be sent to one of our shops free of charge like all other products or within the EU directly to your home via DHL Freight. You can find the exact rates under "Shipping".
In case of damages please accept delivered goods with reservations only. Just add "under reserve" to your signature on the delivery confirmation.


Attributes
Versatile for different waves

For stability and agility

Adjustable with 5 fin slots

Compatible with Futures
Article number:

643186

Surfboard Features:

Hardboard

Riding Level:

Length:

5'6 ft

1 ft = 30,48 cm

Width:

20.8 inch

1 inch = 2,54 cm

Thickness:

2.9 inch

1 inch = 2,54 cm

Volume:

36.8 liter

Gender:
Features
Funformance™ design by Jon Pyzel and John John Florence
Eco EPS construction
Soft EVA top layer
Real Futures fin boxes 
5-fin setup
Funformance™ technology
About JJF by Pyzel
What do you get when you chuck the knowledge of a legendary surfboard shaper and the expertise of a two-time surf world champion into one pot? Exactly! Ingenious boards that are not only fun to ride but also durable, sustainable and perfectly tuned. From their think tank on Oahu's North Shore, John John Florence and Jon Pyzel deliver their shapes worldwide to put more fun and progression into your surfing.